Wow – Chuck Hayden just finished quite a Pure Michigan adventure! Check out his story about just one leg of his epic journey.

It was 5:30 am and I had just roused myself from a fitful sleep to the birth of a new sunrise. The previous day,
Lake Superior
had heaved me on to the rocky shore of Salt Point between Tahquamenon Bay and the Bay Mills area. During the night, as I slept in the sandy grass of the beach, sheltered from the wind by my kayak, she calmed to a light wind. Now, as I prepared to
launch my kayak
, I was sure I could finish the last 20 miles before noon. The lake wasn't completely calm, but after 3 days of rough seas, she was offering me a little peace and I urgently took the offer.
As the sun began to slowly erupt from the horizon, I spotted movement along the waterline. A reddish shape gracefully glided straight at me growing in size as it approached. I stood squinting, paddle clutched and I immediately recognized an adult fox and it was obvious he was about to run smack into me. I barked at him. He halted immediately and with a sudden extension of his neck, he darted quickly to the wood line. I mumbled to myself, "Pure Michigan".
It was only day 6 of a 300 mile unsupported solo expedition through a big part of Michigan's Upper Peninsula. I was sure that I would end the kayaking portion of the expedition today in
Paradise
. Then, I would transition to a mountain bike and ride back roads and fire trails to
Grand Marais
.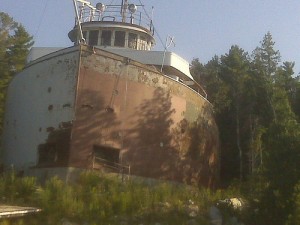 Ship in the Woods: Just north of DeTour the bow of a mighty freighter serves as a summer getaway for its private residents.
The previous few days had shown me 150 miles of
Lake Huron
, the St. Mary's River and
Lake Superior
. I had set camp on Government Island in the moonlight, raised sail on a kayak to speeds that were a little too fast for my taste. North of Detour, I past the bow of a freighter that was literally peeking from the forest shore.
In the darkness of the second night, after battling the breaching waves, I knocked on the door of the
Lime Island
keeper's quarters in a desperate hope of securing shelter in one of their cabins. The next day, as I dried my soaked equipment and repaired a leaky kayak, I explored the island and snacked from the island's Mulberry Tree (one of the few left in Michigan). The island keepers, Janet and Howard, insisted that I join them for a venison stew supper and we chatted past a melting sunset with lumbering sailboats and freighters. A gaggle of Canada Geese circled the small harbor.
The next day, I paddled the river north through the narrow
Neebish Island
"rock cut", earnestly listening to traffic reports on the marine radio for south bound freighters. I glided past the Neebish and
Sugar Island
ferries as they busily shuttled cars and cargo from mainland to island and back. I inquired with many friendly, dockside residents and shoreline visitors for possible accommodations in
Sault Ste Marie
. I was forced to portage the locks because the Canadian Locks are closed this season and the American Locks do not allow kayaks to lock through.
Soon, I met the mild fury of a windy summer on Lake Superior. The next few days were a struggle with stiff winds, low miles and near misses. I spent time in
Brimley State Park
for more repairs and conversations with campers from all over the States and Canada. We spoke loudly over the wind, trading travel plans and reviewed our recent journeys.
Eventually, I ended my kayaking leg on the shore at
Paradise
. The day was sundrenched and calm – I sighed deeply and sat on the wet sand for a long moment. I pondered the long journey and basked in the adventure that is Michigan and her inland seas.
As I hoisted my kayak on my shoulder to carry it to the equipment cache, I was soberly aware, that I was only halfway through my journey to Grand Island. Wilderness mountain biking and backpacking still lay ahead.

Chuck Hayden, Senior Member of the Fortune Bay Expedition Team (a not for profit group that explores the Great Lakes Region). Chuck recently completed a 300 Mile Solo Expedition of a large portion of Michigan's Upper Peninisula. The Expedition (July 24th to Aug 4th, 2010) was completed by Kayaking 168 Miles, Mountain Biking 89 miles and Hiking over 45 miles. He resides in Lowell, Michigan with his wife Martha and Children, Charlotte and Noah.
Let Chuck know what you think about his adventure on Facebook by leaving a comment below!