Fall Dog Sledding in Pure Michigan
When people think of "sled dogs," they often think of snow and the winter season. But did you know that sled dogs begin training in the fall? Today, Tasha Stielstra, owner of
Nature's Kennel Iditarod Sled Dog Racing and Adventures, fills us in on the training process and available tours.
Have you ever taken a Michigan dog sledding tour? Learn more about available tours at michigan.org.
My husband and I own
Nature's Kennel Iditarod Sled Dog Racing and Adventures
near McMillan in the Eastern Upper Peninsula. When many people hear the words "sled dogs," images of snow and winter probably come to mind. However, in order for sled dogs to get in shape for the winter season, they need to begin training in the fall. Think of it as a pre-season training camp where all the skills are honed in, the leaders are chosen, and team building is the focus. Our Alaskan Huskies are not only the top Iditarod finishers in the Midwest, they are also fabulous tour dogs who love to meet and greet new guests.
One of the most commonly asked questions about fall training is if we put wheels on the dog sleds. No, we need to use something a bit larger with tires, good suspension, and really good brakes! We use off-road vehicles (ATV's or side-by-sides) and we provide the very unique opportunity for guests to join us on our fall training runs. Fall training runs in our area of the Eastern Upper Peninsula are so gorgeous that several years ago we decided we should share that beauty with others. Our trails run through hardwood forests, so the color changes on these less-than-traveled trails are really magnificent. Fall tour guests get to learn all there is about sled dogs, minus the snow. They learn how to harness the dogs, hook them to the gangline, and then hop in our four-passenger "dog-powered" vehicle for a five mile run. At the end of the ride they congratulate their dog team, get a grand tour of the dog yard (where they can pet all 150 dogs if they choose) and then end their trip with a chance to hold adorable puppies. It really is Michigan's most unique fall color tour!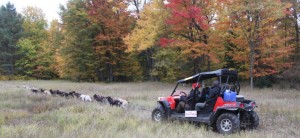 Our fall tours take place in the mornings, when the temperatures are coolest as the sled dogs love cold weather! Their optimal running temperature is 0 degrees Fahrenheit so even a 35 degree morning feels warm to them. If you do choose to come along for a ride, you will have to be up early to see the dogs in action. Area lodging is available at
Chamberlin's Old Forest Inn in Curtis
or
Halfway Lake Resort
north of Newberry, both of these options are located on area lakes where it seems like you can see colors changing right before your eyes. Fall tours at Nature's Kennel generally last about 2 ½ hours which leaves enough time in the afternoon for a trip to
Tahquamenon Falls State Park
(40 minutes from Nature's Kennel), a must-see stop on a color tour of the Upper Peninsula.
Tasha Stielstra is co-owner of Nature's Kennel Iditarod Sled Dog Racing and Adventures in McMillan, MI. Her husband, Ed is a 7-time Iditarod finisher. They own nearly 160 Alaskan Huskies and two small children, Fern and Nate. Tasha does the marketing and managing for their touring business, chases puppies down the trail, and spends a great deal of time playing with monster trucks (with 2-year old Nate). Nature's Kennel can be found online at www.natureskennel.com or on Facebook at Nature's Kennel.