From Our Fans: An Adventurous National Tourism Week
This week is National Travel and Tourism Week and the 2015 theme is "travel is". To celebrate, we asked our fans on Facebook and Twitter to tell us what travel means to them. An overwhelming number answered 'adventure'.From biking and hiking to diving and kayaking, the adventures are endless in Pure Michigan. We put together a few ideas for your next trip, no matter which part of our gorgeous state you are visiting!West Michigan
1. This amusement park has adventure in its name, literally!
Michigan's Adventure
in Muskegon is Michigan's largest amusement and waterpark. Check out more than 60 attractions including seven rollercoasters and more than 20 water rides, including the world-class Shivering Timbers wooden rollercoaster.
2. Go
diving or snorkeling in Holland
to explore underwater shipwrecks. These lost ships harbor the tales of adventures and misfortunes of the Great Lakes and are time capsules of Michigan's rich maritime past.
Southeast Michigan
1. Take a group for a day of kayaking at
The Argo Park
along the Huron River. After kayaking or canoeing, have a picnic and explore the many nature trails Ann Arbor has to offer.
2. Explore the Motor City on two wheels! Whether you want to bike the
Detroit Riverfront
for a few hours or have a daylong adventure, you're not going to be disappointed with everything you are able to see on your ride!
Northwest
1. Climb to the top of the
Sleeping Bear Dunes
in Empire, Michigan. It's sure to get your heart pumping during the 130 foot climb to the top of the first hill at the Dune climb and about another 130 feet to the top of the second hill. This is easily the most strenuous hike in the Lakeshore and often takes about three hours.
2. For endurance hikers, the
Shore to Shore
trail should be your next hiking challenge. This 220-mile trail stretches from Lake Michigan in Empire to the Lake Huron in
Oscoda
on the east side of the state. If you'd rather explore the trail on horseback, that's an option too.
Northeast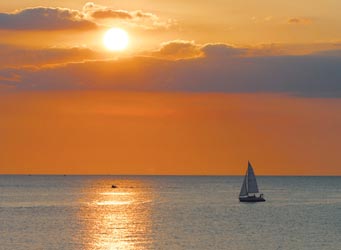 1. With more than 300,000 acres of open water in the Northeast, it's a great place to try your hand at
fishing
. You have the option of fishing off the riverbank, fly fishing or even deep water fishing in Alpena. After you visit, you'll get to say, "I caught a fish THIS big!"
2. Take in the beautiful scenery and catch a glimpse of wildlife in their native habitat during a canoeing or kayaking trip along the mighty Au Sable River in
Oscoda
. The Au Sable is one of North America's best canoeing rivers and runs through Northern Lower Michigan.
Upper Peninsula
1. Explore
Isle Royale
, a rugged, isolated island, only accessible by boat or plane. Surrounded by Lake Superior, Isle Royale offers unparalleled solitude and adventures for backpackers, hikers, boaters, kayakers, canoeists and scuba divers. Isle Royale is one of the least visited National Parks because of its seclusion.
2. Go whitewater rafting on
Piers Gorge
. Thousands of gallons of water rush through this constricted section of river each second, which will be a thrill ride you won't forget. You might even catch a glimpse of a bald eagle while you're rafting!
Which adventure will you try first? If you're looking for a different kind of adventure, even one involving your taste buds, here are a few ways to do that, too.