Maximize Fall Playing Time With These Michigan Golf Trails
Today, guest blogger Janina Parrott Jacobs tells us how to minimize travel and maximize time on the course by playing through a Michigan golf trail this fall.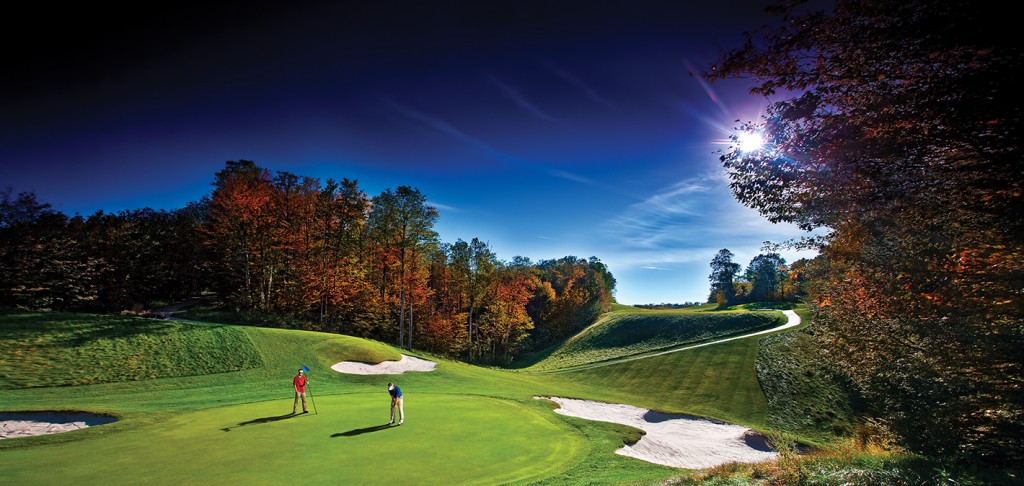 There's strength in numbers. Golfers may not normally fly across the country to play just one great course but they'll consider doing so to play an assortment of superb ones. The folks in Myrtle Beach figured this out years ago when they realized that by banding together, they could create one-stop shopping to promote a stellar array of courses, attractions, and restaurants to golfers who would visit from around the country.
In Alabama, the creation of the Robert Trent Jones Golf Trail – which runs the entire length of the state from north to south via 11 Trail sites complete with 26 magnificent and affordable courses - was originally fashioned to strengthen the state's financial health by maximizing investments from retirement funds. Visionary Dr. David Bronner, former CEO of the Retirement Systems of Alabama and the brainchild behind this idea, borrowed his philosophy from the movie
Field of Dreams
:
'if you build it they will come'. He did…and they did.
Yet no state or trail or destination anywhere can match the sheer numbers of courses available for public or resort
golf in Michigan.
Different regions of the state have connected with each other to attract a wider range of golfers – and not simply from their local area. Here, a number of trail offerings are available to maximize your golf and minimize your drive time so you can enjoy the shorter days of late summer and early autumn.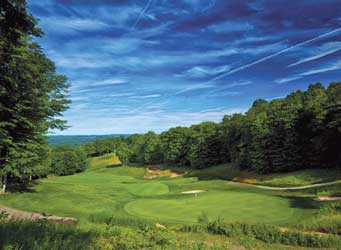 Photo courtesy of Gaylord Area CVB
Most people know of the 'Gold Coast' resort
courses
on the west side of the state: Boyne, Grand Traverse, Shanty Creek, Arcadia Bluffs to name a few. North centrally, there's the
Gaylord Golf Mecca
, headlined by Treetops Resort – where you can sample 'The Masterpiece' an original RTJ Sr. design. Experience the same inspiration Jones had when looking at the formidable elevation drop to the 6th green when all he saw were treetops…and thus the resort's name was born.
Further east along US-23 and adjacent to Lake Huron, the Sunrise Side is lesser known but offers a wonderful collection of splendid courses that are surprisingly affordable. Red Hawk, near Tawas, an Arthur Hills design (think 'Bay Harbor') is a perfect introduction to the quality of golf you'll find in the area. Up the road is Lakewood Shores Resort, with the nationally top-ranked links-style Gailes as well as the enjoyable Serradella, Blackshire, and par-3 'Wee Links' courses which sit adjacent to Lake Huron near Oscoda.
Alpena Golf Club
, River's Edge (formerly Alpena CC), and Black Lake are must-plays as are Elk Ridge, owned by Honeybaked Ham – you MUST try the ham sandwich at the turn – and
Thunder Bay Resort
, which offers golf with the added attraction of elk viewing tours via horse drawn wagons in summer and sleighs in the winter…both culminating with a multi-course gourmet dinner cooked on a century-old stove.
Just north and west of Detroit, the Michigan Grand Golf Trail encompasses five upscale courses that are in close proximity: Whispering Pines and Timber Trace in Pinckney,
Mystic Creek in Milford,
Brentwood in White Lake, and Boulder Pointe in Oxford.
Municipal courses are also getting in on the combine-and-prosper act. The Michigan Municipal Golf Trail, part of the Michigan Recreation and Park Association consists of several public, city, county, and Huron-Clinton Metropark courses. At Dearborn Hills, $20 will get you 18 holes of golf, cart, and a hot dog, chips and pop Monday through Friday from 11am-1pm.
As Fall golf approaches – and this year it seems to be coming early, weather-wise – look for even better
deals
everywhere in Michigan. At all Boyne courses, fees are based on airlines-style pricing: it all depends when and where you want to play. Being flexible will pay off. Check out all 11 courses spanning 3 resorts at
Boyne
.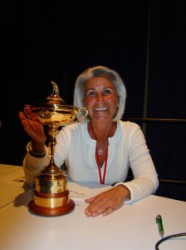 Janina Parrott Jacobs is a lifelong Michigan resident but her passion as a multi-media golf and business specialist and international golf and travel writer takes her all over the world. Her website, features many other entrepreneurial adventures as a motivational speaker, professional musician and performer, owning Capers Steakhouse in Detroit, and volunteer efforts with the U.S. Navy where she advocates for and mentors young people concerning health, nutrition, and fitness issues.