Grab Your Imagination and Your Boots for a Snow Day Getaway in Oscoda
Cardboard? Check. Scissors? Check. Creativity? Check. Pack up your snow gear and your imagination. Oscoda's Snow Box Derby is back for its 25th year! Today, Oscoda Area Convention and Visitors Bureau tells us how to suit up for smooth sledding and a snow day getaway on Michigan's sunrise side.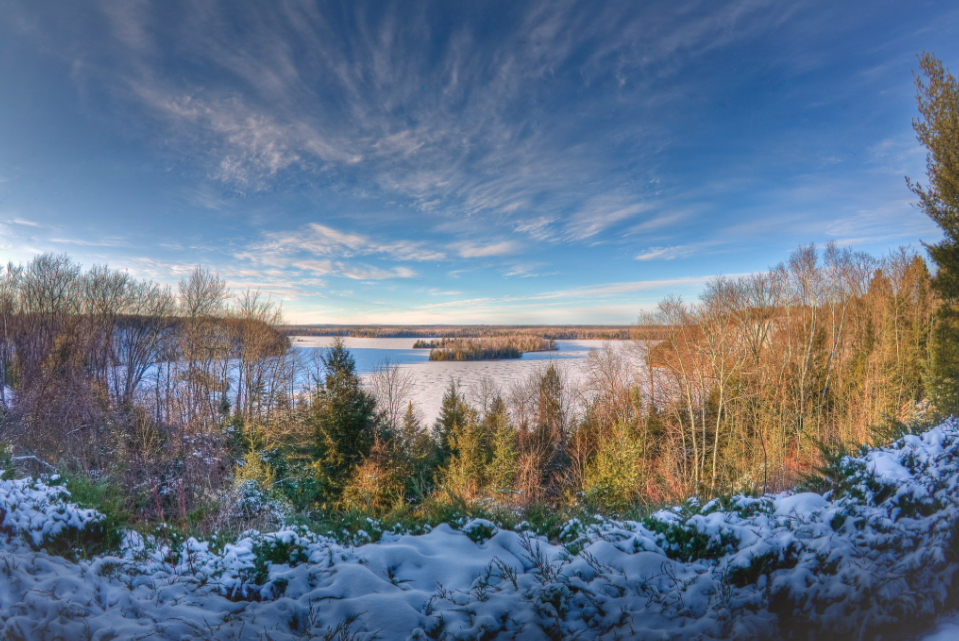 Photo by George Thomas - Lumberman's Monument
Snow Box Derby
Snow Box Derby is an Oscoda area tradition. The unique sled race glides into action February 8, 2015. Participants work to create a race-worthy sled using cardboard, scissors, duct tape and ingenuity. Creativity is encouraged! Many teams even wear costumes. The theme for this year's race is "25" in honor of the derby's 25-year celebration. Throughout the day, there will also be free children's games including frosty bowling, as well as snowball golf for the adults! What type of sled would you build?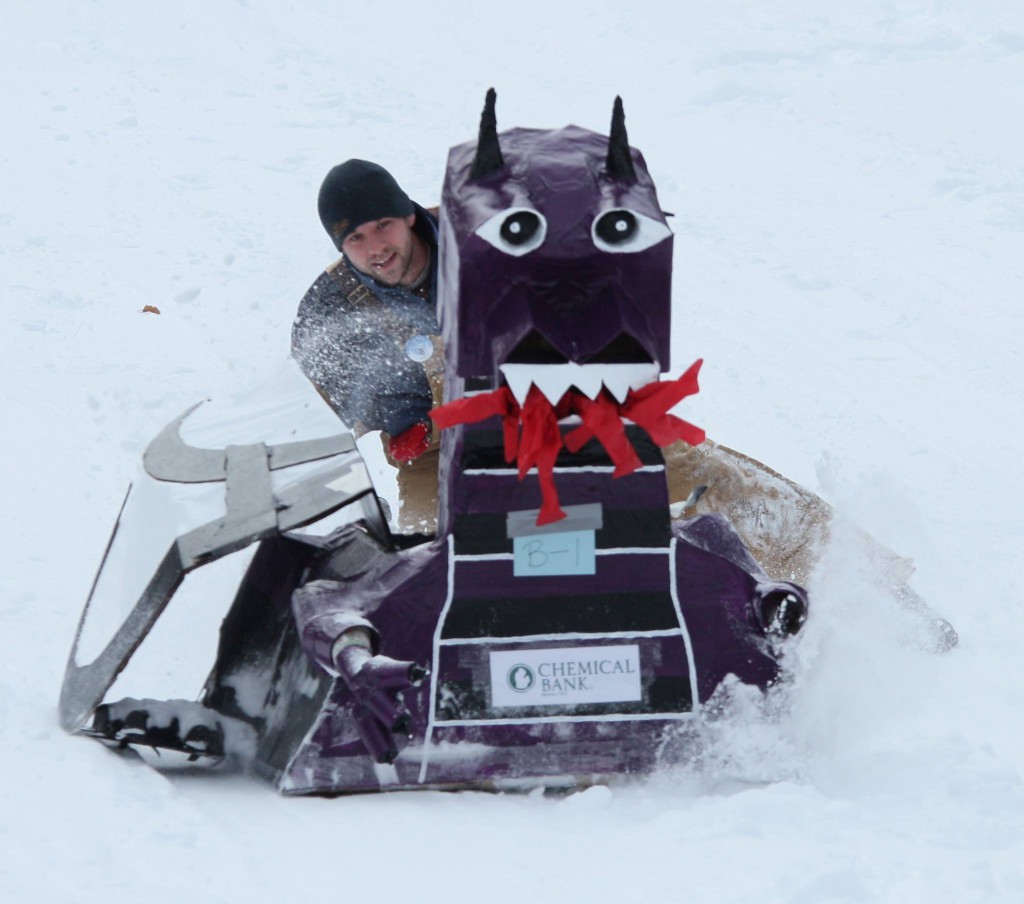 Photo via Under the Radar Michigan
Turn your derby day into a Pure Michigan winter weekend. Check out these other snow day activities that the Oscoda area has to offer:
Snowmobiling
Oscoda is the eastern gateway to
northern Michigan's snowmobile trail system
. From here you can travel across the state to Traverse City or northward to the Upper Peninsula. In Foote site Village, six and a half miles west of the trailhead, riders will find food, beverages and fuel. There the trail divides and riders have the option of heading north via Rea Road across the AuSable River and connecting with the Alcona County Trail system.
Cross Country Skiing
Whether you've been skiing for years or are just now picking up the sport, Oscoda offers trails for skiers of all levels.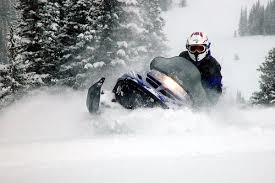 Photo courtesy of Oscoda CVB
Experienced XC Skiers
Highbanks Cross Country Ski Trail
- This is a linear trail, covering 14 miles of scenic AuSable River bluff, running from Iargo Springs on the west past Lumbereman's Monument to Sid Town. This back-country trail is marked but not groomed, and is suitable for novice to intermediate skiers.
Hoist Lakes Trails
- Longer loops and steeper hills offer an exciting challenge in beautiful surroundings. The trailhead is six miles north of Glennie on the west side of M-65 where parking is available.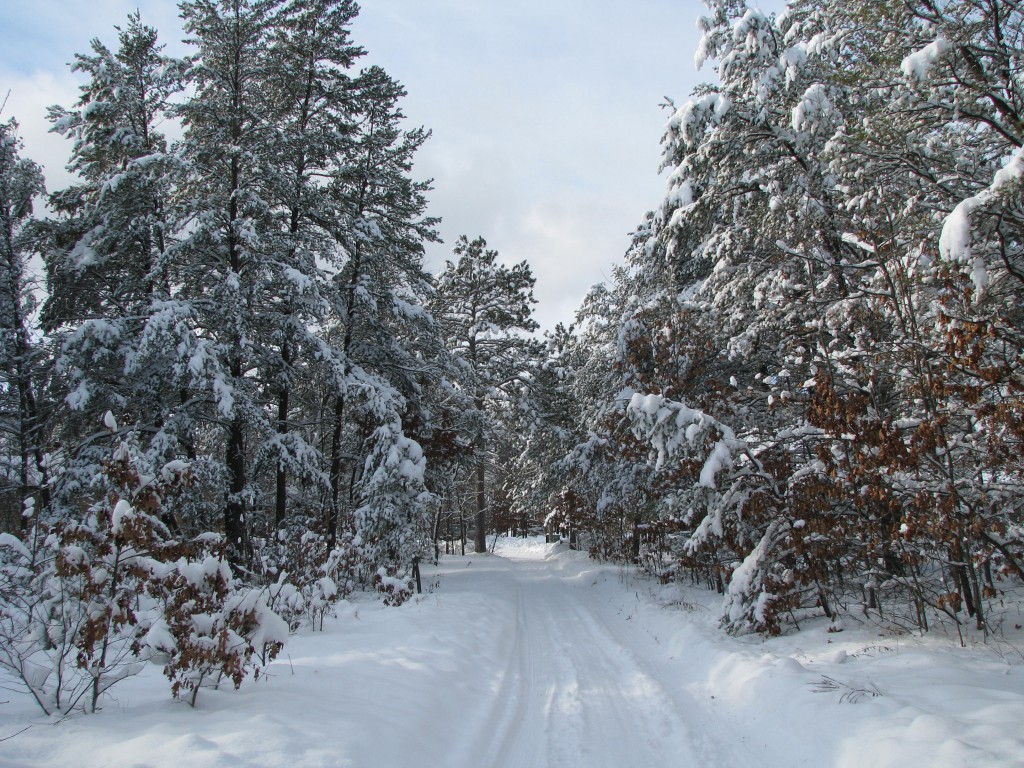 Photo by Melissa Ghrist
Corsair Ski Trails
– This trail is nestled in the beautiful Silver Valley area, surrounded by 120,000 acres of Huron National Forest. The Corsair system offers 44 miles of groomed and tracked trail with a variety of terrain, being one of the largest groomed trail networks in Michigan.
Eagle Run
- located two miles west of Oscoda on River Road. The trail runs along the banks of the AuSable River in the Huron National Forest, through mixed hardwoods and pines. The trail consists of 11 miles of groomed loops of varying lengths and difficulty. Trails are 13 feet wide and double packed.
Beginning XC Skiers
Sled Hill (Old Orchard Park)
- is located eight miles west on River Road. Winter time fun for the whole family. Groomed sled hills.
Reid Lake
- offers six miles of gently rolling trails through an area of many ponds where you can easily find evidence of beaver activity. Parking lot is plowed but the trails are not groomed. The parking area and trailhead are located on the south side of M-72 across from Kohler Road. From Oscoda, follow F-41 north to M-72. Turn west and go 12.5 miles.
Will you build a sled made for speed or ski through peaceful surroundings? Whichever you choose, plan your Oscoda area snow day getaway at oscoda.com