Morel Hunting in Wolverine
Thousands of people in Michigan go out every spring in search of the delicious Morel mushroom. In fact, they are so beloved that Michigan has three festivals honoring the Morel mushroom! This week's Guest Blogger shares a story about her family's annual mushroom hunting adventures in north eastern Michigan.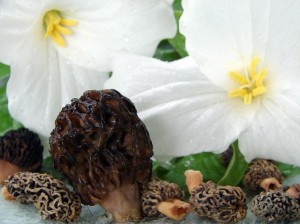 Every year my family and I make the 4 hour trip from our hometown of
Belding
to spend a long weekend in
Wolverine
, "roughin' it." Why? Wolverine has some of the best spots to find Morel mushrooms.
You might be wondering where Wolverine is. Don't worry; some people who have lived in Michigan their entire lives don't have a clue where this small village is. Wolverine is in Northern Michigan in
Cheboygan
County, and as of July 2009, had a total population of 334. Wolverine is 20 miles north of
Gaylord
and 34 miles south of the
Mackinac Bridge
to give you a reference point. So, as you can imagine, Wolverine is nothing but miles and miles of forest, fields, and the great outdoors. It seems almost untouched. It's absolutely beautiful.
Me, my two little sisters, my dad, step mom, and grandparents all pack up the RV the second weekend in May and road trip 4 hours just to find Morels. We usually stay at the most primitive campsite in Wolverine. It's a state park campsite with nothing but picnic tables, and two outhouses. We go out all day to our secret spots deep in the woods looking for Morels, and then at night sit by the camp fire and roast marshmallows and make hobo pies. Now, when I say "all day," I literally mean ALL day. We wake up in the morning around 8 and go hit the trails looking for mushrooms until about 1. Then we come back to camp, eat lunch and then go right back out until about dinner time. Then we do it all over again for the next 4 days.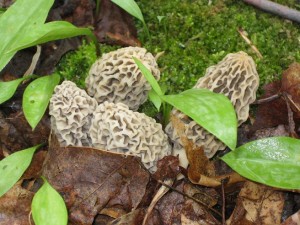 While there, we usually find hundreds of Morels every day. I kid you not. We always leave for the week with hundreds upon hundreds of Morels in paper grocery bags ready to be fried, canned, or made into gravy. Although as a family of five we would never be able to eat all of those Morels before they went bad, my dad refuses to sell them, preferring to give them away to family and friends.
Being in Wolverine, surrounded by everyone I love and Michigan's pure beauty, really forces me to forget everything that is going on back at home. I get no cell phone service, no internet, no Facebook and no television; it's just me, my family and one of Michigan's most untouched villages. Packing up and going camping in the middle of nowhere is honestly something I look forward to every May. My friends call me crazy, and you know what? I just might be. However, nothing makes me love Michigan more than spending 5 days in the midst of its prettiest forests. Wolverine really is, as quoted by the
Pure Michigan ads
, "Less like everything is and more like everything was meant to be."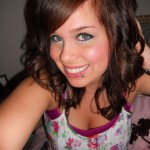 Caitlin Regan is a student at Central Michigan University, working toward a major in public relations and double-minors in event management and marketing. She lives in Mt. Pleasant, but is originally from Belding.