My Heart Belongs to Michigan
Kim Traud shares her "Pure Michigan Moment," fond memories of vacationing with her parents and her plans to carry on that tradition.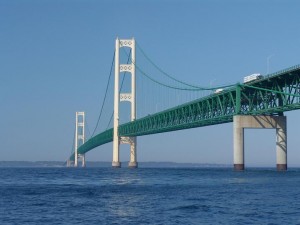 Mackinac Bridge
Other than the few years I lived out of state, I was born in Michigan and have raised my family here. I love Michigan for all of its timeless beauty. The places I enjoyed are still there for my kids to enjoy and hopefully will be there for generations to come! Michigan is home and will always hold my heart.
I couldn't name just one trip as my most memorable; they are all woven together to form my fondest memories. My dad has always had a deep love for the
Upper Peninsula
. Every summer, we would spend two weeks traveling, camping along the way. My parents moved to the UP (Brevort Lake) when they retired about nine years ago, and we spend a lot of time visiting them there. I think their love for the UP has rubbed off, because there is no other place that I'd rather spend my vacations and hopefully, my retirement years.
Some of my best memories include splashing in the waves and camping along
Lake Michigan
, riding the ferry to
Mackinac Island
, taking cruises under
the bridge
at sunset, admiring
the springs at Kitch-iti-kipi
, watching ships navigate the
St. Mary's River and the Soo Locks
, and visiting all of the great antique shops. I track every antique shop that I've visited on a large laminated map. There are still quite a few shops that I plan to visit, mostly on the west side of the state. It looks like I have lots of opportunities for fun Michigan adventures for the next couple of summers.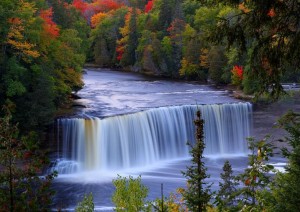 We have enjoyed many snowmobiling trips on all of the fantastic groomed trails and countless hours marveling at
Tahquamenon Falls
in their summer splendor and in winter when they are frozen. I could go on for days touting all the beautiful sights Upper Peninsula has to offer!
This summer, Kim plans to spend a couple of weeks in the UP with visits to Marquette, Ishpeming, Eagle Harbor, Ontonagon, and Ironwood. "Last summer, my mom and I took a little trip to the west to check out some antiques shops, and we had so much fun that we are planning another trip this summer! I think it will be fun to revisit the places of my childhood summer vacations." Kim Traud wrote about her "Pure Michigan Moment" for Michigan Travel Ideas.