Ore to Shore Draws Thousands to Marquette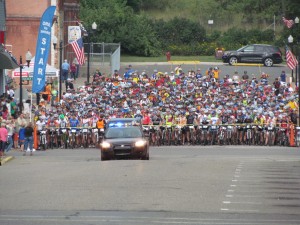 Michigan Bike Race
Guest Blogger Jeni Jewell shares the experiences of riders at this year's Ore to Shore Mountain Bike Epic race in Marquette.
Mud, mud, everywhere. As I stood at the finish line at the
Lakeview Arena
in Marquette, hoping to talk with a few riders about their 2011 Ore to Shore experience, I couldn't help staring.
Some riders had two tiny white circles framing their eyes with thick layers of mud caked on the rest of the face. Not a body or bike part was spared, including those who wore glasses and had two small streaks to see through.
But what would a mountain bike epic be without a little mud?
Maybe it was the mud that drew 1,900 people – a record turnout - to compete in the 48 mile Hard Rock, 28 mile Soft Rock, 10 mile Shore Rock, 4 mile Junior Rock, and 1 mile Littlest Rock race. Perhaps it was the chance to compete with some of the best professional mountain bikers in the Midwest. Or maybe it was a family affair; a chance to race and relax in Marquette County.
While mom, dad, or both rode in the point-to-point 48 mile Hard Rock or the 28 mile Soft Rock, 600, kids waited their turn to ride in the Jr. and Little Rocks.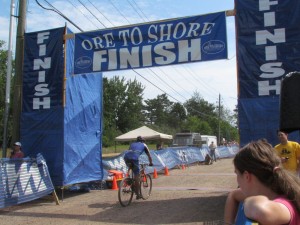 Ore to Shore Finish Line
Tom Bleu, event coordinator for the Ore to Shore says that some families make the week their summer vacation. "That's the big thing that draws people here", he said. "We have something for the whole family to do."
In the end it was the pros who took home top honors from the 48 mile Hard Rock. Sheboygan, Wisconsin rider, Brian Matter won the race, finishing at 2:25. Cole House of Oneida, Wisconsin took second place.
Marquette County native, Tyler Gauthier, was pleased with his 11th place finish. "My goal was to be in the top ten, knowing I'd be with some of the best riders in the Midwest", he said. "And I was right there". The
Ishpeming
rider said that the competition has increased in the past few years, as more professional riders make the trip to Marquette County for the event. "If you look at the top 10 to 20 places, a dozen are pros", Gauthier said. "The competition is getting to be first rate".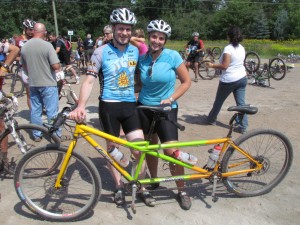 Michigan Biking Fanatics
In the women's Hard Rock division, Sara Kylander of Duluth, MN, came in first place, with a time of 2:40. Chloe Forsman of Tuscon, AZ took second. Scott and Christina Quiring, a
Manistee
, Michigan couple raced in the 28 mile Soft Rock on a tandem bike. "It was awesome. The trail was in great shape. Not too hot out there. They smoothed out some sections, so it wasn't so rough", said Scott. "I was very adamant last year", said Christina. "I was in so much pain; I said "I'll never do that again"".
Scott grinned. "But then fifteen minutes later she said to me "Hey can you sign us up again", he said.
Their story was similar to many others, whose mud-caked faces, frames and tires were a testament of grit and a good time.
Jeni Jewell is a freelance writer in Marquette, Michigan. She currently blogs on biking and racing in Marquette County on letsbikemqt.com. She also spent five years as an award-winning news reporter in Michigan's Upper Peninsula; a place she loves to work and play. Her email address is:

[email protected]
Related posts: