Thanks to Karen and Greg Evans for sharing how they're preparing for their big U.P. backpacking adventure by exploring some trails a little closer to home…
On a sunny June weekend, my husband and I hiked 22 miles through wetlands and up steep hills. We saw snakes, beautiful birds and amazing vegetation. We had our tents on our backs, and our dog by our side. Were we in Yellowstone? Nope! Surprisingly, we were just a few miles outside of
Chelsea
, right in Southeast Michigan.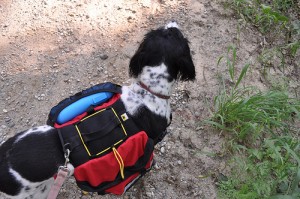 Pup is all packed up!
The
Waterloo-Pinckney trail
could take 4 days to hike from end to end. It covers the
Waterloo
and
Pinckney
recreation areas, which have several campgrounds and a nature center between them. Our original plan was to hike about 18 miles, but it's easy to take a few wrong turns because there are lots of horse and bike trails in addition to the W/P trail (as it is marked in blue paint on some trees).
Getting off course, though, led us to some of the most amazing sights of our journey. We walked through a flowing stream with small waterfalls in it. We came upon Camp Waterloo, a state prison that was shuttered in 2001, but was at one time a POW camp for Germans during World War II.
We took this trip in preparation for a week of hiking through the backcountry at
Tahquamenon Falls
and on
Grand Island
. One thing we've learned: We're hooked. Seeing up close the things we miss when speeding down the freeway restores that sense of adventure you used to get from setting up a fort in your back yard.
From our very amateur perspective, here are some of our other lessons learned:


You will find yourself getting as excited to see a trail sign as you did when you got accepted to college.


Sometimes, taking a wrong turn can lead to amazing sights you would never have known about had you stayed on the path. Stop, admire, photograph, take it in.


You will probably not bring enough water. Have a filter handy, and be aware of the rivers and streams on your route.


Yelling at mosquitoes might temporarily make you feel better, but it's only going to egg 'em on. Find the best bug spray for your region, and apply evenly and often.


Backpacking might just be a great substitute for pre-marital counseling. You will learn a lot about each other and how you handle stressful situations.


You can never pack lightly enough. Things you don't need: several magazines, video and SLR cameras, several changes of clothes, Acme-brand anvil (unless you're on a route known for its roadrunner population). Things you do need: lightweight camping stove, waterproof matches, compass, sunscreen, food (tip: instant mashed potatoes!), sense of adventure.


Michigan is amazingly beautiful – and you don't have to go far to figure that out.


Along the Waterloo-Pinckney trail
Ready to go? Check out
Jim Dufresne's Backpacking in Michigan
and get ready to be inspired. (Take photocopies of his chapters with you if you go – his narrative gives you some valuable landmarks to look out for to stay on course. We'll be doing this next time!)
Karen and Greg Evans
are lifelong Michiganders embarking on a new shared passion for backpacking! They love traveling with their pup, a rescue named Addison, to spots around the state (including bed and breakfasts on Lake Michigan, skiing up in Boyne, and walking to the fun of downtown Royal Oak). When not enjoying the beauty of our state, Greg is founder and President of Synectics Media, Inc., an advertising and web firm, and Karen is the Director of Undergraduate Management Programs and of Intellectual Property Projects at Lawrence Technological University.