Pure Michigan Fourth of July 2014 Activities Roundup
Fourth of July fireworks, festivals and more have already started happening across Michigan, and many will be out and about celebrating the Fourth of July both before and after t
he big day! With so many festive events and plenty of Michigan campground space available, there's still time to plan a great Independence Day adventure. Below is just a sampling of celebrations and quick weekend getaways you can still book!
For a complete listing of events in Michigan visit www.michigan.org.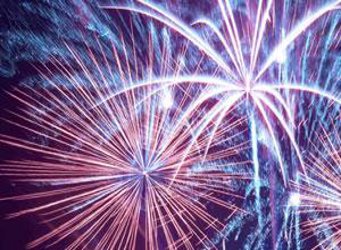 4th of July Celebration | St. Ignace
Combining the nostalgic sentiment of a small-town celebration with the picturesque backdrop of Lake Huron and Mackinac Island makes the 4th of July in St. Ignace something special. Watch the parade at 1pm, enjoy Kiwanis Kid's Games and a community picnic at 2pm, and watch the fireworks over Moran Bay at dusk. Let us show you patriotism, St. Ignace style!
Fourth of July Parade & Fireworks | Port Austin
One of the Thumb's largest parades is hosted annually in beautiful Port Austin. Entertainment at Veteran's Waterfront Park, and fireworks at dusk over the harbor will encompass a wonderful evening of red, white and blue fun on Independence Day.
4th of July Fireworks | Grand Haven
Grand Haven's annual 4th of July Fireworks display lights up the night sky after the evening's showing of the Grand Haven Musical Fountain. Come see the sights and sounds of summer as you kick back and enjoy an exciting fireworks display.
Independence Day Concert | Saint Joseph
Join this joyous celebration of America's birthday! Complete with traditional patriotic songs, Tchaikovsky's rousing 1812 Overture and, of course, a spectacular fireworks show! This free concert will be at the Shadowland Pavilion at Silver Beach beginning at 9pm.
July 4th Fireworks Cruise | Muskegon
See the spectacular fireworks from the water with the best view in town on this fun cruise for the whole family! This unique cruise will take you on Muskegon Lake and Lake Michigan and includes an all American picnic buffet. $55 adults, $45 kids under 12. Service fee added. Call-ahead reservations required.
Star Spangled Fourth | Mackinac Island
Celebrate America's Independence on Mackinac Island. Patriotic fun in oh so many ways … visit Fort Mackinac for the 38 Gun Salute, Soldier demonstrations, dancing, canon firing and more from one of the only two remaining all original Revolutionary War Forts in America. Then feast at the All American Picnic at Fort Mackinac catered by Grand Hotel. Mackinac Island's Fire Department is the host to the Fun & Games at Windermere Point. There are excellent fireworks to be watched on the water or from the shoreline on the west end of Main Street to Grand Hotel. They start at dusk, which is usually between 9:30pm-10pm. Most bring blankets to stretch out on the shoreline, others bring folding chairs to watch from the school yard and guests of Grand Hotel may watch from the longest summer porch in the world.
4th of July Fireworks | Traverse City
Enjoy a spectacular 4th of July fireworks display beginning at dark with great viewing from anywhere along the West Bay shoreline in beautiful Traverse City. The fireworks will be from 10 p.m. – 11 p.m. so make sure you show up early to get a good spot!
Light Up the Lake Fireworks | South Haven
Watch a spectacular fireworks display and listen to the Light Up The Lake soundtrack live on SuperHits 103.7 COSY-FM! The fireworks shoot off synchronized to the music and are set off from the pier at dusk. Find a cozy viewing location along the South Haven Lake Michigan shoreline on the beaches, the riverfront park located near the South Side Marina along the Black River, Kid's Corner on Monroe Boulevard, or in a boat! Parade will be held on July 4 through downtown.
4th of July | Les Cheneaux
Enjoy the spectacular view of fireworks over Cedarville Bay from the Cedarville's downtown waterfront park or the lawn of the Great Lakes Boat Building School on July 4. Earlier that day, a parade, kids games, hot dogs and burgers, Up in Smoke BBQ, races and contests, and more wind down into early evening with music on the bay by Dance Commander DJ and a Jersey Mud eating contest.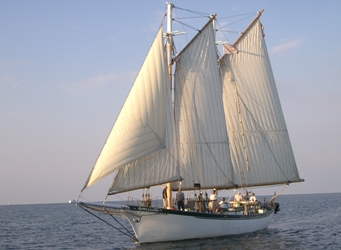 BBQ Dinner Sail | Bay City
Set sail this Independence Day! Make sure you have your ticket and hop aboard the family friendly Appledore IV for a fun and relaxing evening of cruising along the Saginaw River and sailing in the Saginaw Bay. While on board, guests will enjoy a delicious and casual barbecue meal catered by a local restaurant. The voyage departs from downtown Bay City, Wenonah Park and sails rain or shine. Tickets are non-refundable.
Friday Night at the Museums | St. Ignace
From 7-9pm, these fun-filled evenings in July and August will have something for everyone! As you stroll along the streets in downtown St. Ignace on a Friday night you will see a variety of activities to watch and/or participate in. The Museum of Ojibwa Culture will have Native American drumming and singing and you can also enjoy music and storytelling at Fort de Buade Museum. Friday nights is in July and August.
Independence Fest | Clarkston
This is an all-day event from 11am-11pm filled with fun activities for the whole family. Activities include visiting a mermaid, an extreme zip line, kid's games, inflatables, a craft show, live entertainment, and much more! After a great day of entertainment you can kick back, relax and watch the fireworks show starting at 10 p.m. Parking and shuttle fees.
Volkslaufe / The People's Race 2014 | Frankenmuth
Head to Frankenmuth for a variety of races on Independence Day! Race location is Heritage Park on Weiss
Thunder Bay Maritime Festival | Alpena
A spaghetti dinner, music and fireworks show will be on July 3rd. Bring the whole family to this free annual community event hosted by the Thunder Bay National Marine Sanctuary. Tour tall ships, research vessels and fishing boats docked along the Great Lakes Maritime Heritage Trail. Enjoy live music on the main stage, kids games and crafts, see the small boat workshop, taste some local whitefish, explore the shipwreck century exhibits and more! Festivities start eachyear at 500 W. Fletcher Street following the 4th of July parade in downtown Alpena.
4th of July in Boyne City
Boyne City's 4th of July Festival is always held on July 4th, regardless of the day of the week! All events are held at Veterans Memorial Park on Lake Street unless otherwise noted. Make your way up to Boyne City for the annual parade and fireworks show!
As June comes to a close, so does National Camping Month. But don't put away that tent just yet! Check out these great campgrounds that still have space for the Fourth of July weekend and beyond.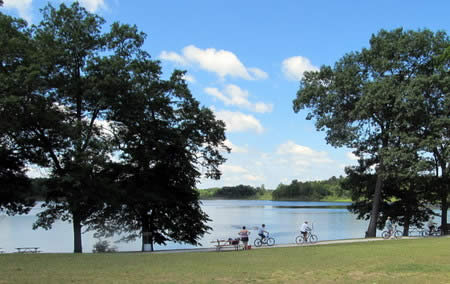 Brighton Recreation Area
Consisting of nearly 5,000 acres of rolling woods and meadows interspersed with lakes, streams and marshes. There are several campgrounds, beaches and hiking and mountain bike trails. The majority of the area is open to hunting, fishing and most winter activities including snowmobiling and cross-country skiing. Bishop Lake beach offers an ADA accessible path which will allow all of our visitor's access to the lake for swimming and several of our new picnic areas. We have added a sand volleyball court and horse shoe pits. The park also offers canoe,kayak and paddle boat rentals. Bishop Lake boat launch now offers an ADA accessible EZ Dock launch. The park also features complete equestrian facilities, including a riding stable with rental horses, campground, staging area and 18 miles of bridle trails. Metal detecting area.
Palms Book State Park
Palms Book is a rewarding side trip for the vacationer touring the Upper Peninsula, for here can be seen one of Michigan's alluring natural attractions -- Kitch-iti-kipi, The Big Spring. Two hundred feet across, the 40-foot deep Kitch-iti-kipi is Michigan's largest freshwater spring. Over 10,000 gallons a minute gush from fissures in the underlying limestone. The flow continues throughout the year at a constant 45 degree Fahrenheit. By means of a self-operated observation raft, visitors are guided to vantage points overlooking fascinating underwater features and fantasies. Ancient tree trunks, lime-encrusted branches and fat trout appear suspended in nothingness as they slip through crystal waters far below. Clouds of sand kept in constant motion by gushing waters create ever-changing shapes and forms, a challenge to the imagination of young and old alike.
Fayette Historic State Park
Fayette townsite is a restored iron smelting company town (1867-1891). Once a bustling industrial community, Fayette offers visitors the unmatched serenity of a Lake Michigan harbor, white cliffs and verdant forests. This well-preserved museum village recalls another time when it was a noisy, dirty company town with an immigrant population that shared daily hardships, joys and sorrows. Three miles of shoreline on Big Bay De Noc. Park amenities include: sixty-one semi-modern campsites, boat camping, fully furnished, cottage that sleeps up to ten people, picnicking, beach, playground, fishing, and boat launch. Five miles of hiking trails overlooking town from limestone cliffs. Groomed for cross country skiing, perfect for the beginner.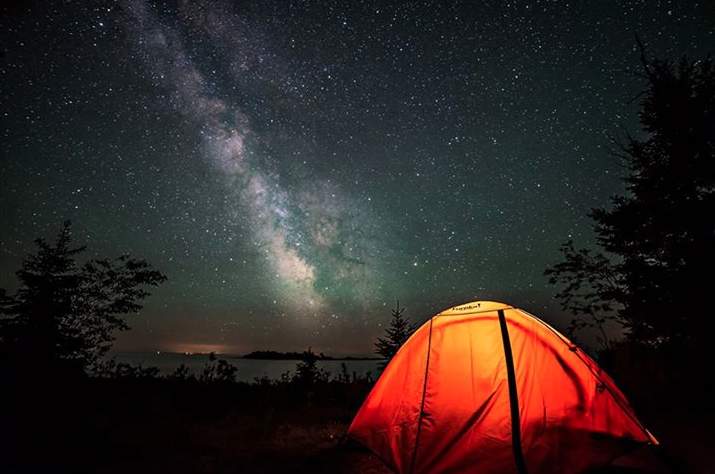 Photo courtesy of Chris Blake Photography
Muskallonge Lake State Park
159 site campground located between Muskallonge Lake and Lake Superior. Activities include swimming, boating, picnicking, agate & rock hunting on Lake Superior shoreline, camping, hunting and fishing. You can also do some wild berry picking while at the state park.
Newaygo State Park
Newaygo State Park is a 99-site rustic campground and day use area sitting atop 20-foot embankments overlooking the Hardy Dam Pond, a six-mile flooding of the Muskegon River. The campground noted for its large, private sites and scenic beauty with a 20-30 foot forested buffer between sites.
Ionia Recreation Area
Ionia Recreation Area offers you 149 campsites (100 modern and 49 rustic), 4,500 acres that offer a swimming beach, good fishing in Sessions Lake, camping, hunting, 3.5 miles of hiking trails looped within the park, nine miles designated for mountain bike trails, 15 miles of horse trails and a boat launch. We also have three designated trail loops for cross-country skiing and snowmobiling when there is four inches or more of snow. Additional amenities include a dog trail area and metal detecting area.
What do you have planned for the 4th of July in Michigan? Tag your Michigan fireworks photos with #PureMichigan on Twitter and Instagram.