Pure Michigan's Wonderful Winter Activities
Jesse Land, a native Yooper, runs the U.P. travel site "Things to do in the U.P." (www.thingstodointheup.com). Today on our blog, he shares his favorite winter activities to enjoy in Michigan's Upper Peninsula.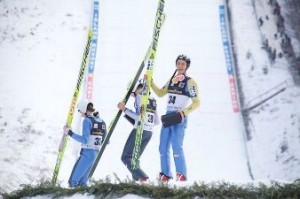 Are you looking for things to do in Michigan's Upper Peninsula in the winter? Well, look no further! Following are a few excellent winter activities that range from a mildly adventurous spectator sport to something even the most daring outdoorspeople will enjoy!
Experience the Pine Mountain Ski Jumps
The Pine Mountain Ski Jumps are truly an event to behold, and something I believe everyone should take in at least once in their lifetime. Each February, thousands of spectators cluster around the base of Iron Mountain's Giant Pine Mountain ski jump to watch some of the best jumpers in the world compete in this Continental Cup tournament.
Charcoal grills and bonfires abound in what could be Michigan's largest tail gating event, as the jumper's soar several hundred feet through the air with each try. And with the newly completed Pine Mountain stairs, watching the jumpers whoosh by at over sixty miles an hour will be easier than ever.
The hillside stairs are open to the public during the event so it's quite easy to get closer to the action that you may have thought possible. All in all, you'll likely leave the event muttering something along the lines of "who knew we had something like this right here in Michigan?"
Ski or Snowshoe at Fumee Lake Natural Area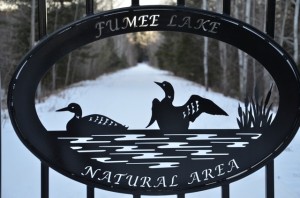 Michigan is full of wonderful opportunities for cross country skiing and snowshoeing, with many of them not far from our respective backyards. One such place is the Fumee Lake Natural Area.
Fumee Lake offers a variety of trails, but the most popular are the "Little Fumee Lake Loop" and the "Big Fumee Lake Loop." As their names imply, both trails circle one of the area's two lakes, with the little loop measuring 1.35 miles and the big loop coming in at about 5.2 miles.
Because the 1,808 acre natural area only allows silent sports, you can find peace and quiet there all winter long. In fact, it's not uncommon to spend a few hours on the Fumee Lake trail system and not see another soul.
Go Ice Climbing at Pictured Rocks National Lakeshore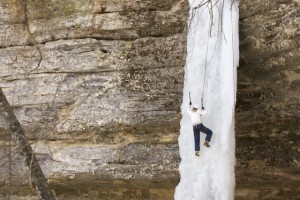 Did you know that some of the best ice climbing in the world is right here in the Upper Peninsula? Yes, that's right, I said ice climbing! Pictured Rocks National Lakeshore may be a thriving destination for tourists in the summer months, with families packing the lakeside campgrounds and sunset boat cruises, but in the winter the area is certainly no less beautiful.
Giant walls of ice form along many of the area's rock faces (as well as on Grand Island), and the much photographed waterfalls of Pictured Rocks freeze over, becoming some of the most excellent and easily accessible ice climbs in the Midwest.
And fortunately, the barriers to entry for this crazy cool sport may not be as difficult as you'd think! Just call
Down Wind Sports'
Marquette location at (906) 226-7112 and book one of their "Ice Climbing 101" trips. The cost is $99 per person and includes instruction and gear rental.
Ski Big Powderhorn Mountain
Our friends at MISkiReport.com do an excellent job of describing each of Michigan's wonderful ski locations, so I'm going to borrow their description of Big Powderhorn Mountain…
"Located in the western Upper Penninsula of Michigan, Big Powderhorn Mountain is ranked as one of the Top 5 Resorts in the Midwest. Combine an average of 17 plus feet of natural snowfall, a good mix of well maintained terrain and you have an exceptional winter getaway.
Big Powderhorn offers a variety of terrain for skiers and snowboarders alike, with an excellent mix of trails for the novice to advanced. With its Bavarian style village, Big Powderhorn boasts such features and amenities that are only found at larger western resorts. Ticket and rental prices vary depending on the time of year. However, check with the resort before planning your trip as promotions and great deals are offered throughout the year."
In summary, as you can see, Michigan is host to a myriad of awesome winter activities. And these are just the tip of the iceberg! To learn more things to do in the Upper Peninsula, "like" my "Things to do in the U.P." Facebook Page and plug into the action!
A native Yooper, Jesse Land lives in Iron Mountain and enjoys hiking, biking, boating, and camping with his family. He runs the U.P. travel site "Things to do in the U.P." (
www.thingstodointheup.com
).