Snowshoeing at Tahquamenon Falls State Park in Pure Michigan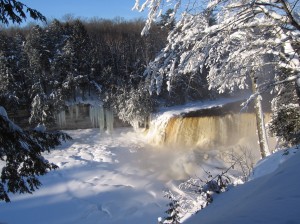 Ever been snowshoeing? On our blog today, Theresa Neal from the
Michigan Department of Natural Resources
, answers some questions about this fun winter activity.
Q. A lot of people have heard of skiing and snowmobiling, but may not be familiar with snowshoeing. What is it?A.
Snowshoeing is a unique form of transportation that was developed thousands of years ago specifically for winter travel by foot. Native Americans were the innovators of snowshoe design, with varied styles depending on the snow conditions. Each snowshoe is designed with the basic idea of staying atop deep snow, sinking only 3-6 inches versus above the knee. Snowshoes allow for easier, quicker travel over snow-covered terrain and have developed into a popular winter activity.
Q. Where are some places where people like to snowshoe in Michigan?A.
Any place with 6 inches or more of snow is a good place to start snowshoeing! Michigan winters provide snowshoeing opportunities pretty much everywhere. Some state parks offer packed snowshoe trails, which are nice for beginners and small children. However, most people find blazing their own trail to be a fun and exciting way to explore places others have not been. Northern Michigan and the Upper Peninsula are filled with publicly-owned land that is perfect for exploration on snowshoes, particularly
Wilderness State Park
,
Hartwick Pines State Park
and the
Porcupine Mountains
.
Q. Are there different kinds of snowshoes?A.
Yes, there are hundreds of different snowshoes available out there. Modern snowshoes usually consist of an aluminum frame with a plastic decking. Traditional snowshoes are wood framed, with either rawhide, neoprene or nylon lacing. While modern snowshoes can be less expensive, the quality varies greatly and I often see visitors carrying their snowshoes back from a hike due to a broken binding or torn plastic decking. Traditional snowshoes require some maintenance, and can be slightly heavier and more expensive than the modern versions, but they are adjustable and problems can often be repaired.
Most snowshoes have rounded toes, with the exception of the Ojibwa style, which has a pointed toe. Pointed toes were designed to "plow" through very deep, light fluffy snow and to break through ice-crusted snow. Snowshoe tails are designed to drag through the snow, and are either rounded or pointed. Rounded tails result in a smaller snowshoe, but tend to offer more resistance and kick up snow toward your back as you walk. Pointed tails result in a longer snowshoe, but offer less resistance as you walk and basically glide through the snow.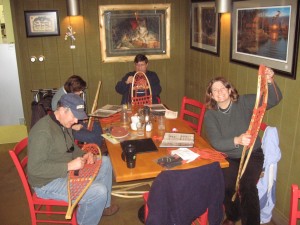 Q. Can you give some information on the Make Your Own Snowshoe Workshop on December 17?A.
Participants in the one-day workshop will make their own pair of traditional wooden framed snowshoes by weaving a nylon lacing material to create the decking. The workshop is limited to 15 participants, so there is plenty of one-on-one instruction to coincide with a step-by-step guide book to learn the proper snowshoe lacing technique. It takes about 3-4 hours to complete one snowshoe, and participants are welcome to bring a friend to help speed along the lacing process. The kit includes two wooden frames, lacing material and bindings for $170. The workshop takes place at the
Tahquamenon Falls Brewery and Restaurant
at the Upper Falls, which provides a great atmosphere with awesome food and drinks to assist the weaving process.
Q. Can you snowshoe at Tahquamenon Falls State Park?A.
Yes! Snowshoeing has become a popular recreational activity at Tahquamenon Falls. We have a 3.8 mile groomed cross country ski trail, which snowshoers often utilize (to the side of the groomed tracks), as well as two packed snowshoe trails at the Upper Falls. The best snowshoeing at Tahquamenon is to blaze your own trail through the forest, or over the extensive peatland complex that is too wet during the summer to explore. Many visitors park at the Lower Fall sand snowshoe the marked trails, or take off to the north on their own adventure. There are heated restroom facilities at the UpperFalls, and outhouses at the Lower Falls.
Q. Are there other winter activities in the Park that you would like to mention?A.
Every Saturday in February, we offer free snowshoe rental from 12-8 p.m., a guided snowshoe hike at 2 p.m., followed by a one mile lantern-lit ski/snowshoe trail from 6-8 p.m. The 3.8 mile Giant Pines Loop will be groomed, with a set track, as soon as we get enough snow. Please call (906) 492-3415 or check out
www.michigan.gov/dnrvisitorcenters
for more information.
[wp_geo_map]