These Action-Packed Winter Sports Videos Will Make You Want to Grab Your Parka and Head Outside Immediately!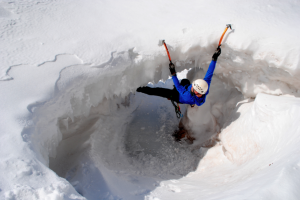 Photo courtesy of Downwind Sports
Press pause on that adorable cat video. These action-packed winter sports videos will leave you eager to bundle up and hit the snow! We could tell you that Michigan boasts a variety of epic winter activities for skiers, snowboarders and adventurers alike, but we'll let you see for yourself.
Take a first hand look at the winter thrills that await you in Pure Michigan.
Winter Ziplining
Ziplining is a thrilling way to experience Pure Michigan landscape, especially on a brisk winter day. Glide 50 feet above the snow and experience all that a
winter ziplining
adventure brings - from the thrill of the jump off, to some of the sights and sounds you'll experience on a Pure Michigan winter day.
Ice Sailing
Ice sailing
, originating more than 4,000 years ago, is known as the fastest of all winter sports. While popular all around the world, Michigan is a well-known destination because of our great lakes and winter winds. Watch as the 2012 WISSA team takes you racing over a frozen lake on a wind-powered sled, hitting speeds up to 40 miles per hour.
Ice Climbing
With miles of sandstone cliffs lined with hundreds of frozen waterfalls, Michigan is home to some of the
best ice climbing spots
in the country. Experience the thrill of climbing a frozen waterfall, ranging from 20 to 210 feet tall, while taking in the scenic landscape that only a Michigan winter provides.
Dog Sledding
Dog sledding, a historic form of transportation is also a fun way to get out and enjoy the winter months. With more than 2,000 miles of dogsledding trails, 11,000 frozen inland lakes and a number of snow-covered national forests, Michigan is a great destination for a
dog sledding
adventure. Experience the rush and excitement as a pack of huskies pull us along the glistening Michigan winter landscape.
Snow Tubing
One of the most popular and well-known wintertime activities is
sledding and snow tubing
. A Pure Michigan winter offers plenty of hills and slopes for families and kids of all ages. Watch as we take you on a snow tubing adventure and imagine yourself flying down a snowy hill, racing your friends or family members to the bottom, and taking in the scenic Michigan winter wonderland on your way back up to the top.
Downhill Skiing
Downhill skiing
on fresh, white powder is Pure Michigan. Michigan is ranked second in the nation for number of ski areas and is a great skiing destination for beginners, families and experts alike. Explore the various slopes across the state, from family friendly hills to triple black diamonds, and the highest vertical drop in the Midwest.
Snowboarding
A Pure Michigan winter is a
snowboarders' paradise
. Explore the diverse snowboarding terrain that Michigan has to offer for all levels and ages -- from steep runs and 30-foot cliff drops to beginner parks with small jumps and rails.
Cross-Country Skiing
Cross country skiing
is a winter activity that anyone can enjoy and with more than 3,000 miles of cross country skiing trails, Michigan is the perfect place. Watch as we take you through the snowy trails to enjoy the peaceful sights and sounds of a brisk, Michigan winter day.
What's your favorite thing to do outdoors in the winter?