Two New Ways Boyne Mountain Offers Big Summer Adventure
Snow-capped hills have turned to lush hiking and biking trails, scenic golf views and more at Boyne Mountain Resort! Today, guest blogger Erin Ernst tells us about a few new ways to experience Boyne Mountain Resort this season.
Kayak Adventures on the Boyne River
Summertime in northern Michigan is all about the allure of natural surroundings and if you like a bit of adventure with your time in the great outdoors, then
Boyne Mountain Resort
is the place for you! In addition to plentiful activities like golfing, fishing, horseback trail rides, Zipline Adventures, beach fun, chairlift rides, disc golf, hiking, and paintball, you'll also discover two new summer excursions – Kayak Adventures and guided mountain biking trips.
The resort recently partnered with Boyne River Adventures to offer guests convenient access to the Boyne River, located just a mile from the resort. Roundtrip transportation and kayak rental with paddles and flotation jackets make this trip as easy as the breeze on the water. Departures are offered daily at 9:30 a.m. and 1:30 p.m. from Boyne Mountain's Adventure Center. Kayakers are first given an overview of the river's landscape, and then launched for an enjoyable five-mile float on the prized river.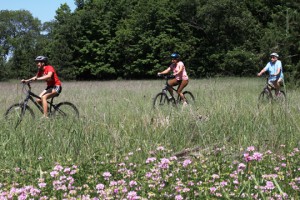 Guided Mountain Biking at Boyne Mountain Resort
A moderate understanding of kayaking and paddling is best as some maneuvering (just enough to get your heart racing!) is necessary. The river quickly rewards you for your efforts with a leisurely float for the second half of the trip before flowing into beautiful Lake Charlevoix. The Boyne River is cherished for its high-quality fresh water that supports great biodiversity, and winds its way deep through the woods where the natural scenery is pristine.
At the end of the approximately two-hour trip, kayakers are picked up in Boyne City and transported back to Boyne Mountain Resort. Each trip accommodates up to 10 guests. Rates are $40 per person for a single kayak or $75 for a tandem kayak.
Summer visitors can now also explore Boyne Mountain Resort's expansive network of
mountain biking trails
with a guide. Based on your biking ability, a guide tours the most suitable trails during an hour and a half expedition with up to four guests. Boyne Mountain boasts an impressive 32.5 miles of trails, including a paved loop with panoramic views of the Boyne Valley, or for more experienced riders, natural wide open two-tracks and technical single-tracks. Bring your own bike, or rent a ride from Boyne Mountain. Departures are available daily at 10 a.m. and 3 p.m., and the cost is just $20 per person.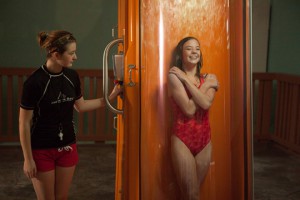 The Big Couloir at Avalanche Bay Indoor Waterpark
When you need some time away from the sun, adventure can also be found indoors at
Avalanche Bay
. The mega indoor waterpark is the largest in Michigan, and its newest attraction has adventurists giddy with excitement. Beginning in a launch capsule, The Big Couloir features a trap door that drops away and propels riders into an enclosed tunnel traveling at G-force speeds up to 38-feet per second round a 360-degree loop before finishing with a splash. This ride is a pure adrenaline rush that will leave you wanting to ride it again and again!
So whichever adventure calls you, find it this summer at
Boyne Mountain Resort.
For Kayak Adventure and guided mountain biking reservations, call 231.549.7256. For more information on all of Boyne Mountain's summertime fun, visit boynemountain.com.
Erin Ernst is the Director of Communications for BOYNE, owner and operator of Boyne Highlands Resort, Boyne Mountain Resort, The Inn at Bay Harbor – A Renaissance Golf Resort, Boyne Country Sports, and Boyne Realty. She is a Michigan native who loves recreation and the outdoors, and has worked in the resort and tourism industry for over ten years. She is also a board member with the Petoskey Area Visitors Bureau and West Michigan Tourist Association.