You're Invited: Pure Michigan Summer Facebook Chat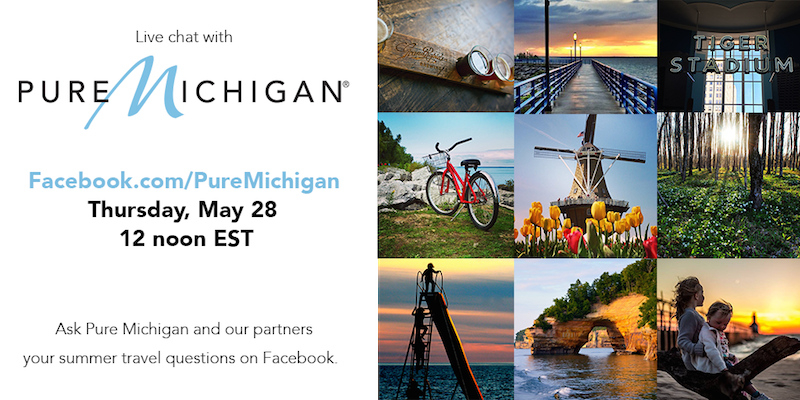 Mark your calendars! Thursday, May 28th at 12:00 noon ET, we'll be hosting a Facebook chat to help you start planning your summer in Michigan.
Summer in The Great Lakes State provides some of the best memories. Join Pure Michigan and partners as we chat about the activities that will make this summer the most memorable. From the best hikes and waterfalls in the Upper Peninsula to summer concerts and fairs around the state, you don't want to miss it.
Our partners from popular winter travel destinations across the state will also be on hand to answer your location-specific questions, including
Ann Arbor,
Detroit,
Grand Rapids
,
Traverse City
, and many other Michigan cities.
Here's how to participate in 4 simple steps:
1. Follow
Pure Michigan on Facebook
.
2. Sign in to Facebook on May 28th from 12:00 – 1:00 p.m. You can join us for just few minutes or stay for the hour!
3. Ask your summer travel questions to the Facebook Chat post.
4. Follow the conversation on Facebook for tips, tricks and suggestions for planning a summer getaway that's perfect for you.
Not able to join us? No worries. Leave your questions in the comments below and we'll answer them during the chat.
See you on Facebook!