4 Ways To Enjoy Fall in the Grand Haven Area
Grand Haven may be one of Michigan's most popular beachtowns, but that doesn't mean there isn't anything to do once the sun sets on summer! Here are 4 ways to enjoy fall in the Grand Haven area, courtesy of Stephanie Herder of the Grand Haven Area Convention & Visitors Bureau.

1. By Water
The Grand Haven area is surrounded by water including Lake Michigan, Spring Lake, Pigeon Creek, and the mighty Grand River. So naturally, we highly suggest taking in the fall colors from the water. There are many areas to launch your own kayak including Eastmanville Bayou, Hemlock Crossing and Mill Point Park. If you have never paddled or don't own your own, Lakeshore Kayak Rental offers kayak lessons as well as kayak, canoe, and stand up paddle board rentals. While out on the water, be sure to keep your eyes peeled for bald eagles!

2. By Bike
Did you know that the Grand Haven area has over 100 miles of bike trails? It's true! The Lakeshore Trail is a 20-mile bike trail between downtown Grand Haven and Holland. Along the way you can stop at Rosy Mound Natural Area, Kirk Park, and grab a bite to eat at Sandy Point Beach House. The 15-mile Lakeside Trail encircles Spring Lake through the communities of Ferrysburg, Fruitport, and the Village of Spring Lake. If you looking for something more off-road, Pigeon Creek Park and Bass River Recreation Area offers mountain biking trails through the woods and along the Grand River. Fat Tire biking is welcome throughout the area including local beaches. Rock 'N' Road in Grand Haven offers bike rentals for all ages. You can pick up local bike maps at Rock 'N' Road, at the Visitors Center, or download them online at visitgrandhaven.com.

3. By Foot
The Grand Haven area is blessed with an amazing system of parks that offer trails through forests, along the rivers, over dunes, and with stunning views of Lake Michigan. North Ottawa Dunes is home to 513 acres of wooded dunes – some that exceed 750 in height. Rosy Mound Natural Area is a favorite stop with its arrangement of trails, stairs, dune boardwalk trail, and Lake Michigan beach. Hemlock Crossing has over 6 miles of trails that meander through the forest, old pine plantations, and along the Pigeon River. This is also the home of the Ottawa County Nature Education Center (NEC) which has exhibits, a wildlife den with critters and activities, and a wildlife viewing area. The NEC also offers a variety of programs including guided hikes, kayaking trips, and nighttime astronomy programs.

4. By Car
If you are looking to cover a larger area during your fall color tour of the Grand Haven area, then by car is the way to go. Our favorite route to take is the stretch of road from Grand Haven to Eastmanville Bayou and back - known as the Historic River Road. Using the handy guide found on our website or at our Visitors Center, this self-guided auto tour brings you along the original River Road which is oldest byway in Ottawa County and one of the oldest in the state. Numbered signs along the way indicate stops and points of interest that mesh local history with our beautiful riverside and park system. Some must-stops along the way include Vander Mill Cider mill and Winery, Odd Side Ales, Turk's Tavern, Connor Bayou and countless farm side stands.

What's your favorite way to see the fall colors in the Grand Haven area? Let us know in the comments below!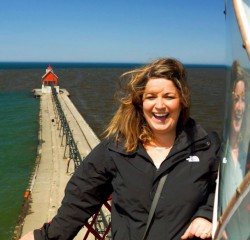 About the author: Stefanie Herder, Marketing & Communications Manager of the Grand Haven Area Convention & Visitors Bureau.

Born and raised in the Grand Haven area, Stefanie has worked in the hospitality and tourism industry for over fifteen years where she has done everything from scooping ice cream to destination marketing. Now as the Marketing & Communications Manager for the Grand Haven Area Convention & Visitors Bureau, she loves seeing the area through the eyes of a visitor and sharing it with the world.