5 Surprising Reasons Why You Should Take a Michigan Vacation (CLOSED: Plus a Giveaway!)
Traveling is a great way to reconnect and have fun with family and friends. But, did you know that studies
have shown that taking vacations can lead to better productivity, less stress and better health.
However, many people aren't taking advantage of their vacation days. More than 40 percent of Americans say they didn't take a single vacation day last year, according to Skift.
In honor of National Tourist Appreciation Day, here are five reasons why you should treat yourself to a Pure Michigan vacation. We are also giving away a $100 gift certificate to the
to kick Pure Michigan Store start your summer! See details below.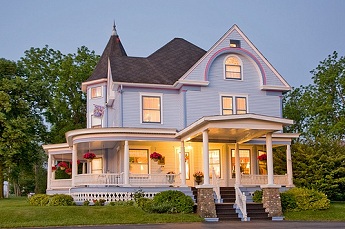 Photo courtesy of Castle in the Country Bed & Breakfast
1. Recharge Your Batteries:
A
2011 study
by Expedia found that 35 percent of Americans feel better about their job and are more productive after a vacation. Vacations help us recharge because we sleep better during and shortly after them. When we return, our brain responds quicker. To recharge your batteries, try a relaxing weekend at
one of the 400 cozy Bed and Breakfasts
throughout the state.
2. Unleash Your Inner Picasso
: Staring out at a beautiful Michigan sunset isn't just a treat for your eyes; it's good for your brain too!
Studies
have shown nature scenes activate areas of the brain associated with less stress. Daydreaming allows you to be more creative and be a better problem solver, too. Take a look at our
Instagram page
for inspiration on places to take in a Pure Michigan sunset.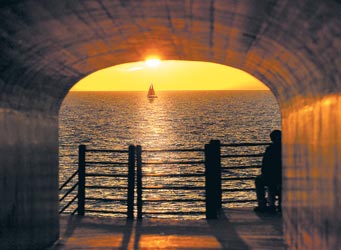 Photo courtesy of Holland Area Convention & Visitors Bureau
3. Great Lakes, Great Relaxation:
Stress is known to be harmful to our health. One of the many antidotes to stress is a vacation, especially near water!
One study
showed that people were five percent happier when they were near a body of water. The color blue is known to stimulate positive emotional responses, too. With numerous
beaches
to choose from along 3,126 miles of Great Lakes shoreline, a Michigan beach vacation is good for you
4.Connecting While Relaxing
: Picnics on the beach or canoeing as a family can strengthen your bond with loved ones while creating unforgettable memories! Some
studies
suggest that group travel builds social ties, which encourages life-long learning.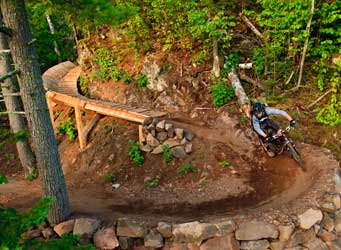 Photo courtesy of Copper Harbor Trails and Hansi Johnson
5. Get Physical
: Active vacations are proven to lower health risks such as diabetes, high blood pressure and more, according to the
Physical Activities Guidelines Advisory Committee
. If you're feeling adventurous, try a
mountain biking excursion in Keweenaw
.
Vacations offer the opportunity to discover new things and places to enrich and transform your perspective. Where will you take your next Pure Michigan vacation?
Do you want to score a $100 gift certificate to the Pure Michigan store? Simply tell us in the comments section below what your favorite Pure Michigan vacation destination is and what item from the Pure Michigan store you'd want to pack in your suitcase. We'll then select one lucky winner at random to win a $100 gift certificate. To be eligible, simply submit your comments (along with your email address) by Thursday, May 7 at 11:59 p.m. EST. We'll contact the winner Friday morning using the email address provided (we won't share it or sell it to anybody).
UPDATE: This contest has ended and the winner has been contacted via email. Thank you to all those who participated!