Family Fun During A Pure Michigan Winter
The Pure Michigan Winter Video series highlights various activities throughout the state for everyone, but it is especially useful for families and parents to get ideas for weekend getaways and things to do when kids enjoy vacation from school during the holidays.
We asked Elena Wollborg, local mom and writer behind MommyisinTimeout.com, to tell us some of her favorite things to do with her family during the winter months in Michigan and why it's such a great place for families to visit.
See her answers below and find other fun ideas at michigan.org.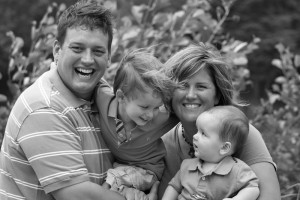 Q: Can you tell us a little about yourself and your family?
A:
My name is Elena Wollborg and I am the writer behind MommyisinTimeout.com, a mom blog chronicling my adventures, and often mishaps, in mommydom, coupledom and familydom. I'm a mom to two wildly hilarious boys, a wife to Charlie, who proves daily that
the apple doesn't fall far from the tree
when it comes to our kids, a high school business teacher, the Social Media Butterfly at Curve Detroit and a production team member for TEDxDetroit.
Q: What are some of your favorite winter activities to do as a family?
A:
As a couple, we love to
ski
. When winter rolls around, we are always excited to hit the slopes. We haven't introduced our kids to skiing yet, because we were waiting until they were a little bit older. We're thinking this is going to be our first winter to take our oldest out. I'm sure he'll be passing me up in no time, and I'll be racing behind him, begging him to slow down. I can't imagine it's cool though to wait for your mom, even when you're in pre-kindergarten.
Since my kids are both younger, we love to simply go outside, get down and play in the snow. The look on their face is priceless when they're trying to catch flakes on their tongue, and we get pretty giddy as well. Whether we're building a snowman, pulling them in their sled or making snow angels, whenever we have a snowy day, we always bundle up and head outdoors.
One thing we have yet to do - but it's on my list for this winter - is to take a horse-drawn carriage ride somewhere up north through the woods. I think that's my ideal Norman Rockwell winter time moment in Michigan.
Q: Do you have favorite places or recommendations for those activities?
A:
When it comes to skiing, some of our favorite spots in the past have been
Crystal Mountain
,
Nubs Nob
and
Caberfae
. I actually learned to ski at Nubs Nob years ago when I was in high school. Whenever I return there, it's a quick trip down memory lane. I remember back to sliding down the runs, with my skis in snowplow position.
As a family, there are a lot of different places we love to hit in the winter. Heading up north there's always something to do. You have several ski resorts to choose from, many of them recently adding on indoor waterparks, and a lot of different winter activities like snowshoeing and tubing.
Down state, we always try to make it to winter festivals like Detroit's Winter Blast, Plymouth's Ice Festival or Rochester's Big Bright Light Show. Around Christmas time, we also love to take a ride on Lakeshore Drive in Grosse Pointe. Beautiful light displays on the homes along Lake St. Clair.
Q: What do you love about Michigan in the winter?
A:
Oddly enough, the chill that is in the air. There's nothing like walking outside, on a crisp winter night and watching the snow fall. I could sit for hours and watch it come down. One of my favorite things to do when it's snowing at night is to turn on every single outdoor flood light and curl up with a blanket to watch the snow. I'm sure my neighbors are very appreciative of this as well.
I also love driving down a road, right after a huge snow fall, before anyone has touched it. The pristine look of the snow on the road and trees is something you just can't explain.
Q: What do your kids look forward to doing in the winter?
A:
My boys love to build a snowman, complete with a carrot for a nose and Oreo cookies for eyes. Whenever they wake up and it's a snowy morning, the first thing they want to do is to get started on Frosty.
I think getting your kids outside during any season is important. People in the winter sometimes tend to go into hibernation. While sitting inside on a cold day is sometimes tempting, there's no reason that you still can't enjoy the outdoors, even when it's cold. It just takes a little extra layering and a lot of hot chocolate when you're back inside. My boys love to run through the snow, or even do something as simple as help shovel the driveway.
Q: What is the best thing about spending time with your family on a vacation?
A:
Relaxing. Typically for a family vacation in Michigan, we'll head up north. There's just a feeling you get once you're up there that gives you a bit of tranquility. Unwinding. Unplugging. Spending quality time with your family.
Q: Why should families consider coming to Michigan for a winter vacation?
A:
Michigan has so much to offer in the winter time. From skiing to sledding to ice skating, there's always some outdoor activity for you - whether you're down state and you lace up your skates and take a spin around the ice rink at Campus Martius or buckle up your boots and take a few runs down Crystal, you'll always find something to do in Michigan during the winter. The beauty of this state in the snow is remarkable and it's truly something that should be shared with others out of state.
With the Thanksgiving holiday coming up and winter break on the way, why not use Elena's answers for inspiration in planning a day out with your family? Or, try something new like visiting a local indoor water park. Kids and kids at heart can all enjoy splashing the day away!
See what kids had to say about their experience at the water park in Water Park | A Pure Michigan Winter, from the Pure Michigan winter video series.

To plan your vacation or check out the nearest water park, visit michigan.org.
Elena Wollborg is a metro Detroit-based mom and writer behind MommyisinTimeout. Read about her and her family's adventures at mommyisintimeout.com.