Festivals This Week in Michigan - Beginning Aug 3rd
Summer is now in full swing, so to help you fill those long summer days with Pure Michigan fun, take a road trip and find a Michigan festival to suit your taste.

Let's begin at Summerfest, Coopersville which runs August 3 – 8. This 6 day volunteer driven festival began as a locals-only event and now boasts an estimated 100,000 visitors on their busiest day. This family friendly festival features the annual Del Shannon Car Show.

Michigan leads the nation in blueberry production, so there is no better way to celebrate and help the Michigan economy

than to attend the
46th National Blueberry Festival in South Haven
, August 6 – 9. Enjoy chef demonstrations, music and entertainment, an opportunity to meet Miss Michigan and many other attractions.
Travel to Crystal Falls in the Upper Peninsula and participate in the
Humungus Fungus Fest
, August 7 – 9. The what Fest, you ask? Well, several years ago a "Humungus Fungus" was discovered in the Crystal Falls area. The fungus weighs 11 tons and covers over 37 acres, the largest fungus in the world. So why not have a festival to celebrate, the main event of which is of course, you guessed it, the cooking and eating of the Humumgus Pizza – a 10 x 10 feet fungus pizza which is also the largest in the world.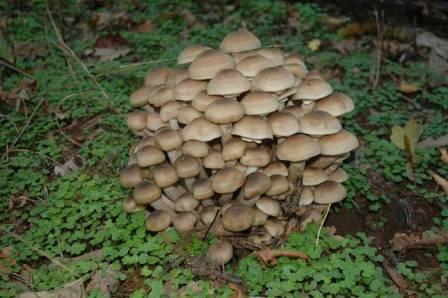 Humungus Fungus
If you're a "
Parrot Head
" (Jimmy Buffet fan) or just love Cheeseburgers, then we have the festival for you – the
11th Cheeseburger in Caseville
,
August 7-16. Enjoy the fun, music and summer at this 10 day festival.
If Jazz instead of Jimmy Buffet is your thing, then don't miss the
8th River Raisin Jazz Festival, Monroe
, August 8-9. This free Jazz festival has been called the fastest growing music festival in the Great Lakes Region. Artists include
Chuck Mangione
,
Peter White
,
Nelson Rangell
and many more.
This is just a small selection of the festivals taking place throughout Michigan in the coming week. For a list of events throughout August check out our
What's Happening This Month post
or visit the michigan.org
event page
.
Stay tuned for future event breakdowns to help you make this a Pure Michigan summer to remember.