Michigan: Cider Mill Central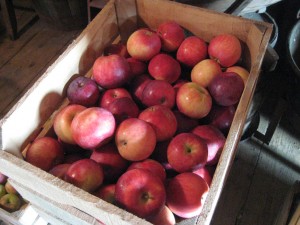 Pure Michigan Apples
Taking a trip to a cider mill is a favorite activity for Michiganders each year. More than 20 million bushels of apples are harvested each year on 950 family-run farms spanning more than 37,000 acres. If you've ever had a glass of cider and wondered how exactly those apples become that delicious drink, here's a quick primer of how cider is typically made:


First, thousands of apples are picked. Red Delicious, Golden Delicious, Gala and Honey Crisp apples are some favorites in Michigan. About 4.4 pounds of apples are needed to make one liter of cider.


The apples are then soaked in a mild Chlorine Dioxide solution to clean off any residue from the outside. This solution is very similar to water treatments used in city-water systems for drinking.


Next, the apples are rinsed with water and chopped up or ground into small pieces. The result will be a mixture that looks almost like applesauce. The pieces are put onto special blankets or sheets that allow juice to run through them without letting the seeds, skin or pulp slip through.


Then, a press places thousands of pounds of pressure on the blankets to extract the cider, which is collected into canisters.


The cider may then be pasteurized, and then it is bottled for you to enjoy.


Every cider mill follows this process a little bit differently and may use different combinations of apples, so be sure to check out the process in place at your favorite cider mill when you visit. Following are a number of historic mills from around the state that you can visit this fall. Visit
michigan.org
for more fall attractions around the state and other fun fall activities to enjoy.
The
Historic Dexter Cider Mill
near Ann Arbor is the oldest continuously operating cider mill in the state. Today the cider mill keeps its more than 120-year-old cider making tradition by using an oak rack press and blending 3 to 5 different locally grown apple varieties in every pressing. This mill was cited by "Hour Detroit" magazine as one of the 101 places to visit in the greater Detroit Metropolitan area.
The
Franklin Cider Mill
opened in 1837 as a gristmill and
is located in the Franklin Historic District north of downtown Detroit. It has been pressing apples into cider since 1895, and today, all 21 varieties of apples used are hand picked fresh and 100 percent organic. For a special taste sensation, visit in late September for Honey Crisp cider. Take home apple pie, sugar-free apple pie or a bag full of the signature cinnamon spice donuts.
Yates Cider Mill
in Rochester Hills has been water-powered since 1863 and presses
300 gallons of fresh blended apple cider per hour.
Visitors can also indulge in fresh donuts, apple pies, fudge, apple crisp, jams and more. Yates earned the title of one of the best cider mills in the US by "Forbes Traveler."
The
Historic Parshallville Grist Mill & Cider Mill
in Fenton
sits nearby North Ore Creek. Built in 1869, the Grist Mill is a Michigan Historic Site. Enjoy fresh cider, donuts, caramel apples, pies and a variety of specialty food items and gifts. The mill is open seven days a week through November with entertainment on Sundays.
Uncle John's Cider Mill
in St. Johns began in the early 1900s when the mill was a cattle barn. Today it offers the sweet scents of cider and donuts. In September and October, explore the five-acre corn maze and straw bale maze, take a wagon ride, walk the nature trail, visit the pumpkin patch or try your hand at the fruit fling, an apple slingshot.
Blake Farms
opened in 1946 and was the first "pick-your-own" orchard in Michigan. This
Macomb County favorite located in Armada is perfect for a family outing with fresh pressed cider and donuts and a full slate of bakery items from which to choose. Kids can enjoy an animal farm, pony rides, a hayride or picking apples in the orchard with the family. Special attractions are the Haunted Barn and a corn maze.
North of Flint in Mt.Morris is
Wolcott Orchards & Cider Mill
.
The
apple orchard was originally planted more than 100 years ago by the Wolcott family. Enjoy a completely natural cider product -- undiluted, unfermented and unsweetened. Families can take a hayride in the orchard. Be sure to call ahead to order your favorite pies.
Sietsema Orchards & Cider Mill
in Ada began in Grand Rapids in 1934. In 1995, it moved to its current location in Ada, where the fourth generation of the Sietsema family offers fresh produce, hayrides and plenty of orchards to pick your own apples.
Tucked away in Atwood is
Friske Orchards
, where three generations of the Friske family grows and harvests approximately 5.5 million pounds of fruit and produce annually. The business started in 1962 in Charlevoix and now offers more than 300 acres of orchards and produces more than 50,000 gallons of cider each year.
If you are taking a trip to the cider mill, let us know about your trip in the comments below. A bite of a Michigan apple is a taste of Pure Michigan.