Your Pure Michigan Fall Color Report - Oct. 4-10, 2012
Autumn in Michigan is in full swing, and peak fall color has arrived in many parts of the state. If you haven't planned a fall color tour yet, this weekend could be the perfect opportunity! Below is a recap of this week's Michigan fall color report. For more details, visit michigan.org.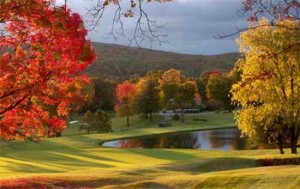 Upper Peninsula
Most of Michigan's Upper Peninsula is at or near peak conditions; so, you really can't go wrong with color viewing once you cross the Mighty Mac, where the Peninsula is a blaze of yellow, bronze, gold and reds. In and around Chippewa, viewers will find some of the best places to see the fall foliage at the Cut River Bridge's forested river valley west of St. Ignace, Pictured Rocks along Lake Superior in Munising, or Tahquamenon Falls in Paradise.
A variety of colors are now showing on scenic drives in the Keweenaw among the area's Aspens, beech, hickory, maples oaks and tamaracks. Brockway Mountain Drive offers a spectacular view of the surrounding area, where colors are grand. The most prevalent colors are red and orange, with splashes of yellow. Cruise the shoreline of Lake Superior at roadside parks or at one of the many restaurants and shops along the shore.
Northwest Lower Peninsula
Strokes of beautiful fall hues are developing rapidly throughout Charlevoix county with peak conditions a week or two away. This weekend, viewers will find the most saturation in the eastern part of the county in the Chandler Hills area. For a great color tour, locals recommend a drive along Thumb Lake Road (C-48) starting north of Vanderbilt to Boyne Falls. Continue on C-48 through the hilly country roads through East Jordan and Elsworth, ending at US-31 in Atwood.
An explosion of fall color makes everything in the Petoskey Area of northern Michigan even more beautiful, more memorable. A montage of red, orange and yellow provides the perfect backdrop for our charming Victorian towns. And somehow, makes the royal blue of Little Traverse Bay appear even bluer.
You can take in the autumn beauty with a leisurely bike ride along the lakeshore. Or hop on a chair lift and enjoy the panoramic view. From the chair lifts, you can see many of the area's 16 golf courses. The colors that border the lush green fairways make fall golf here absolutely unforgettable.
Of course, no trip to the area this time of year would be complete without a tour of the famous Tunnel of Trees, which boasts its spectacular burst of fall majesty.
The Old Mission Peninsula juts bravely into Grand Traverse Bay, nearly 20 miles long and in some places as little as a mile wide. A beautiful patchwork of orchards, vineyards, forests and villages, it's the perfect place for a morning or afternoon drive that combines fall color with beautiful views of the bay, visits to wineries and roadside fruit stands and unforgettable meals at several charming restaurants. Follow M-37 (Center Road) north from Traverse City. The road begins with a steep climb through pleasant residential and orchard country, descends to the shore of East Bay and gradually climbs again to a spectacular view point near the Chateau Grand Traverse winery that overlooks both East and West Grand Traverse Bays. About a mile past the charming town of Mapleton, turn right onto Smoky Hollow Road and follow it down through vineyards and orchards to the quiet village of Old Mission, the oldest permanent settlement in the region. Take a left turn onto Swaney Road and follow it back to M-37, where a right turn will have you heading north to the picturesque Old Mission Point lighthouse. On the return journey, head back south on M-37 to Mapleton. Here you'll turn right onto Bowers Harbor Road and follow it down to the shore of West Bay. Keeping to the left, you'll return to Traverse City by way of Peninsula Drive, a pleasant residential road that skirts the shore of the bay with wonderful views of isolated Power Island, Neahtawanta Point and the distant hills of the Leelanau Peninsula. Peak conditions are less than a week away.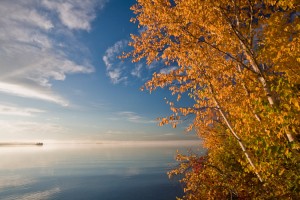 Northeast Lower Peninsula
A popular Alcona route for color viewing by car is around the water. Long Lake and Grand Lake are two picturesque bodies of water that circle the area in a mosaic of magnificent fall color. Attention-grabbing side trips include stops at two historic lighthouses and a natural area that was the site of an old logging village. Hubbard Lake--the largest inland lake in Northeast Michigan--is located among the forests and hills of Alcona County and offers excellent roads that connect with US-23, F-41 and M-72, and offer miles of colorful woodlands for great views of the lake and samples of brilliant fall foliage. The area--now showcasing a beautiful canvas of bronze, crimson, gold, pale cream, purple, red, russet and yellow--is less than one week away from peak color conditions.
In Alpena and surrounding area, Mother Nature seems to be holding back on the eagerly-awaited autumnal color show. A few impatient cast members--maples with their scarlet and persimmon dressings and poplars with their vibrant yellow jackets--are putting on a little side show of their own, while the rest of the cast for the grand production waits behind a curtain of green leaves. Fall is the perfect time to have dinner at the Eagle Ridge Golf Club in Glennie then travel a little further west to catch a splendorous sunset across the Alcona Pond. Displaying a gorgeous array of fall colors, the region expects to be at peak conditions in one or two more weeks.
Heading east, in an around the Gaylord area, are beautiful reds, yellows and golds, as beech and maples trees take center stage for the area's fall color presentation. Now, is the perfect time to catch a glimpse of fall's brilliance as the area is currently displaying peak color.
A bit further south, the Grayling area is predicting peak conditions this coming weekend. Although the southern part of the county is somewhat behind the northern portion, color conditions are good. Traveling along M-93 toward Hartwick Pines State Park is particular striking against a background of rich dark greens pines, making the bronze and russet oaks, along with the area's gold, red and yellow maples especially vibrant. For a nice circular drive, take M-93 to County Road 612, then head west into Frederic and take Old 27 south back into Grayling. Make plans to visit the area soon, as reporters are forecasting peak conditions in less than a week.
Southeast
Southeastern Michigan's fall color route skirts three waterways to the maritime city of Port Huron and rolls through historic towns that weave through the region. October offers the best time for viewing autumn hues at a variety of region's parks, while stopping to taste seasonal treats at cider mills , roadside markets and u-pick farms along the way.
Southwest

From city scenes and sand dunes to wineries, farm markets and Lake Michigan sunsets, southwest Michigan welcomes leaf-peepers to view their color show along country roads, trails, and back roads all across the region. This region's color is best enjoyed from early to late October.
Visit michigan.org for a complete update on Michigan fall colors – including deals, events and more in regions with the most vibrant color displays. Have you seen peak color in your neighborhood? Share with us below!