Luxury, Comfort, High Tea & Spirits at Hart House Bed & Breakfast
Elegance, delectable breakfast treats customized for each guest, soothing teas and invigorating spirits, are just some of the amenities you'll experience this winter at the
Hart House B&B
. Wrap your senses in the calm oasis of this charming inn and enjoy educational and entertaining demonstrations, exceptional service and weekend packages.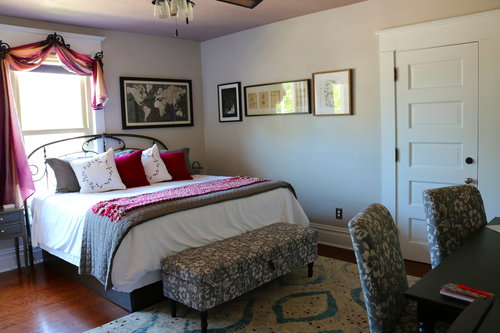 Bed & Breakfasts throughout the world are often known for their intimate accommodations and attention to detail. When it comes to meal preparation, Hart House Bed & Breakfast in Michigan's Oceana County dishes out a delectable breakfast treat customized for each of its guests.
Hart House Bed & Breakfast Innkeepers Patrice and Al Martin take great pride in preparing and serving memorable morning meals for their guests. Patrice, who is the primary chef, grew up in an ethnically-diverse neighborhood in Chicago, surrounded by a myriad of cuisine styles. She jokes about not being able to scramble an egg when she moved away from home. But, with her appreciation for food and wholesome ingredients, Patrice decided to learn the art of cooking.
Breakfasts at
Hart House Bed & Breakfast
include the guest's choice of one of two entrees, accompanied by fresh fruit, baked goods, coffee, tea or juice. Patrice also sprinkles in locally-sourced foods and seasonings in the gourmet cuisines whenever possible.
"Oceana County is abundant with fresh, seasonal fruits and vegetables," said Patrice. "Many local vendors provide a rich array of high-quality dairy products, meats, condiments, sweet treats and other goodies. We want to support the local farmers and artisans who are right in Hart's and neighboring communities' backyard."
During Michigan's apple season in the fall, guests at Hart House Bed & Breakfast have savored meals made with local apples, including a sweet apple-walnut-candied ginger braid with a hint of vanilla and Saigon cinnamon, maple-baked apples with golden raisins and walnuts, chicken-apple-sage sausage patties, apple hand pies and a maple sausage, apple and sage frittata.
In the summer, when vibrant-red strawberries are abundant, Patrice will treat guests to a strawberry balsamic and olive oil breakfast cake and rainbow fruit salad with citrus-honey dressing.
Other breakfast favorites among Hart House Bed & Breakfast guests, include a browned-butter, walnut and rosemary shortbread, parmesan and herb baked eggs, overnight-yeasted waffles and grilled Mexican corn avocado toast.
When preparing and serving breakfast meals to guests, Patrice and Al want it to create a memorable experience for everyone--including those who may have special dietary needs. If you are on a gluten-free or dairy-free diet, or have other food limitations, the Martins welcome a conversation with guests ahead of their stay to make those meal accommodations.
Join Patrice and Al for a Tea and Whiskey weekend, January 26-28, 2018, featuring; Patrick and Colleen Cannon. Patrick, an expert presenter for scotch, bourbon and Irish whiskey tastings, sets the stage by explaining the distillation processes and regional differences of the liquors. Interspersed with tales of his travels and learning, Pat demonstrates how to taste and savor the spirits with a knowledgeable and engaging presentation.
Colleen, a certified tea specialists and proprietor of TranquiliTea, is uniquely prepared to offer insight into the variety of flavors, origins and appearances of tea. Her knowledge of specialty teas, and stories of her travels and experiences are sure to educate and entertain.
Ask about the
Tea and Whiskey Weekend Package
, which includes a two-night stay, three-course gourmet breakfasts, Friday night welcome reception and whiskey sampling, Saturday tea instruction and High Tea as well as Saturday evening tea and whiskey mixer.