Peak Color for November 2, 2018
Fall colors are nearing their sunset or have peaked in many locations around Michigan and this will be the last fall color update for the season. But, there's no need to despair—Michigan has a multitude of ways to experience this robust season.From scenic fall color drives and breathtaking hiking trails to manicured Michigan wineries and apple orchards, there've been plenty of fall photo ops all season.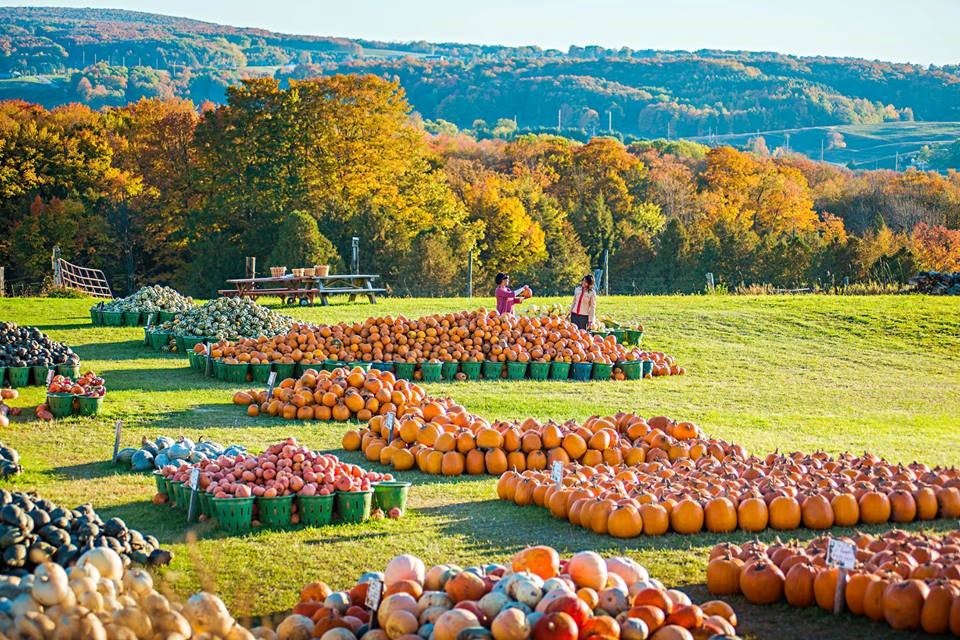 Photo Courtesy of Midwest Living/Tony Demin

Michigan's Upper Peninsula is officially past peak. However, viewers still notice quite a bit of lingering bronze and yellow mixed with a few remaining red maples as well as some stunning Tamaracks.

While peak has passed in the Cadillac area, the colorful array of leaves have cascaded to cover the ground inviting viewers to explore local trails and outdoor recreation areas, which are amazingly colorful and crisp in late fall.

For the communities of Benzie and Otsego counties, peak is just ending; however, viewers will find some late color among oaks and maples around the shorelines and some interior areas are still quite stunning with late-season yellow and russet hues.

For the Silver Lake Sand Dunes area, peak color is here now—illuminating Lake Michigan highways and scenic drives. Muskegon and Ottawa counties are reporting peak color to be less than one week away.

New Buffalo, as well as most of Southwestern Michigan communities, are benefiting from a long fall season due to warmer than usual temperatures. These areas are estimating peak conditions to still one or two weeks away. It's a perfect time of year to drive along the Lake Michigan shoreline in southwest Michigan to see vibrant shades of yellow, red and purple. Stop in downtown St. Joseph at the Krasl Art Center to see the striking new sculpture designed by Richard Hunt, the nationally-renowned sculptor. Stop by local wineries and farm markets to sip your favorite wine and pickup crisp apples, pumpkins, gourds and squash to take home. Fall is a beautiful time in Michigan's Great Southwest!

Peak color is hanging on in Ann Arbor! Rusty orange and red leaves are falling on the hiking paths, scenic roadways, and vibrant city streets throughout Washtenaw County. It's the perfect time of year to head out to Dexter Cider Mill or Wasem Fruit Farm for homemade donuts and fresh cider. Don't forget two of the most important colors of the season... maize and blue! #GoBlue! Other Southeast Michigan communities are expected to see peak color in less than one week.
---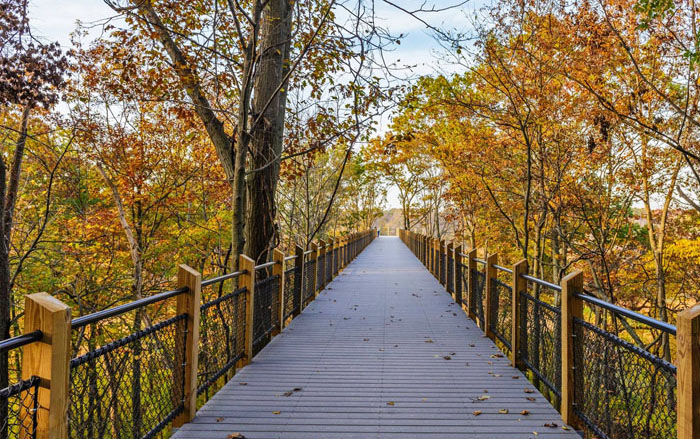 Galien River Park | Photo Courtesy of Harbor Country Chamber of Commerce
The Ultimate Guide to Exploring Red Arrow Highway
From the great outdoors to wineries and from farm markets to art galleries, Southwest Michigan's Red Arrow Highway offers visitors many options for an action-packed weekend. Comprised of eight towns that surround the area,
you'll find the perfect hub for a relaxing getaway
.
---
Pumpkin Patches in Michigan Perfect for Fall
Nothing says autumn like picking fresh pumpkins, getting lost in a corn maze, and drinking fresh cider. Michigan pumpkin patches have it all! From elaborate fun zones for the kids to hard cider and wine tasting for the adults, there really is something for everyone. Here is a
roundup of some of the best pumpkin patches in Michigan, by region
.
---
Fun and Exciting Things to Do at Eastern Market in Detroit
Shops, dining, classes, produce, art and culture--Detroiters have flocked to Detroit's Eastern Market since 1841, making it one of the most authentic urban adventures in the United States. The market and the adjacent district are rare finds in a global economy—comprising a local food district with more than 250 independent vendors and merchants processing and wholesaling wares.
Check out our list of what to do in Eastern Market in Detroit
.
---
10 Michigan Destinations to Visit This Veterans Day
Thank you for your service! Each November, veterans, families and friends come together across the nation, to honor those who served and remember those who lost their lives in ceremonies as part of Veterans Day. In anticipation of this annual day of remembrance, we put together
a list of 10 veterans monuments and events in Michigan
.
---
The Ultimate Guide to Exploring Red Arrow Highway
Since the early 1900s Michigan's southwest corner, dubbed "Harbor Country," has offered a relaxing getaway to travelers from throughout the Midwest and beyond. Comprised of eight towns that hug or surround the Red Arrow Highway, Harbor Country is dominated by the cool breezes and golden sand dunes of Lake Michigan and is famous for its locally-grown fruit and wine grapes.
https://www.michigan.org/article/road-trip/ultimate-guide-exploring-red-arrow-highway
---
Events
Tea and Whiskey Weekend
November 9-10, 2018
Hart
Black Star Farms Harvest Dinner
November 10, 2018
Suttons Bay
Treetops Ski Swap
November 10, 2018
Gaylord
Silver Bells in the City
November 16, 2018
Lansing
24th Annual Luminary Festival
November 16, 2018
Saint Joseph
Grand Haven Light Night
November 16, 2018
Grand Haven
Circle of Indigenous Arts
November 16-17, 2018
Mount Pleasant
Holiday Kerstmarkt
November 17-December 8, 2018
Holland

Connect with Us
A picture is worth a thousand travel inspirations. We invite you to connect with Pure Michigan on your favorite social network for the latest travel ideas, insider tips, vacation deals and more. For more information, visit
michigan.org/social
.