Peak Color for November 3, 2017
The curtain is falling on this year's fall color show. As the fall colors are nearing their sunset or have peaked in many locations around Michigan, this will be the last Pure Michigan fall color update for the 2017 season.
Mother Nature's fall color show is fading across much of the state. In the
Upper Peninsula
color is well past its peak in most areas. However, visitors to the region this weekend will still find vibrant color gracing the landscape of
Mackinac Island
.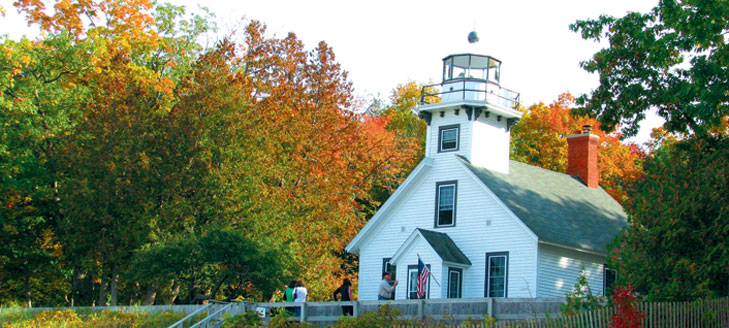 Even though much of the Lower Peninsula is also past peak, a few areas are still enjoying substantial gold, yellow and red foliage. For
Alpena
,
Chippewa Hills Pathway
and
Norway Ridge Pathway
are alive with fall splendor as peak color has reached the area. Head north to Grand Lake and take in the
New
and
Old Presque Isle Lighthouses
for an extra special fall color treat. On your way back to Alpena, swing by Rogers City to pick up hard cider and fresh donuts at
Knaebe's Mmmunchy Krunchy Apple Farm
.
For the
Gaylord
and
Houghton Lake
areas
,
peak color has already passed. However, traveling along M-55 near Houghton Lake, viewers will find beautiful golden tamaracks, russet oaks and a few gold maples near Higgins Lake. Locals recommend hiking around Lake St. Helen, Higgins Lake and Houghton Lake or along the trails around Marl Lake.
Forest foliage is at its peak in
Manistee County
. Cruising along US-31 between Onekama and Bear Lake, you'll find a variety of sunset tones in area oak and maple trees. Take a slight detour (off US-31) onto 9 Mile Road east towards
Kaleva
and explore farmers markets. Or, relax with a glass of hard cider or wine at
Northern Natural Cider House & Winery
. Further north in
Arcadia,
take a detour off M-22 (just after the overlook) for tunnels of mid-peak beach trees, trailing to breathtaking views of Lake Michigan.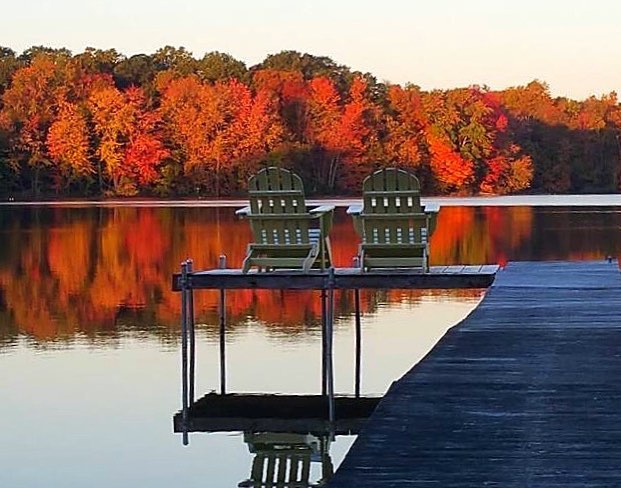 Most of
Muskegon County
is reporting past peak conditions this week. However, the area is still displaying stunning yellows, golds and russets.
Silver Lake Sand Dunes area
is reporting peak conditions now with brilliant colors along the Lake Michigan shoreline by the
Little Sable Lighthouse
as well as along B-15 and Lakeshore Drive. Color saturation for
Whitehall
is still running a little behind; however, the area is expected to see peak conditions this coming weekend.
For the
West Central Lower Peninsula
, good places to visit for color this weekend include
Muskegon State Park
,
Blanchford Nature Center
in Grand Rapids,
Holland State Park
,
Yankee Springs Recreation Area
near Hastings and
Kalamazoo Nature Center
.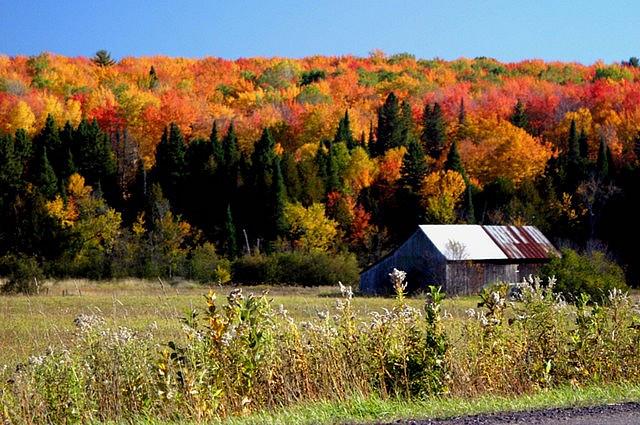 Bay, Saginaw
and
Midland
counties are estimating peaking conditions to overtake the region in less than one week. The best viewing this coming weekend include state and local parks, nature preserves, trails, orchards and forested backroads.
South Haven
and other
Van Buren County
communities are experiencing peak conditions now. Traveling south toward Paw Paw Lake on M-140 near
South Haven
, you'll find a beautiful show of fall color.
Southwest Lower Peninsula
locals recommend a drive along jewel-colored roads for a glimpse of Lake Michigan as you meander your way through
St. Joseph, Benton Harbor, New Buffalo, Baroda,
and
Berrien Springs
to view vibrant shades of yellow, orange and red. The area still has plenty of green—so, color should remain for another week or two.
Southeast Michigan communities
are reporting peak to near peak conditions now. Experience nature's architecture as you drive through tree tunnels with canopies of red and orange hues in
Jackson County
. Area parks and country roads, orchard and farms near
Lansing, Livingston County, Tecumseh, Ann Arbor
and
Washtenaw County, as
well as the metro parks of the
Oakland
and
Wayne
counties offer the season's best color as the annual fall color show fades away for another year.
---
The perfect Michigan scenic fall tour awaits—plan your trip today!
Use the fall peak-season map and the current fall-color report to guide you toward the best time to take a Pure Michigan fall getaway. Look through the
Michigan Fall Color Tours
on michigan.org to help plan a route whether your interests lie in urban fun or in nature, away from the hustle and bustle.
Travelers will also find a variety of colorful hues at
edgy art venues throughout the Motor City
, at many other
urban escapes
across Michigan and at
sweet spots throughout Southwestern Michigan.
---
Events near this Week's Peak Color
Art and Antiques at The War Memorial
Now thru November 5
Grosse Pointe Farms
Black Out!
November 3-4
Niles
Niles Scream Park
Holidays in the Country
November 4
Gladwin
"Fall Back" Dryland Sled Dog Races
November 4-5
Augusta
Toast the Season
November 4-12
Traverse City
Lansing Train Show and Sale
November 5
East Lansing
Veterans Tribute
November 5
Lansing
Michigan History Museum
Water Walkers: Protecting the Great Lakes
November 5
Detroit
Outdoor Adventure Center
Cocktail Week Grand Rapids
November 8-9
Grand Rapids
13th Annual Big Grape Bus Tour
November 11
Jackson
Ladies Night Out
November 11
Mount Pleasant
WOW - Women's Only Weekend
November 11-12
South Haven