Peak Color for October 11-17, 2019
Michigan's fall color show is coming to the forefront with bright yellows, brilliant golds and bold oranges. As temperatures continue to fall, Pure Michigan is your destination for fun and lively seasonal excitement.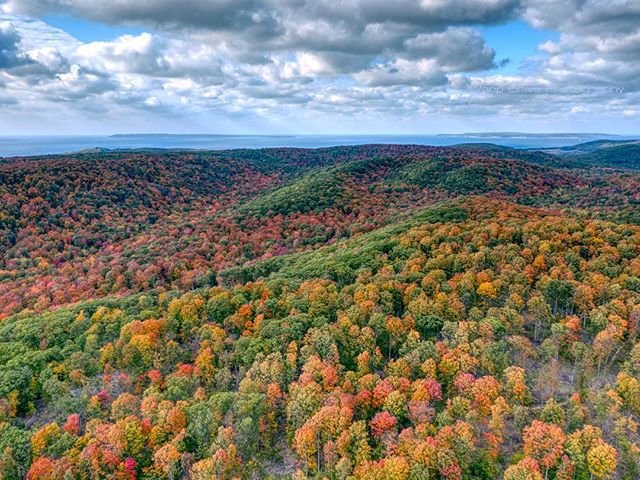 UPPER PENINSULA
If you're hoping to make a trip to the Upper Peninsula any time soon, this may be the week to do it. The region is reporting 76 to 100 percent color saturation and most counties are at or within one week of peak conditions. However, some areas in the Western UP may be a little past peak by this weekend.
From
Ironwood
to
Marquette
, viewers will find great color along the routes around
Lake Gogebic
and
west of Marquette
around
Lake Michigamme
.
Marquette Country
is illuminated with fiery reds, oranges, and yellows. The universally- accessible
Thomas Rock lookout
, above the picturesque village of
Big Bay
offers a nice birds-eye view of the area
.
This small community, tucked away between the
Huron Mountains
and
Lake Superior
, is a great base camp for accessing miles of
recreational trails
and questing for the area's numerous
waterfalls
.
For
St. Ignace, Baraga County
and much of the
Eastern UP
, leaf peepers will find good color this weekend. However, much of the foliage along Lake Superior is changing slower and still showing a mix of green.
---
NORTHWEST LOWER PENINSULA
In Northern Lower Michigan, color is emerging quickly. For
Grand Traverse Bay,
pops of color are spreading from the inland areas to the coasts, making it an ideal time to enjoy scenic routes like
M-22
around the
Leelanau Peninsula
. Stop in at
Rove Estate Winery
, the highest point in
Leelanau County
---which provides a beautiful overlook for taking in the colors. Tour the
Traverse Wine Coast
and take time to explore about 30 different wineries. Many have tasting rooms and host events throughout the harvest season.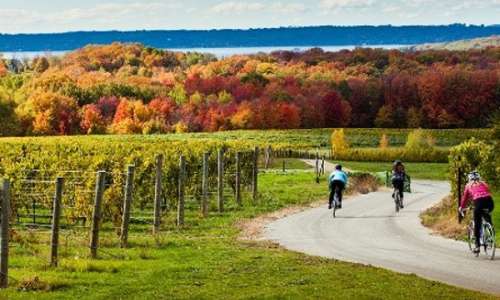 On
Old Mission Peninsula
, follow
Center Road
up the middle of the peninsula for sights of
West and East Grand Traverse Bay
. See orchards abundant with fall fruits and make your selection at roadside farm stands on your way to
Mission
Point Lighthouse
.
Petoskey
is home to one of the nation's best fall foliage drives.
M-119
starts at the north end of town, becoming the
Tunnel of Trees
north of
Harbor Springs
. The narrow road snakes 20 miles along a Lake Michigan bluff, making sharp turns at
Devil's Elbow
and
Horseshoe Bend
. Hardwoods lean into the road, where their overlapping crowns form a colorful canopy of color over the pavement.
This coming weekend, you'll find good color along interior routes near
Gaylord
and
Cadillac
. The cooler mornings are making for a nice transition to fantastic fall sights and sounds. Cadillac's color
routes two
and
three
offer some of the area's best scenery of the season. The area will hit peak during this weekend or next-- weather dependent.
Charlevoix,
Houghton Lake, and Clare County
anticipate peak conditions in one to two weeks.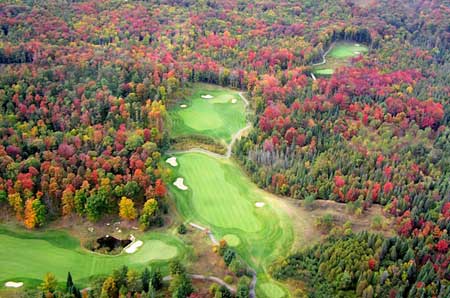 ---
NORTHEAST LOWER PENINSULA
Plan a tour of the Northwest Lower Peninsula. Known as Michigan's Sunrise Coast, the route travels from Lake Huron's shore through a stunning stand of virgin forest, with lots of opportunities for wildlife viewing along the way. Locals recommend the drive up to the
Presque Isle lighthouses,
which is just stunning. The maples are fire red and more are turning by the day.
Traveling along
Lake Huron's shore,
past splendid fall foliage, also provides great opportunities for wildlife viewing along the way. The Alpena area is dotted with
lighthouses
along the shore.
Follow
M-32
west of Alpena and take in the breathtaking colors as you head toward the
Pigeon River Country State Forest and Elk Range
. Head to
Thunder Bay Resort
for an Elk-Viewing Dinner Ride through a 160-acre elk preserve on a carriage pulled by Belgian draft horses to the Elk Antler Log Cabin for a gourmet dinner.
Heading west of Grayling, viewers will find good color; east of town the transformation is spotty at this time.
CR-612
from
Frederic
to
Kalkaska
is hilly with nice colors, as well as
M-72
from
Grayling
to
Kalkaska.
The
North East region
will peak in one to two weeks.
---
WEST CENTRAL and EAST CENTRAL LOWER PENINSULA
Silver Lake Sand Dunes, Mount Pleasant Area, White Lake Area, Holland
and
Frankenmuth
as well as most
East
and
West Central Michigan
communities are reporting color saturation at 26-50 percent, with peak conditions anticipated to overtake the landscape in one or two weeks.
---
SOUTHWEST and SOUTHEAST LOWER PENINSULA
Southwestern Michigan's
Berrien, Cass
and
Van Buren Counties
have touches of color throughout the region. The trees are just starting to pop with jeweled-toned fall colors. Fall is a good time to experience the quiet shores of Lake Michigan and the area's craft wines, beers, ciders and spirits along the
Makers Trail.
Now that the weather has turned to fall around
Ann Arbor,
the leaves are just beginning to follow suit. This coming weekend, visitors to the area can enjoy the autumn breeze at
Dexter Fall Fest
in historic downtown Dexter. Or stock up on sweater supplies at the
Fall Fiber Expo
in Ann Arbor.
Michigan's Southwest and Southeast regions
will see peak color in one to two weeks.
---
#FallFilter FRIDAYS
Share your Pure Michigan autumn experiences with us on
Instagram
and
Twitter
. Be sure to include #
FallFilter
to share your adventures with our Pure Michigan social community. Each Friday, we'll select five of our favorite fall photos tagged with
#FallFilter
and feature them in a story on the
@puremichigan Instagram
account.
---
Look through these
Michigan Fall Color Tours
to help you plan a route for your next fall getaway. Whether your interests lie in urban fun or in nature, we have the perfect fall excursion away from the hustle and bustle.
The following stories will also provide great ideas for the perfect Pure Michigan fall excursion:
20+ Things to Do in Michigan: Your Ultimate Fall Bucket List
Fall Fishing in Michigan: Your Ultimate Guide
Colorful Craft Beverages Complement Michigan's Autumn Landscape
---
Great Fall Activities
Fall is not just for jeweled tones leaves, breathtaking shore scenery or plash vineyard tours, it's packed with festivals, hayrides and balloon rides, corn mazes, pub crawls and tasting tours. You'll find the season perfect for foot races and rowing challenges, spookfests, food fests and murder mysteries. In Michigan, there's a festival for just amount everything.
Haunted: The Great Lakes Ghost Project by Joseph Zettelmaier
Now thru October 20, 2019
Ypsilanti
Haunted Lighthouse Weekend
October 11-12, 2019
East Tawas
Horse' N Around Stables BBQ Chuck-wagon Trail Rides
October 11-13, 2019
Chelsea
Hallowe'en in Greenfield Village
October 11-24, 2019
Dearborn
S'more Festival at Lewis Farms & Petting Zoo
October 12-13, 2019
New Era
Boo at the Zoo
October 12- 27, 2019
Lansing
Guided Art Park Color Tour
October 13, 2019
Thompsonville
An Evening With The Iconic Kenny G
October 13, 2019
Suttons Bay
M60 Corn Maze
September 13-27, 2019
Union City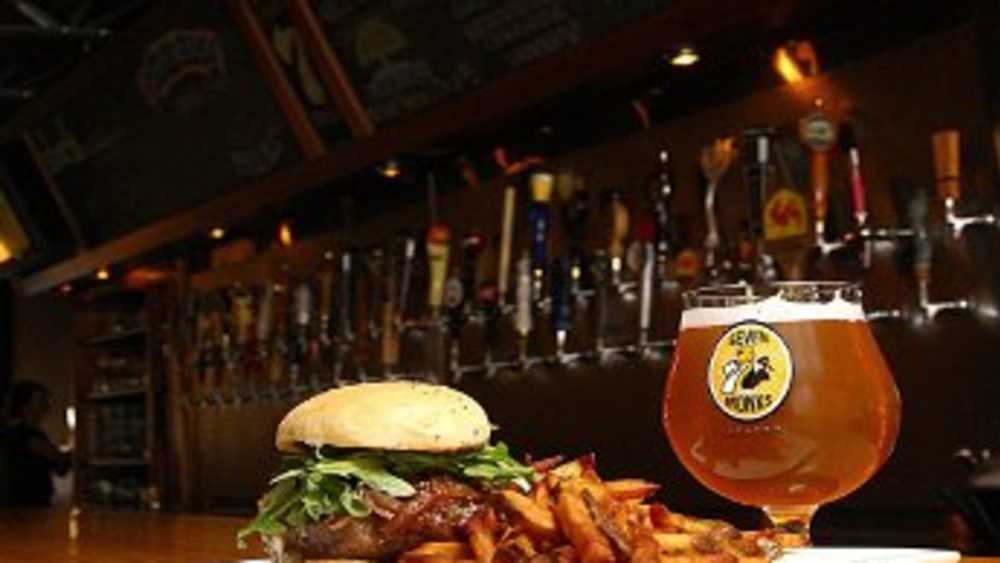 Pure Michigan Autumn IPA Tap Event
October 14, 2019
Traverse City
Black Violin
October 16, 2019
East Lansing
Peaktoberfest
October 18- 20, 2019
Thompsonville
Autumn Fest
October 19, 2019
Bellaire
Deals & Packages near this Week's Peak Color
Need a last-minute weekend getaway? Looking for a cheap cottage vacation package? You're sure to find the perfect Michigan vacation package to save money for the day or to help extend your stay with Pure Michigan. Let us help you with some suggestions for fall getaway packages that you can take advantage of this week. Check out this month's
Featured Deals & Packages
. Visit michigan.org for a complete list of
great statewide vacation package deals
.
---