Peak Color for October 16-22, 2020
Fall colors are cascading throughout Michigan this week across back roads, city parks, nature trails—and along rushing rivers and streams. Panoramic lake scenery and pristine sunsets provide a magnificent canvas for countless outdoor adventures.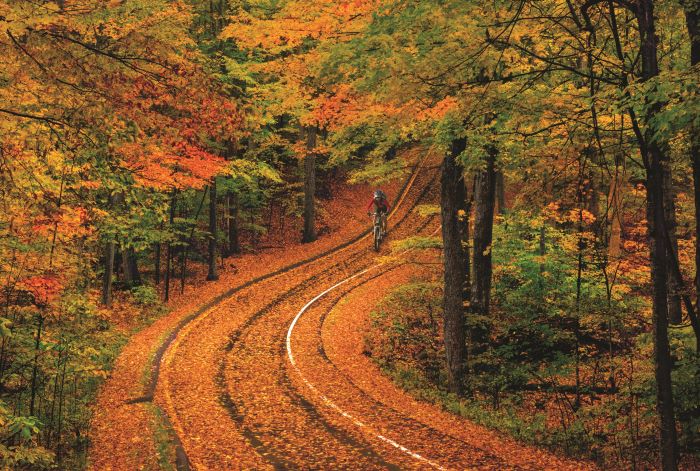 For the
Keweenaw Peninsula
fall color has peaked.
Copper Harbor
and
Brockway Mountain
are currently at peak as is the drive along
M-26
from
Eagle River
to
Copper Harbor
and the
Covered Drive
off
Canal Road
in
Houghton.
Although other areas are past peak, there is still a range of good color throughout the region. Other scenic drives that you don't want to miss are the
Covered Drive, M-26, Sand Dune Drive, Covered Road,
and
South Shore.
Explore the area's scenic trails, rushing waterfalls, Lake Superior sunsets and starry dark skies. For more detailed info visit:
www.keweenaw.info/recreation/fall-colors
.
Baraga County
has an abundance of color, but the beauty is fading fast with recent winds and rain. Peak is now in the towns and surrounding areas--but farther out, peak has passed. Over the next several days, visitors driving along the roads of
Covington, Alberta
and
Bovine
through
L'Anse
out to
Skanee,
will find an amazing color route.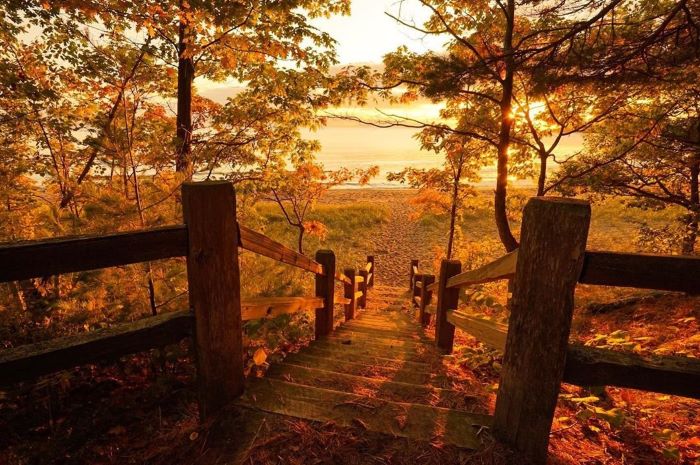 The colors of
Marquette County
are wrapping up as the land prepares for its long winter slumber. This year's fall weather brought larger than usual waves to the Lake Superior shoreline, luring avid suffers to the area to test their mettle on America's Fresh Coast. Popular color viewing spots include the zoo at
Marquette's Presque Isle Park.
The 323-acre park juts into Lake Superior with scenic color-draped hiking trails, wildlife viewing, and fantastic views of the
Upper Harbor Lighthouse
against a canvas of magnificent color.
Sault Ste. Marie
and the
Eastern Upper Peninsula
has been exploding with fall color, and some areas are now past peak. Trees are starting to shake off their gold and orange leaves. However, more inland areas have retained their colors. A drive to
Tahquamenon State Park
by way of the
Curley Lewis Highway Scenic Byway
will still provide unbeatable colors over the next week.
Alger County
is donned with a striking palette of peak color. Visitors to the area will find the color viewing around
Munising
and the
Pictured Rock
s area a great choice to catch a glimpse of the eye-popping display before the season's colors fade.
The landscape of
Dickinson County
has made a definite turn towards peak colors. Golden maples and aspen, mixed with russet, purple and orange oaks are ablaze everywhere. Locals anticipate that the area will be at full peak conditions in less than one week. Hopefully, a few days of sunny weather with calm breezes will help sustain the beauty.
Mackinac Island
and the
Straits area
are reporting to be about one week from peak color.
An explosion of color has overtaken
Northern Michigan
and the
Grand Traverse Bay region!
Come enjoy the gorgeous reds, golds, and oranges over the next week or two, as the color migrates toward the water. Inland forests change colors first, with the lake and bays protecting the trees closer to the shoreline. This slow shift bodes well for travelers since the peak color lasts longer inland and can be enjoyed in so many different places.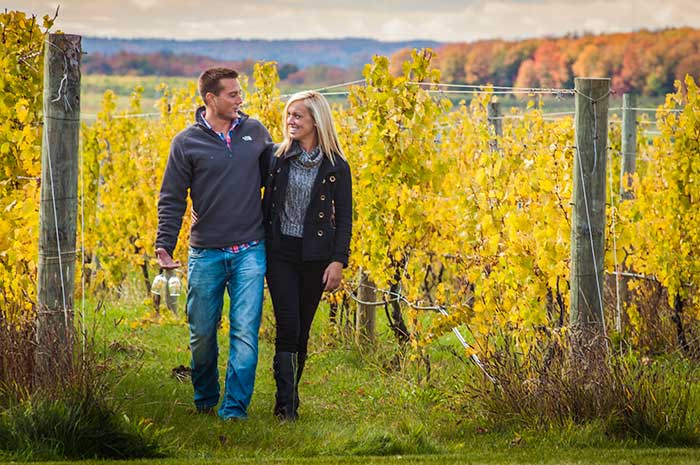 Heading up north? Here are some recommendations for fall fun this week: Weekdays, head out on the
Leelanau Peninsula Wine Trail
for the
Hunt for the Reds of October,
where you'll get to sample the incredible red wines of the
Traverse Wine Coast.
On Fridays and Sundays, see the fall color on a chairlift ride at
Crystal Mountain.
On October 17, take a mountain bike color tour on the resort grounds. Now through October 18, take the stunning drive out to
Frankfort
and check out the
Frankfort Film Festival.
While you there, be sure to hit the trails to see fall color up close. The region offers outdoor experiences for all travelers, with everything from accessible trails to challenging dune and forest climbs for the serious hikers. No matter how you explore the autumn glory, you know you're in a
"pretty great place."
The
Cadillac area
is on fire with hot yellows, oranges and reds across the forest of the area's fall color routes. Recent wind and rain are dropping early color to the forest floor, where colorful whirls of crackling leaves stick to your shoes and tires, and the fresh clean air of fall surrounds you. All four of the Cadillac color routes have fall fun to offer.
Route 1 – Lakes Cadillac and Mitchell
Here, you'll find full, reflective color to take in a walk or hike before nestling up to the new fireplace in the
Cadillac Commons
across from the Pavilion.
Route 2 – Hodenpyle Dam
Locals suggest you follow the route taking you through
Harrietta,
then up to Mesick. Look for directional signs to guide you. Be sure to bring your camera, the river valley is on high alert for a beautiful bold color explosion!
Route 3 – Lake Missaukee
This weekend, leaf peepers find fine the protected areas are still at peak. Open areas hit peak last week. However, the route is still a great drive with some awesome eateries along the way.
Route 4 – Pine River
Embrace the full color, with draping rolling hills, picturesque communities, and amazing stops along the way.
Each route has its own downloadable and an easy to print map. Check them all out at
www.cadillacmichigan.com/365-days/fall
.
The
Cheboygan area has peak color right now
—and it is one of the best years for the season's fall color kaleidoscope. Area woods are glistening beneath a brilliantly colored canopy of stunning, tunnel-like paths of must-see color.
Presque Isle, Alpena
and
Alcona
counties are showcasing
peak color now.
Visitors to the area will find the drive along
US-23
and
M-32
to be the best routes to see the colors.
For the
Grayling area,
colors are slightly past peak. However, there is still some nice color throughout the area. Colors are very beautiful in and around the Gaylord area with
peak expected to arrive in less than one week.
Stanwood
and
White Lake
are experiencing peak color now. While the
Silver Lake Sand Dunes/Hart
area
is about o
ne week from peak conditions.
Anywhere within 5-10 miles from Lake Michigan in
Oceana County
is at peak color. While leaves are just starting to change near Lake Michigan.
Frankenmuth
—Michigan's Little Bavaria—is just days away from peak color as the reds, yellows, and oranges are shining bright. Over the next few weeks, visitors will find family fun at the annual
Scarecrow Fest
(October 17-18 and October 24-25) taking place at the
Frankenmuth River Place Shops.
As a sendoff to the last market day of the season, the
Frankenmuth Farmers Market
is hosting the
Harvest Festival
this Saturday (October 17), complete with festive activities, wine tastings and more. Get lost in a corn maze at
Weiss Centennial Farm
each weekend through October 31.
Southwestern Michigan
is illuminated with beautiful pops of red, yellow, orange and purple as the stage is set for
peak conditions to arrive in less than one week.
The area is expected to have fantastic color through October 31.
South Haven, Saugatuck-Douglas
and
Battle Creek
and are reporting to be
one to two weeks away from peak conditions.
In Southeast Michigan, the
Ann Arbor area
is nearing peak fall color. Trees everywhere are displaying an abundance of leaves in bold shades of gold, orange, auburn and crimson hues. Tree Town is living up to its name!
Peak color is one to two weeks away.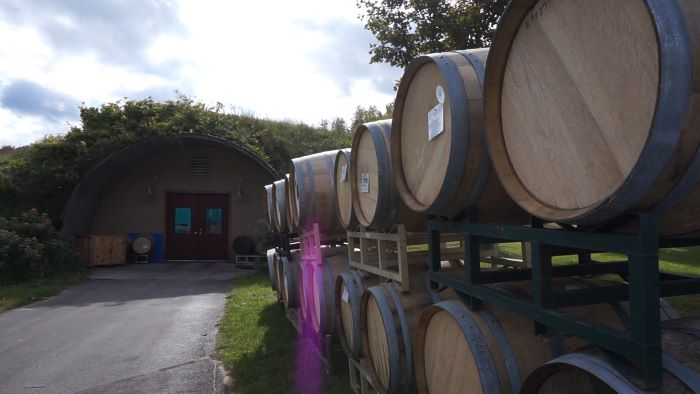 Wine, colorful trails for bikes, hikes and paddles, haunted lighthouses and pumpkins, there're so many ways to explore our great fall wonders.

From the Lake Michigan shore to Upper Peninsula, Michigan's wine industry continues to expand. And with red, white, dry, sweet, sparkling and fruit vines to choose from—you're sure to find the perfect glass to suit your palate. As you explore the many wines that Michigan has to offer, equip yourself with these handy facts about our colorful and booming wine industry.
Explore Michigan's best fall hiking and biking trails and paddling trips, handpicked by experts who call Michigan's public lands their backyard. Use this list of prime destinations to plan your next Pure Michigan autumn outdoor adventure.
What is it about lighthouses that keeps spirits lingering, long after the lights have been extinguished? Perhaps it is an undying passion for these beloved beacons, or maybe it is a tragic loss of loved ones that ties these ghosts to their hallowed grounds. Journey with our guest blogger to learn the story behind a few keepers of Michigan's haunted lighthouses.
From elaborate fun zones for the kids to hard cider and wine tasting for the adults, there really is something for everyone—and these Michigan pumpkin patches have it all! Some even have petting farms, bonfires, and live entertainment. Even with all the frills, one thing remains certain--they all have pumpkins big and small to fit all your fall needs.
Great Fall Events
IllumiZoo - A Glenlore Tale
Now thru November 15, 2020
Grand Rapids
Marvel: Universe of Super Heroes Exhibition
Now thru January 31, 2021
Dearborn
12th Annual Tuff Enuff Golf Tournament
October 18, 2020
Acme
Black Star Farms Arcturos Dining Series - Harvest Bounties
October 23, 2020
Suttons Bay
Legend of Sleepy Howell
October 23, 2020
Howell
YpsiGLOW Ypsilanti
October 23, 2020
Ypsilanti
DeVries Fall Festival
October 24, 2020
Owosso
Amway River Bank Run - Virtual
October 24, 2020
Grand Rapids
Harry Potter Trivia
October 24, 2020
White Lake
Halloween Weekend at Grand Hotel
October 30, 2020 - November 1, 2020
Mackinac Island
Visit michigan.org for a complete list of great statewide events.

Great Deals & Packages for a Fall Getaway
Michigan getaways and vacations are simply top-notch and great vacation packages can always easily be found with help from Pure Michigan. Check out this regional sampling of some of the latest vacation, resort and hotel deals in Michigan this fall.
Be sure to check out this month's
Pure Michigan Featured Deals
, where you'll find great specials for golf, lodging, dining, theater performances, festivals, grand events, wineries & brewery tours and spa services at destinations all across the state.
Visit michigan.org for a complete list of great statewide vacation package deals.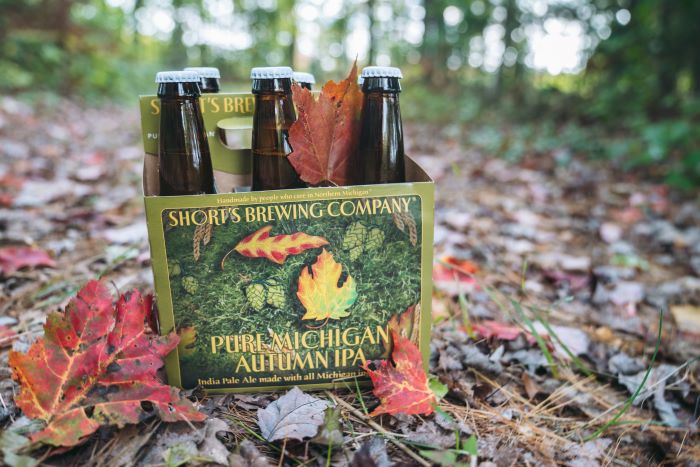 It's Happy Hour
It's that time of year again when Michigan transforms into a land of orange, red, yellow and green from the top of the Upper Peninsula down to the southern border. And there's no better way to celebrate all that a Michigan fall has to offer than with a delicious brew from the
Great Beer State
.
Back by popular demand, Pure Michigan has partnered with Short's Brewing Company to create the Pure Michigan Autumn IPA, a 100 percent Michigan-grown and harvested IPA that highlights the state's nationally-recognized craft beer industry. Visit our
Virtual Happy Hour with Pure Michigan Autumn IPA
to learn more!
---