Peak Color for October 19, 2018
Magnificent colors are lighting up our forests, hills, parks, golf courses, shorelines and backyards in one of the greatest shows nature has to offer. This weekend is full of color and filled with an abundance of family fun.
Along
Michigan's Keweenaw Peninsula
, viewers will find many of the leaves near the
Twin Lakes
area have started to fall. However, approaching the
Copper Harbor
area on US- 41, there's still nice color as well as the area around the Peninsula's
Brockway Mountain
. This coming weekend, viewers will find fall colors are at their best near
Lac Labelle
and
Mount Bohemia
with over 12 miles of biking trails.
St. Ignace
and
Mackinac County
are at the end of the peak color season. But, there's still plenty of beautiful color throughout the area. If you're in the
Sault Ste. Marie area,
the time is now! The trees are at their peak—exploding throughout the area with brilliant reds, oranges, yellows. Some of the best places to see the fall foliage would be
Mission Hill Overlook
,
Point Iroquois Light Station
, or
Tahquamenon Falls
in Paradise.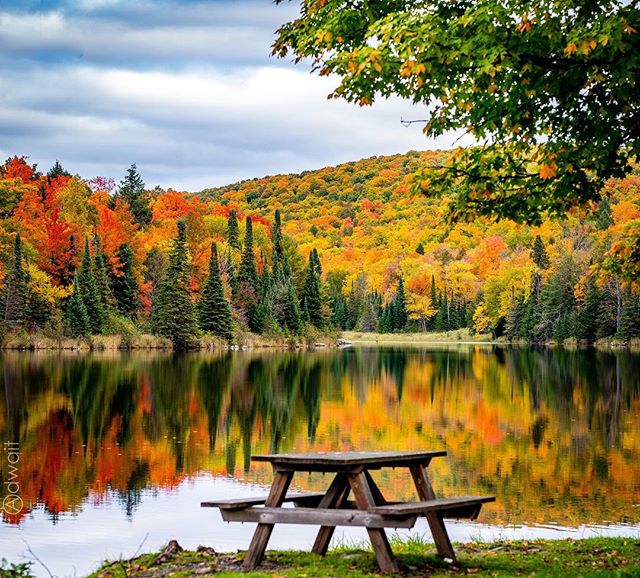 Newberry
and
other communities across the Upper Peninsula are all at or past peak conditions.
Therefore, color seekers are advised to travel within the next week for best viewing
.
According to locals…for those that know the area, "you really can't go wrong with color viewing once you cross the Mighty Mac." In fact, the area has won a notable recognition as the
Best Destination for Fall Foliage.
Manistee County
is on the cusp of peaking. Inland is a sea of gold and red, while the coastal region is bronze and yellow. Typically, inland tends to peak first, and that is the case this year. If you're in the area and looking for the best color routes, take the
Inland Fall Color Self-Guided Tour
. Wind through the
Huron-Manistee National Forests
and take a break to get lost in the
Douglas Valley Winery
corn maze while sipping hot cider. If you're in town over the weekend and are feeling the Halloween spirit, you'll want to check out the
Manistee's Ghost Ship
at the S
.S. City of Milwaukee,
open every Friday and Saturday throughout October.
Cadillac Area
color seekers will experience the latter half of peak in the area this weekend. All four
Cadillac area color routes
are at peak--showing major contrasts along the roads and as you glide over the hilly countryside for at least one scenic valley view per route. Color reflecting off the area lakes provides a beautiful lakeshore drives along
Lakes Cadillac, Mitchell
and
Missaukee
.
Peak color is here now.
This coming week, viewers will find
Wexford County water routes
--including the
Pine
and
Manistee
rivers—stunning breathtaking scenes as the leaves are swept up by the current and cascade down the rivers. Embrace the sound of serenity along the shoreline lined with ducks, deer or other wildlife. Head to the Cadillac area to experience Mother Nature's splendor in color and serenity.
Cadillac
and most of
Wexford County
are
at peak now.
The leaves are holding, but don't wait too long… the show will end soon.
Alpena, Benzie
and
Ludington are reporting good color with peak less than one away.
Trees are changing color rapidly along the West Michigan's Lakeshore.
Muskegon County
roads and highways are showing good color (
near or at peak saturation
); however, leaves are beginning to fall in the Muskegon area. This week's cooler temperatures will speed up the color transition.
Peak color has arrived in Silver Lake Sand Dunes area.
Drive the backroads of
Oceana
and
Mason counties
for excellent fall color viewing. The highways along Lake Michigan are expected to peak this weekend!
Holland
and
White Lake Area are still one to two more weeks from peak viewing conditions.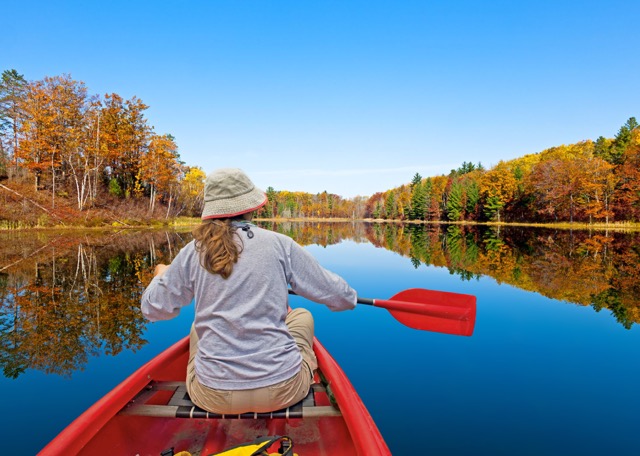 Families touring the
Frankenmuth
area this weekend will find hours of fun for the kids at the
Frankenmuth Corn Maze
, which includes five acres of corn stalks, and two and a half miles of twisting trails. Or, take time to pick out the perfect pumpkin for Halloween at
Johnson's Giant Pumpkins.
Golfers visiting the area will find stunning fall foliage throughout
The Fortress Golf Course
.
Peak color is expected in the Midland, Bay City and Saginaw area in less than one week.
Trees along Lake Michigan in
Benton Harbor
and
St. Joseph
are turning beautiful hues of yellow, orange and red. Be sure to meander over to
Silver Beach
and
Tiscornia Beach
for a beautiful view of waves crashing along the piers.
The maple and hickory trees alongside
Butler Street
in downtown
Saugatuck
are showing brilliant shades of reds, oranges and yellows, complimenting and brightening the way for fall shoppers and strollers.
Michigan's Southwest counties are one to two weeks from peak condition.
For the Ann Arbor area, fall colors are starting to take center stage. But, there's much more than colorful foliage to the area in fall. There's Big 10 football, historic orchards and autumnal dining. Fall is the perfect time to explore the sights, sounds and colors of the 120-acre
Dexter-Huron Metro Park
. To help you plan the perfect fun-filled fall getaway, here are some
not-to-be-missed Ann Arbor activities and attractions
--including cider mills, scenic routes, coffee houses and more!
Peak conditions are one to two weeks away for Ann Arbor and all of South East Michigan
.
---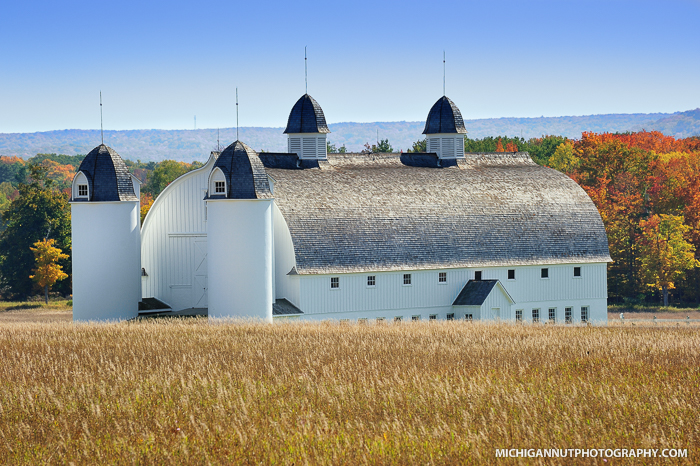 Michigan's Scenic Rustic Barns
Michigan's historic barns—a picturesque array of historic buildings with colorful autumn leaves as a backdrop, always make beautiful photos. Tree-lined roads winding pass lush farmlands, golden harvest-ready fields and peaceful homesteads. As the vibrant fall season transitions quietly into winter, beautiful snow-capped barns decorate a mesmerizing country landscape.
Check out some of these historic structures from the lens of a landscape photographer
.
---
Creepy Noises, Eerie Sounds and Mystifying Accounts
Take a journey into some of the most haunted places in Michigan! From lighthouses to restaurants, and from hotels to cemeteries—even a prison—there are some fairly mysterious places that have a supernatural past across the state. Interested in all things paranormal—keep reading! We have
Six Haunted Places
for you to explore.
---
Fall the Perfect Time for an Eastern Upper Peninsula Getaway
With hidden lakes, the largest waterfalls east of the Mississippi, fresh local fare and trails galore, Michigan's Eastern
Upper Peninsula
is a traveler's ultimate—and yet still accessible escape—any time of the year. From high peaks and low valleys, to cool brews and mouth-watering pasties—its time you
fall for Michigan's Eastern Upper Peninsula with our list of cool things to do
.
---
Spectacular Fall Events
If you're looking for fun things to do this fall, it's time you make plans to visit one of our many fairs, festivals, cultural or sporting events. These events celebrate, the fun-loving spirit you'll find here. See a small sampling of what's happening right now...
Haven Harvest Festival
Now thru October 21, 2018
South Haven
Hallowe'en Haunts
Now thru October 26, 2018
Holland
Harvest Festival
Now thru October 28, 2018
Oxford
The Hunt for the Reds of October
Now thru October 31
Leelanau Peninsula Wine Trail
Haunted Mill
October 20-28, 2018
Portland
YpsiGLOW
October 26, 2018
Ypsilanti
Mackinac Island Halloween Weekend
October 26-28, 2018
Mackinac Island
Halloween in Saugatuck
October 26-28, 2018
Saugatuck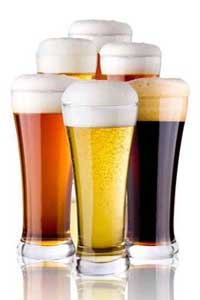 Boos, Brews, and Brats
October 27, 2018
Manistee
Zombie Run
October 27, 2018
Traverse City
Downtown Farmers Market Trick or Treating
October 27, 2018
Marquette
Halloween Ice Show
October 28, 2018
Muskegon
Trunk 'R' Treat in the Village
October 31, 2018
Bay Harbor
Halloween Trick-Or-Treat
October 31, 2018
Saint Joseph
Visit michigan.org for a complete list of great statewide events.
---
Deals & Packages near this Week's Peak Color
Need a last-minute weekend getaway? Looking for a cheap cottage vacation package? You're sure to find the perfect Michigan vacation package to save money for the day or to help extend your stay with Pure Michigan. Let us help you with some suggestions for fall getaway packages that you can take advantage of this week.
Be sure to extend your fall weekend with one of our
deals and packages