Peak Color for October 20, 2017
With last week's rain and high winds, many communities across Michigan are reporting peak or near peak conditions for the coming weekend. Where color is still vibrant, there are a multitude of ways to experience the season at its best.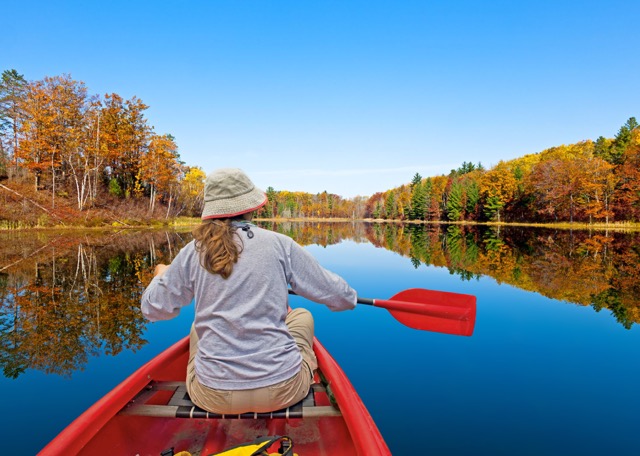 UPPER PENINSULA
Hurry up if you are planning a fall color tour of the Porcupine Mountains and the
Western Upper Peninsula
. This will probably be the last weekend to see the area's annual fall color show.
Ontonagon County, Newberry
and
Luce County
communities are reporting 76-100 percent color development and are near or at peak color now.
Sault Ste. Marie
andthe
Eastern Upper Peninsula
communities are reporting 51-75 percent. Some of the best places to see the fall foliage would be the
Cut River Bridge's forested river valley
west of St. Ignace,
Pictured Rocks
along Lake Superior in Munising, or
Tahquamenon Falls
in Paradise. You really can't go wrong with color viewing once you cross the Mighty Mac.
St. Ignace is less than one week away from peak. This weekend, viewers will find good color throughout the woods and forest surrounding the area. Now is the perfect season to take a hike in the
Hiawatha National Forest
, which has over 30 varieties of trees.
Fall color on
Mackinac Island
continues to be a little behind this year. However, you should find close-to-peak color this weekend on the island--and the color will likely last through the weekend of October 28 29. The
Mackinac Island Halloween
festivities will take place Saturday, October 28, so you can enjoy the fall color and take part in the extravagant Halloween celebrations on the island.
---
NORTHWEST LOWER PENINSULA
Trees along the Lake Michigan shoreline in
Benzie County,
although not yet at peak, provide a beautiful drive along M-22. As you move farther in from the lake, the colors are more defined and should be at peak in the next week. Even though colors are a bit behind, there are still a lot of great fall activities including chairlift rides at
Crystal Mountain
and the
Frankfort Film Festival
October 19-22.
The color in the
Manistee National Forest
(off of M-55) is in its early to mid-stages with bright yellow and orange tones mixed into a sea of lush evergreen foliage. Color closer to the coast of Lake Michigan (along M-22), has just begun to transform the landscape and is providing a fantastic foreground to the vast expanse of water. Stop by the
Douglas Valley Winery
any Saturday or Sunday in October for hayrides, fresh cider and donuts to take advantage of the full spirit of fall. If you're looking for a little thrill amongst your scenic views, stop by the Haunted Ghost Ship,
S.S. City of Milwaukee
(off of US-31) in town any weekend evening in October for a sure scare!
For the
Cadillac area,
fall color is hitting peak currently, especially on Route 2 from
Cadillac
to
Mesick
, and Route 4 from
Cadillac
through
Lake City
and
Manton
. The southern route from
Cadillac
through
Briston
and
Tustin
will reach peak this coming weekend through early next week. Harvest festivities are in full swing with pumpkins, squash and corn mazes in full color and capturing smiles. To see some amazing photos taken by area locals, visit
Explore Cadillac
or for color routes, events and other great seasonal highlights, visit the
Cadillac fall page for more information
.
Charlevoix
and
Mason counties,as well as most other communities of the Northwest Lower Peninsula will reach peak in one to two more weeks.
---
NORTHEAST LOWER PENINSULA
Plan a 200-mile color tour of the Northwest Lower Peninsula. Known as the Michigan's Sunrise Coast, the route travels from Lake Huron's shore to a stunning stand of virgin forest, with lots of opportunities for wildlife viewing along the way.
The Alpena, Gaylord, Mio fall excursion
will take you past lighthouses, state parks and breathtaking scenic routes. The tour will also explore local culture,local flavor and an abundance of color of many varieties.
Grayling
is reporting sunny and warm temperatures, along with stunning color development and is currently at peak. Color saturation in and around the
Gaylord Area
area is at 65-80 percent.
The region should see peak conditions in less than one week.
---
WEST CENTRAL LOWER PENINSULA
Since the Holland area experenced heavy rains over the weekend, local color is beginning to advance more quickly. If touring the aea, you'll want to check out the
Sanctuary Woods
Preserve
and
Van Raalte Farm, whci are expected to have good color this weekend.
When planning your Holland area visit, be sure to check out the area's
fall color tour route
.
For the area around the
Silver Lake Sand Dunes,
color development inland from Lake Michigan, along Oceana Drive and all country roads is developing nicely. However, color along Lake Michigan byways is still running a bit behind.
The
Mount Pleasant Area
is reporting
51-75% with near peak conditions for the coming weekend.
Whitehall
and other communities throughout
Muskegon County
iare reporting
26-50%, with peak color expected to arrive in less than two weeks.
---
EAST CENTRAL LOWER PENINSULA
The
Great Lakes Bay Region--
Bay City, Birch Run, Chesaning, Frankenmuth, Midland
and
Saginaw
-- is very close to peak. Driving along I-75, you'll notice stunning shades bronze, yellow and red sprinkled about area trees. While in the area, viewers will also find good color among the region's golf courses, biking and hiking trails and its scenic landscape. After a day of color touring, be sure to
check out the region's thriving beer scene.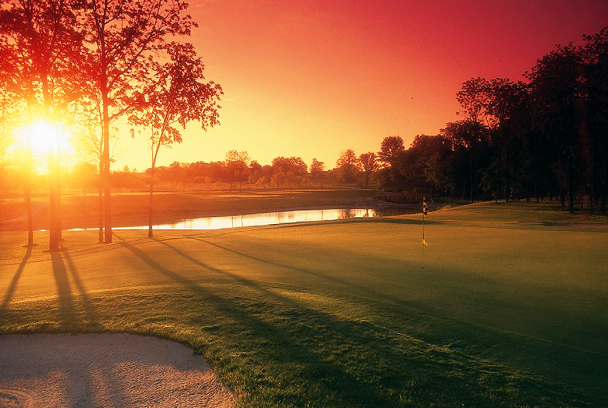 This weekend, viewers will find good color and natural beauty at the region's
Shiawassee National Wildlife Refuge
with its over 9,400 acres of bottomland-hardwood forests and 12 miles of biking and hiking trails.
The County Road Association of Michigan recommends a number of
especially colorful local roads for a Mid-Michigan fall color tour
throughout Clinton and Barry counties.
This region will reach peak color in one to two weeks.
---
SOUTHWEST LOWER PENINSULA
The rain this past weekend brought down some of the leaves; but, there is plenty color left on the trees. Come spend a weekend in
Coldwater Country
, ride the steam engine color train, catch a show at the local opera house, check out the corn maze or walk the historic walking tour to catch the beauty of fall. Visit
Coldwater Country
to plan your next trip!
Van Buren County
is one to two weeks away from peak conditions. If you're in the area this weekend, you'll find the maples around the community of Glenn, especially along 68th Street, will provide some of the area's best color.
Meander your way through u-pick farms and farm markets sprinkled throughout
St. Joseph, Three Oaks, Berrien Springs Benton Harbor
and
Baroda
for stunning color now through the end of October
.
Pick up pumpkins, squash, corn stalks, gourds and your favorite wine and craft beer. This rich agricultural region has been call one of the top 10 destinations in the U.S. to view fall foliage.
With most communities reporting
26-50 percent color saturation
,
peak conditions for Southwestern Michigan will reach the area within the next one to two weeks.
---
SOUTHEAST LOWER PENINSULA
Color continues to development throughout the
Capitol City area
along backroads, parks, nature preserves and area gardens. A visit to
Uncle John's Cider Mill
in
St. Johns
is well worth a Saturday afternoon excursion. Learn how cider is made or check out the bakery. Before you leave, be sure to visit the gift shop, sample local wines in their tasting room, or take a leisure stroll through the over 1.5 mile groomed nature trail.
Peak for this area is still one to two weeks away.
Peak color has almost arrived in Ann Arbor! Trees vary from green to yellow, with some hinting at red and orange. The
Dexter-Huron
and
Hudson Mills Metroparks
are a great place to meander through the trees and along the Huron River. Cider mills and orchards are the most popular fall attraction in the Ann Arbor area (except perhaps for Michigan Football!). Locals recommend
Wiard's, Wasem Fruit Farm
and
Alber Orchards.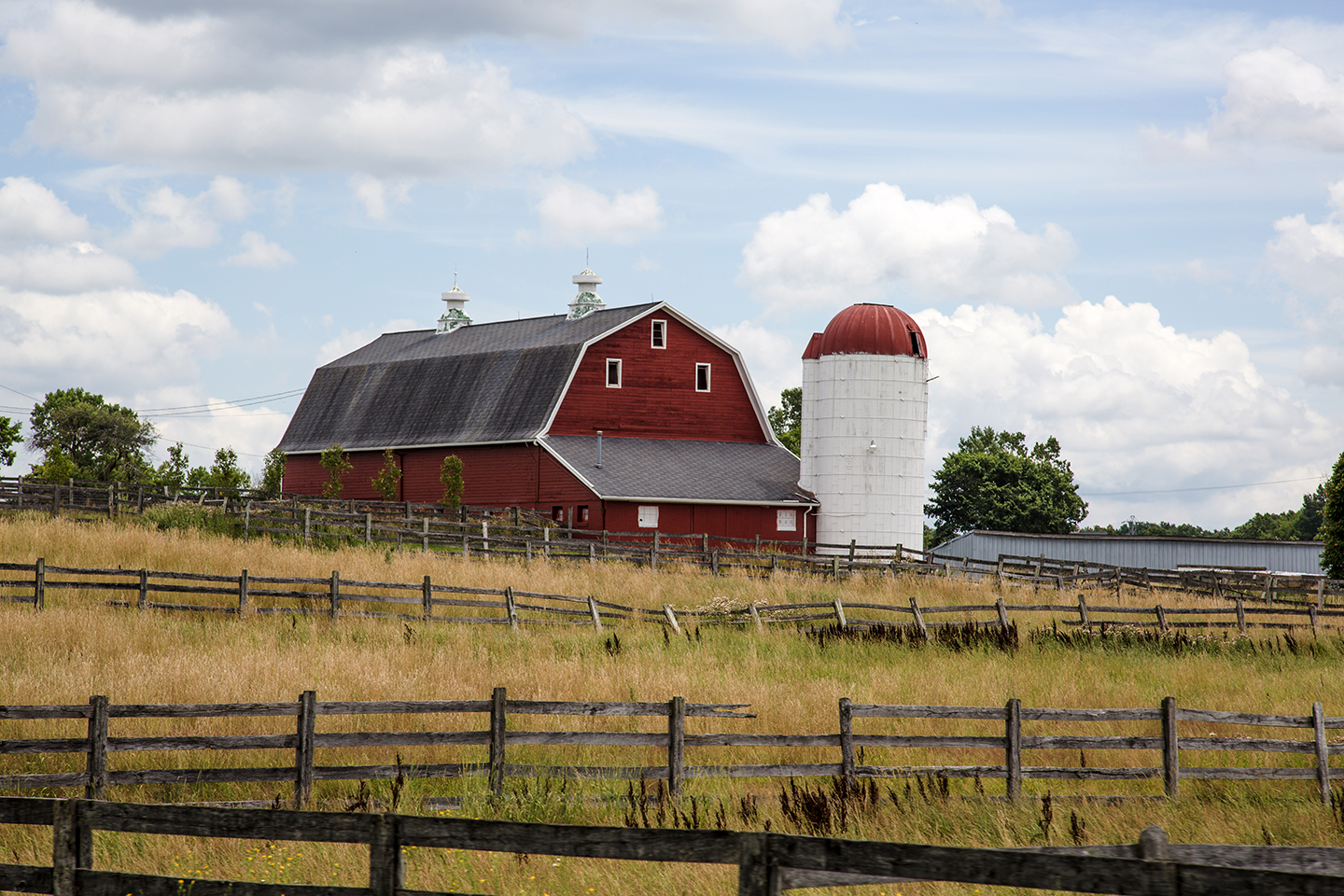 The maples in Southeast Michigan's community of
Belleville
are beginning to show their fall splendor in hues of crimson and gold against a backdrop of green.
The
remaining Lower Peninsula Southeastern counties
are experiencing hints of color and
will reach peak conditions in one to two more weeks
as Mother Nature continues to make a colorful sweep through the state.
---
The perfect Michigan scenic fall tour awaits—plan your trip today!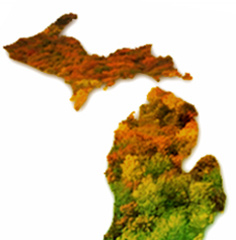 Use the fall peak-season map and the current fall-color report to guide you toward the best time to take a Pure Michigan fall getaway. Look through the
Michigan Fall Color Tours
on michigan.org to help plan a route whether your interests lie in urban fun or in nature, away from the hustle and bustle.
With thousands of miles of trails all across Michigan, fall is the perfect time to get outdoors and explore our diverse terrains and abundant ecosystems. We invite you to
explore some of autumn's best trails and adventures
, handpicked by experts who call Michigan's public land their backyard.
As you're wheeling around the state this fall, you should consider checking out some
Awesome Urban Bike Trails
. While many might think of bike trails as back-woods, there are some that are just outside of your favorite downtown.
Join the scenic routes of three adventure travelers
as they journey across Michigan to uncover the beauty, the bounty and the flavor of the fall season.

---
Events near this Week's Peak Color
ZooBoo
Now thru October 29
Battle Creek
Binder Park Zoo
Fresh Coast Film Festival
October 19-22
Marquette
Spirits of the River Raisin
October 21
Monroe
River Raisin National Battlefield Park
Murder Mystery Dinner
October 27
Hickory Corners
ypsiGLOW
October 27
Ypsilanti
Downtown Ypsilanti
9th Annual Detroit Fall Beer Festival
October 27-28
Detroit
Eastern Market
Haunted Trail
October 27-28
Whitehall
Boos, Brews, and Brats
October 28
Manistee
Castle Farms