Peak Color for October 26, 2018
Fall colors are nearing their sunset or have peaked in many locations around Michigan. But, there's no need to despair—Michigan has a multitude of ways to experience this robust season.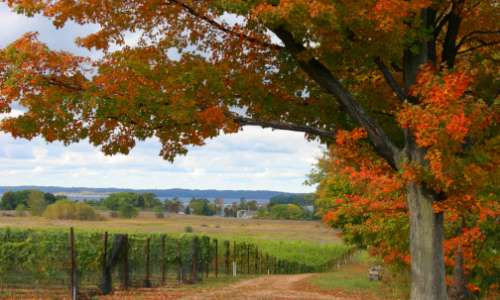 According to locals from
Marquette County
, "Gone are the leaves. Here are morning frosts that cover the bare branches in shimmering crystals. The morning sun thaws with its warmth and the evening moon shines on snow showers. The gales of November are soon approaching and Lake Superior is rolling tall waves towards shore, as if in anticipation. Still quiet punctuated only by the crunching of fallen leaves accompanies the brave adventurers who roam the hundreds of miles of hiking trails of Marquette County in this overlooked time of stark and serene beauty. When you emerge from the forests of white birch and deep green pine, warmth is easy to find in the many pubs, restaurants, and cafes of downtown Marquette." Visitors to the area will find some leaves still along the coast, but the interior is quite bare, as p
eak color has already passed.
Sault Ste. Marie
and the
Eastern Upper Peninsula
continue to have color, but the windy days are taking a toll on the fall foliage. Thankfully, the UP always offers a great experience!
Tahquamenon Falls State Park
is breathtaking and the amazing sight of giant freighters moving through the
Soo Locks
will continue to be an intriguing attraction until mid-January.
St. Ignace is approaching
the end of peak right now, with maples and some other early turners already. Although
Mackinac Island
is at peak now, area trees are fast approaching past peak conditions.Overall, fall color is wrapping up for the 2018 season across the Upper Peninsula. This weekend would still be a great time to travel to see the colors, but time is running! But, you can always find a new adventure just north of the Mackinac Bridge.
Charlevoix
is currently experiencing ideal color conditions—
peak is here now
. However, the
Gaylord area
has already passed peak.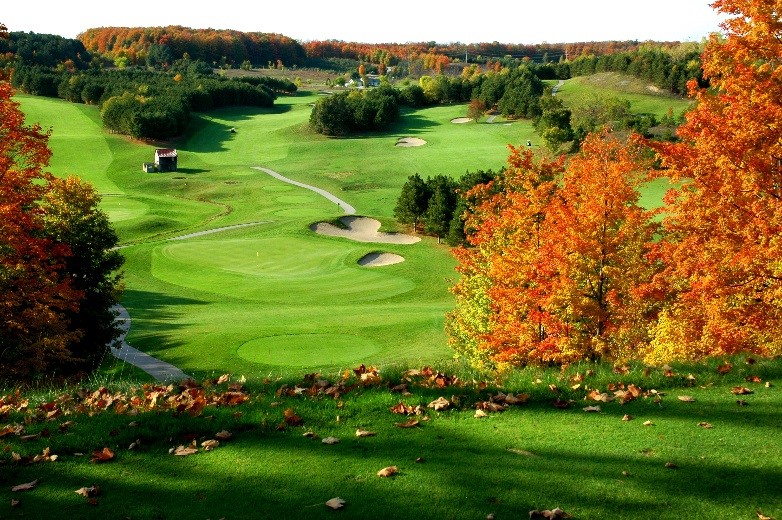 This is the perfect weekend to head to the
Alpena area
. The drive up to the
New
and
Old Presque Isle lighthouses
is breathtaking! If you are looking for a moment to unplug, head to
Norway Ridge Pathway
for a quiet hike on the trails. The maples are blanketing the earth with beautiful color. You'll see the area at its best this coming weekend—as
peak color has overtaken
the Alpena and Michigan's North East Lower Peninsula.
Boosting the highest elevation in the lower mitt, the
Cadillac area
always hits peak a bit earlier than the coast and p
eak color has already passed.
This past week, the area had up to 35-degree mornings with frost sparkling on the crimson and yellow horizon across the forest. This week, with temps in the mid-40s, brilliant color continues to develop. Soon, the ground will be ablaze with color as the leaves float to their winter resting place. For fascinating reading, check out the
Science of Fall Color
.
The vibrant show of autumn—with its reds, yellows and purples—has closed for the season in the
Mount Pleasant area.
But, it's always a good time to view the colorful history of several local Native Americans tribes at the
Ziibiwing Center
. This coming week, you can also savor local spirits at area brewers and try your luck at the
Soaring Eagle Casino.
Inland from Lake Michigan, the colors in
Oceana County
are at peak. The lakeshore should reach prime color within the next few days. This weekend, viewers will find peaking colors near New Rea around
Lewis Farm Market
and
Country Dairy
. Another promising viewing spot is
Silver Lake State Park
—especially along the Lake Michigan Shoreline.
Muskegon, Holland
and
Frankenmuth
are at or near peak conditions. Visitors to these communities can check out area fall festivals, farm markets, breweries, wineries and local cultural institutions.
If you're looking for a brilliant display of fall color, climb the nearly 300 steps of
Mt. Baldhead
in
Saugatuck
to for a birds-eye-view of the entire towns of
Saugatuck
and
Douglas
, where you'll see a mix of stunning yellows and deep reds intermixed with the evergreens for a beautiful fall display. The area is anticipated to experience peak conditions in less than one week. Maples along the
West Michigan Pike,
gracing the Lake Michigan shoreline, are dressed in beautiful hues of yellow and red. Peak fall color will arrive in
one to two weeks
in
Michigan's Great Southwest
!
The colors are beautiful in
Ann Arbor--
peak is here right now! This is a great time of year for a leisurely trip down Huron River Drive--either by car or by canoe or kayak--to see the peak foliage. Ann Arbor is known as "Tree Town." Visiting the area in fall, you'll see gorgeous autumn leaves everywhere--not just in parks outside the city. With hundreds of parks throughout the area, you'll see the fall colors as you're getting an early start on holiday shopping, as you're taking your children or grandchildren trick-or-treating, and as you explore Ann Arbor's museums and restaurants.
---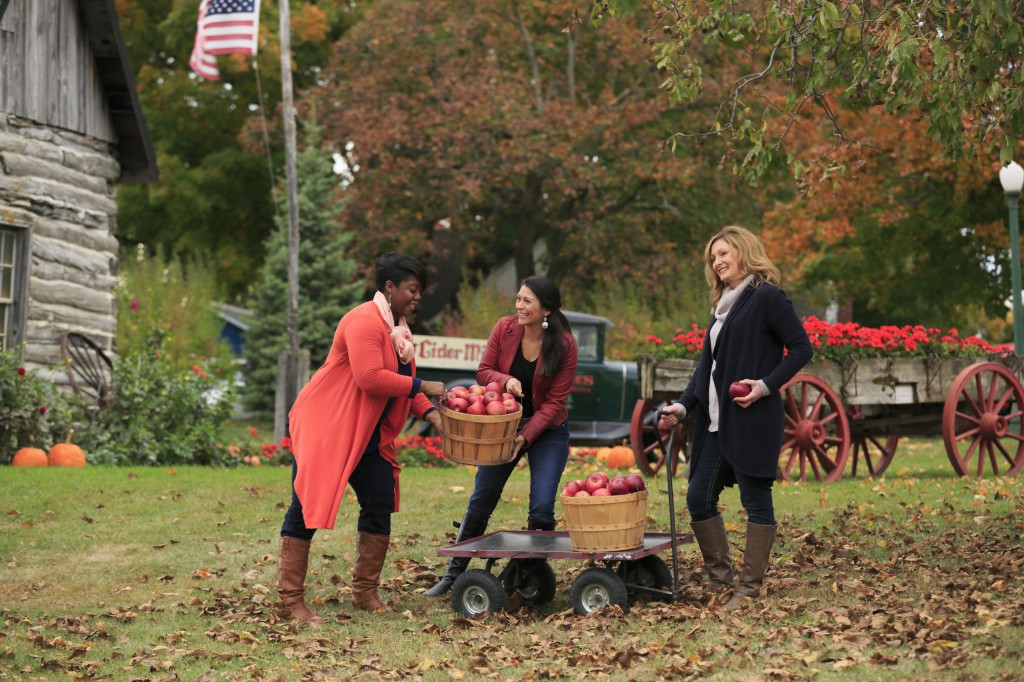 Apple Picking Season
Apple pies, apple crisp and caramel apples—oh, how sweet it is!
Michigan apples make delightful desserts and simple healthy snacks, but the options are endless when it comes to cooking with Michigan apples for breakfast, lunch, and dinner. Each apple variety has its own unique taste and texture that makes it perfectly suited for certain styles of preparation. With more than 16 different commercially produced
varieties
, you're sure to find a favorite.
Your fall harvest bounty isn't complete without a selection of Michigan apples.
---
An Unforgettable Coastal Road Trip
When planning a weekend getaway, you can't do much better than the Leelanau and Old Mission scenic routes. These leisurely drives are maximized for incredible coastal escapes and amazing fall colors. Craft breweries, wineries and vineyards, lighthouses, hiking and water trails—
fall is the perfect time to explore Michigan's Leelanau and Old Mission peninsulas.
---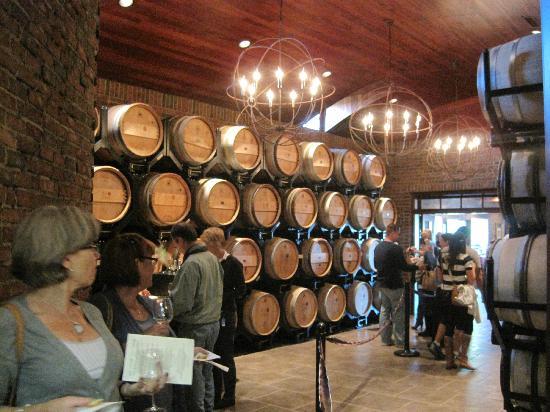 he Many Colors of Michigan's Craft Beer, Wine, Cider and Spirits
Pink, burgundy, amber, gold, orange and brown … just a sample of the many colors of autumn in Michigan–both on the road and in your glass. As you travel around the state's spectacular landscape, be sure to stop and sample the many colors of Michigan's craft beer, wine, cider and spirits! Let us help you
plan your color tour of Michigan's craft beverages
---
Spectacular Fall Events
If you're looking for fun things to do this fall, it's time you make plans to visit one of our many fairs, festivals, cultural or sporting events. These events celebrate, the fun-loving spirit you'll find here. See a small sampling of what's happening right now…
Black Star Farms Premium Wine & Cheese Tasting
Now thru December 31, 2018
Suttons Bay
Saugatuck Annual Kids & Pets Parade
October 27, 2018
Saugatuck
Mackinac Island Halloween Weekend
October-28, 2018
Mackinac Island
Halloween Murder Mystery Dinner
October 31, 2018
Kalamazoo
Treetops Trifecta
November 2- 4, 2018
Gaylord
Autumn Nature Hike
November 3, 2018
Mackinaw City
Children's Cooking Class: Thanksgiving Edition!
November 4, 2018
Kalamazoo
Charlevoix Fall Restaurant Week
November 4- 10, 2018
Charlevoix
Late Fall Harvest Buffet
November 8, 2018
Ferndale
WOW - Women's Only Weekend
November 8- 11, 2018
South Haven
Tea and Whiskey Weekend
November 9- 10, 2018
Hart
Grand Rapids Comic-Con
November 9- 11, 2018
Grand Rapids
East Lansing Film Festival
November 9- 14, 2018
East Lansing
Traverse City Beer Week
November 9- 16, 2018
Traverse City
Lansing Train Show and Sale
November 11, 2018
East Lansing
Grand Rapids International Wine, Beer, and Food Festival
November 15- 17, 2018
Grand Rapids
Be sure to check out our list of Halloween festivities across Pure Michigan
.
Or,
v
isit michigan.org for a complete list of great statewide events.
---
Deals & Packages near this Week's Peak Color
Need a last-minute weekend getaway? Looking for a cheap cottage vacation package? You're sure to find the perfect Michigan vacation package to save money for the day or to help extend your stay with Pure Michigan. Let us help you with some suggestions for fall getaway packages that you can take advantage of this week. Be sure to extend your fall weekend with one of our
deals and packages
.