Peak Color for October 5, 2018
From scenic fall color drives and breathtaking hiking trails to manicured wineries and apple orchards, and from panoramic vistas to jeweled-toned arbor-lined country roads--Michigan has unmatched fall splendor.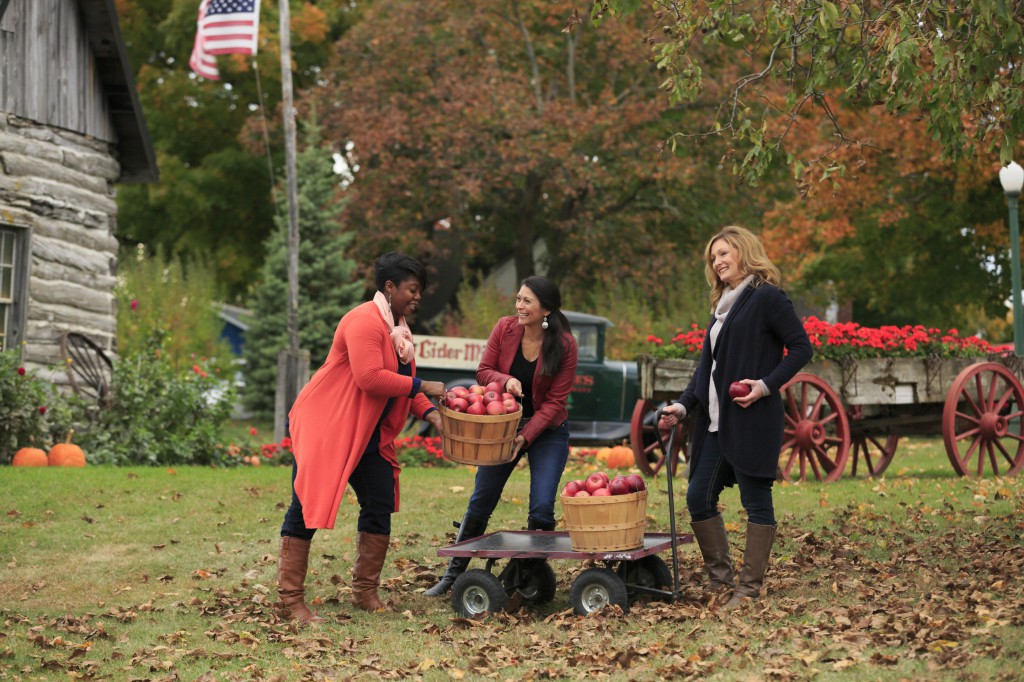 Traveling through
Marquette County
, leaf seekers will see bright, spectacular color among deep green pines along the hills of the
Michigamme Highlands
. Walk or pedal through the ruins of Old Town Negaunee and the
Iron Ore Heritage Trail
to be immersed in canopies of copper, gold and jasper before warming up in a pub or cafe in the historic towns of
Ishpeming a
nd
Negaunee
. The local cuisine, such as fresh baked pasties or spicy Cudighi sausage, is a perfect pairing with the luscious foliage and crisp autumn air.
St. Ignace is
still displaying a lot of green, but change is in the air. Nights have been quite cool and all the trees appear to be on the brink of changing. Drive out along US-2 toward
Brevort
and
Naubinway
, or east toward
Les Cheneaux
and
Drummond
islands to see the early colors against the backdrop of the powerful surging waves of
Lakes Michigan
and
Huron
as fall winds and blustery days are upon us.
Fall colors are changing fast in the Sault Ste. Marie area and you don't wait much longer to visit the
Eastern Upper Peninsula
to experience great fall foliage. From
Brimly
to
Paradise
,
West Lakeshore Drive
is one of the most breathtaking drives in the fall. Along the way, you can also stop off and climb
Point Iroquois Lighthouse
or walk the gorgeous beaches and boardwalks. Don't miss
Mission Hill Overlook
,
practically across the road from the lighthouse.
Newberry
and surrounding the communities are near peak, showcasing a beautiful kaleidoscope of fall foliage throughout the area.
For the Michigan's Northwest Lower Peninsula, higher elevations are looking good with intermittent stands of red and oranges popping throughout the landscape.
Leelanau County
is showing most of its colors inland. Take a drive up M-22 to see some of the modest colors along the shoreline, then opt for interior favorites like
Tandem Ciders
for more vibrant trees. Red maples and oaks are the brightest currently.
Old Mission Peninsula
currently has very premature with color, showing only dots of crimsons from panoramic views at
Chateau Chantal
.
Fall is the perfect time to visit all of the
Wineries of Old Mission Peninsula
. In downtown
Traverse City
, residential neighborhoods are seeing oranges and reds lining the sidewalks, with a heavy harvest of acorns this season. The area is likely to reach peak within two weeks.
Trees on the high ridge between
Clare
and
Harrison
on US-127 are just beginning to change. Local residents suggest viewers stop at
Jay's Sporting Goods
to pick up your fall outdoor gear.
Charlevoix, Benzie, Frankfort
and
Ludington
are one to weeks away from peak.
Colors in and around the
Gaylord
area are just start to transform. This weekend, visitors can explore the area's over 90 inland lakes and 5 pristine rivers, endless miles of distinct parks, stunning golf courses, lush forests and meandering trails—perfect for an afternoon fall excursion. Locals anticipate peak conditions to reach the area in one or two weeks.
South of Gaylord, driving M-93 to
Hartwick Pines State Park
in the
Grayling area
, trees are beginning to turn with the pale greens and yellows and some oranges. County Road 612 from
Frederic
to
Kalkaska
also has some good color—although of the lighter, early-season tones. However, sporadic brightly colored trees are visible. Touring along the lakeshore of Michigan's Northwest and Northeast, communities, color is running about a week behind, with more vivid shades appearing inland away from the lakes.
Leaves in the greater
Holland area
have not begun to change; but, there are still plenty of fall activities to keep visitors plenty busy. The Farmers Market is open Saturdays and Wednesdays and is brimming with pumpkins and fall veggies. Be sure to check out
Harvest Festival at Windmill Island Gardens
this Saturday, October 6, and plan ahead for
Holland's Fall Fest
, October 12-13, with professional pumpkin carvers. Leaf peepers will observe peak color in one to two weeks.
White Lake, Muskegon, Mears, Hart
, and
Mt. Pleasant
are all reporting to be one to two weeks from prime viewing conditions, with towering maples and oaks, bursting with brilliant hues reds and yellows, taking center stage for the grand show.
Frankenmuth
is full of fun fall activities, and peak tree color will be arriving just in time for Michigan's
Big Country Fest
, October 19-20, at Heritage Park. The park is lined with trees throughout and along the riverside, making this festival the place to be to view the colors. The
Great Lakes Bay Region
has a number of
fall vacation ideas to explore
throughout the season.
Bay City, Birch Run, Chesaning, Midland
and
Saginaw
will experience peak color in two to three weeks.
If you're crossing the Blue Star Highway from downtown
Saugatuck
over the Kalamazoo River and into
Downtown Douglas
within the next week or so, you'll see bright yellows among local hickory trees starting to emerge, showing the first signs of fall in the Saugatuck/Douglas area. Other colors are beginning to emerge as well, but slowly.
The roads of
Coldwater Country,
(
aka Branch County
) are staging an early fall color premiere. The best way to see the spectacular coming attraction is by driving or biking the roads--or by cruising through one of the
chain-of-lakes
on kayaks, canoes or a boat. The reflection of color on the water is amazing.
Lush green foliage is everywhere you look in the
Michigan Great Southwest
;
but, the leaves will be turning from the summer shade of green to the fall colors of red, yellow and orange very soon. Southwest Michigan is expected to see peak color in two to three weeks.
The communities throughout Michigan's Southern tier are still mostly showing largely summer foliage. But, that's no reason to stay away. If you're in Southeast Michigan for a college game this weekend, there's always time for cider, donuts and all of your favorite fall treats--and here are
five fabulous fall attractions in the Ann Arbor Area
to be sure to visit. Many Southeast Michigan communities have a wealth of parks, and
county roads
that offer good color in fall. Consider taking side trips to local farm markets, cider mills and wineries. Southeast Michigan will see peak conditions near the end of October.
---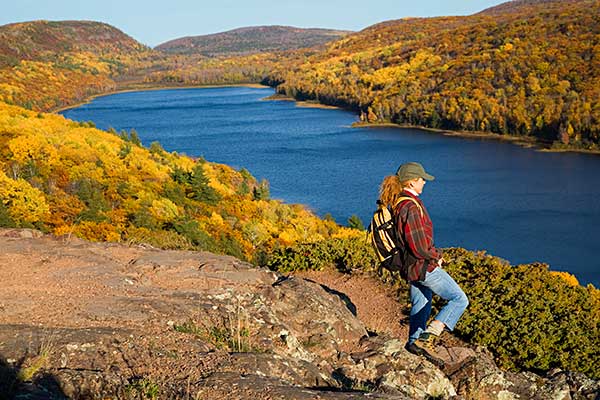 Fantastic Scenic Color Tour
Pure Michigan has long drawn tourists for its stunning natural beauty. Embraced by four Great Lakes, dotted with thousands of inland waterways and lakes and crisscrossed by 20 National and State Byways and 111 designated Natural Beauty Roads, the Great Lakes State still outshines others when it comes to memorable scenic drives. Michigan owns the autumn drive! We invite you to take a
fantastic scenic color tour
across our state.
---
Bucket list of Must Do Fall Activities
When fall rolls around, Pure Michigan dresses itself in the boldest colors. Hardwood forests grow brilliant with reds and yellows. The low-slanting rays of the sun turn the Great Lakes a deep turquoise blue. U-pick farms and vineyards explode with the ripe flavors of fall, and Michigan's cities celebrate the season with fall festivals. Check out this
must do fall bucket list and make the most of this bountiful season
.
---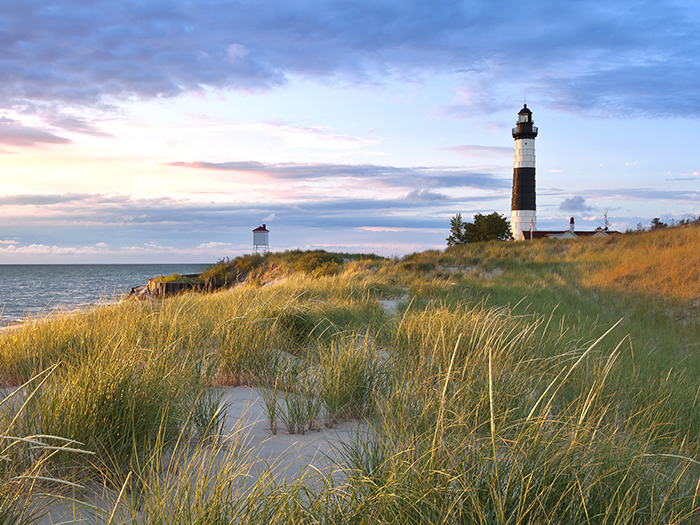 20 Stops for a Fall Color Tour through West Michigan
There's something special about fall foliage drives. The air seems crisper, the colors appear more vibrant, and there's a sweet smell in the air. The 185-mile loop between Manistee, Cadillac and Ludington offers color seekers a wonderful mix of adventure in including scenic river trails winding through the countryside, towering lighthouses against a backdrop of jeweled-toned leaves, and wooded drives that lead to wineries, farms, state parks—and alluring small-town charm. Come along for
an amazing West Michigan autumn adventure
.
---
Spectacular Pure Michigan Fall Events
If you're looking for fun things to do this fall, it's time you make plans to visit one of our many fairs, festivals, cultural or sporting events. These events celebrate, the fun-loving spirit you'll find here. See a small sampling of what's happening right now.
6th Annual M-60 Corn Maze & Pumpkin Patch
Now thru-November 4, 2018
Union City
The Monster Light Show
October 6,-27, 2018
Bay City
Harvest Festival
October 6-28, 2018
Oxford
Hometown Harvest
October 7, 2018
Madison Heights
Corn Tassel Wreath Making Class
October 9, 2018
Hickory Corners
Boo Bash I
October 12, 2018
Leonard
Yoga & Wine
October 12, 2018
Kalamazoo
Haunted History Dinner & Gravesite Tour
October 12, 2018
Kalamazoo
Chelsea's Annual Smoke & Ale Festival
October 12-13, 2018
Chelsea
Haunted Trail
October 12-13, 2018
Paradise
Handmade Music Festival
October 12-13, 2018
Chesaning
Fall Fest
October 12-13, 2018
Holland
Charlevoix Apple Festival
October 12-14, 2018
Charlevoix
Color Cruise & Island Festival
October 12-14, 2018
Grand Ledge
Hallowe'en in Greenfield Village
October 12-28, 2018
Dearborn
Family Haunted Village and Spook Walk
October 13, 2018
Port Sanilac
Appleumpkin Festival
October 13-14, 2018
Tecumseh
Scarecrow Festival
October 13-14, 2018
Frankenmuth
Autumn Color Tour River Cruises
October 13-21, 2018
Bay City
Boo at the Zoo
October 13-28, 2018
Lansing
Visit michigan.org for a complete
list of great statewide events
.
---
Deals & Packages near this Week's Peak Color
Need a last-minute weekend getaway? Looking for a cheap cottage vacation package? You're sure to find the perfect Michigan vacation package to save money for the day or to help extend your stay with Pure Michigan. Let us help you with some suggestions for fall getaway packages that you can take advantage of this week. Be sure to extend your fall weekend with one of our
deals and packages
.
---
Connect with Us
You can also share your fall color experiences with more than 1, 000,000 fans on the
Pure Michigan Fan Page
. We invite you to connect with Pure Michigan on your favorite social network for the latest travel ideas, insider tips, vacation deals and more. For more information, visit
michigan.org/social
.