Peak Color for October 9, 2020
Michigan's fall color show is slowly coming to the forefront with fiery reds, brilliant golds, dazzling yellows, and rich purples. This weekend may be the prime time to head for Michigan's Upper Peninsula to view fall color in all its glory. The quality of the annual color show is reported as "excellent" in popular viewing locations across the region.
Experience the season in a whole new light with a fall getaway to Pure Michigan...
Check out our interactive fall color map to learn more
.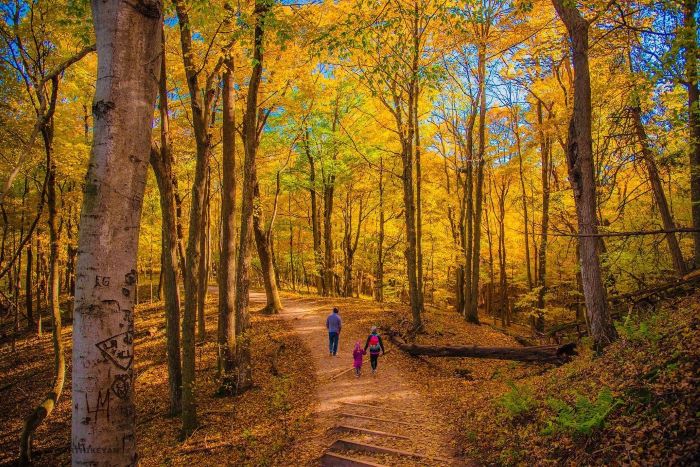 Upper Peninsula
The
Keweenaw Peninsula
has peaked -and is now a kaleidoscope of dazzling fall color. Although some areas have lost leaves due to the rain and wind, there is still an array of breathtaking color on display. Copper Harbor, surrounded by Lake Superior, lingering behind other areas in the region and still has green mixed with fall foliage, but is changing daily.
This week, visitors to the area can enjoy panoramic views atop Brockway Mountain Drive consistently ranked as one of the top scenic drives in Michigan's Upper Peninsula and is a must-see scenic drive. Other scenic drives include Covered Drive, M-26, Sand Dune Drive, Covered Road, and South Shore.
Outdoor recreation abounds and fall is the perfect time to explore the Keweenaw's hundreds of miles of recreation trails. Tour rushing waterfalls framed by the beautiful fall colors—many of which can be reached by car. For more detailed information on the Keweenaw's fall glory, visit:
keweenaw.info/recreation/fall-colors
.
Many trees throughout
Dickinson County
have peaked. However, those in and around the Iron Mountain area are just beginning to turn. The route along Lake Antoine-Quinnesec Road to the Upper Pine Creek Road and returning to Hwy-2 via Summit Road provides a stunning drive to catch the hardwoods and conifers in fall colors with the Pine Creek Bluffs in the background. Although the area is nearing the end of peak conditions, visitors will still find good color throughout the next several weeks.
Marquette County
has peaked and is ablaze with magnificent fall color. The county's vibrant forests are the perfect escape for those looking for adventure and space to breathe. The 4600-mile
North Country Trail
runs through some spectacular scenic areas. You'll want to explore the
Elliot Donnelly Wilderness
along the
Little Garlic River
and the
Little Presque Isle Recreation Area.
Here, you'll have great proximity to well-known scenic overlooks and miles of pristine Lake Superior shoreline. Now is an ideal to travel to the area, as the season's luster and glory will sunset soon.
The
Eastern Upper Peninsula
is currently experiencing peak color. This coming weekend, a drive through
Chippewa County
will show off a plethora of autumn splendor. The brilliant fall leaves are expected to hold their color throughout the week but will likely start to fall soon afterward.
The
Soo Locks Park,
steps away from the water's edge, is an orange and gold paradise right now. While inland parks and trials are expected to peak within the next week.
The weekly survey of regional visitor's bureaus shows that peak color is still a week away in most areas of the Northwest Lower Peninsula. Locals report color development between 25-50 % with plenty of red, yellow and orange hues to complete the palette.
Mackinac Island
is reporting to be 51 to 75% color saturation with peak conditions one to two weeks away.
Northwest and Northeast Michigan
This first full week of October is looking gorgeous in
Northern Michigan.
The leaves are about halfway through their color transformation, so you will still see a hint of summer green among the red, orange, and gold. The forecast is beautiful too, with sunshine and mild temperatures expected for the next 7-10 days.
Now is the perfect time to head up north for the H
unt for the Reds of October
on the
Leelanau Peninsula Wine Trail.
For $25, enjoy the best reds of the region with a complimentary red pour at 20 participating wineries. Sit outside on one of the area's gorgeous patios and catch the leaves as they change into their autumn splendor.
While you're in town, don't miss the incredible tours offered at the historic
Village at Grand Traverse Commons.
Learn about the former asylum and even look inside some of the unrenovated buildings. For those already in the Halloween spirit, the
Asylum After Dark tour
will not disappoint.
Make sure your Northwest Michigan fall excursion includes a visit to
Sleeping Bear Dunes National Lakeshore.
The drive along M-22 is worth the trip, with miles of uninterrupted forests giving you huge swaths of color to admire at the peak of every hill. The park is quieter in the fall, and there's plenty of open space to explore the beaches and trails. After your adventure, head to
Frankfort
for a seasonal beer at
Stormcloud Brewing.
Linger long enough to stroll through the boutique shops downtown. Northwest Michigan color transformation is currently at 26-50%. The area is expected to burst with a full array of autumn splendor in one to two weeks.
Charlevoix is reporting
26-50% color transformation with one to two weeks to peak.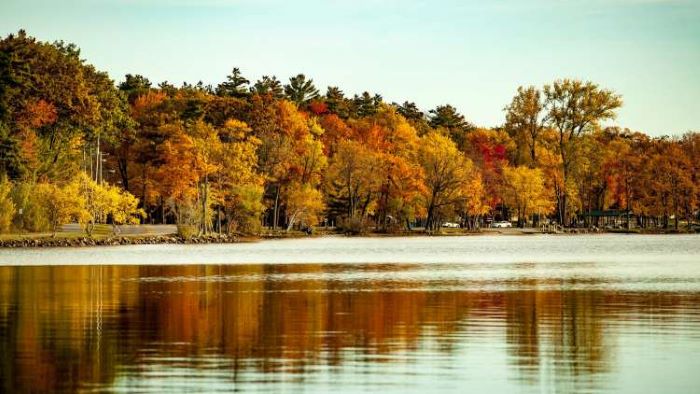 The diverse elevation of the
Cadillac area
allows the region to have color for a longer time throughout the season. Routes 3 and 4 both offer inland, low rolling hills alongside open farm fields with cascading rows and valleys of beautiful mixtures of purple, red, orange, and yellow.
Dutchman Tree Farms
—a Christmas tree plantation—on Route 4 offers amazing contrasts from hilly vistas across that region, while the river meanders with openings along Route 3. Plan a trip to Cadillac, stay in town, explore these routes and sample rural American cuisine with Dutch and German flair. Inland routes 3 and 4 are at peak now.
Trees around Route 1 (Lakes Cadillac and Mitchell), along with Route 2 (Hodenpyle Dam Area) are estimated to peak over the next 7 to 10 days. Get all the details for the perfect Cadillac area fall color tour at
cadillacmichigan.com
.
In the Northeast, excellent fall color is reported at Alpena, with an abundance of color at Otsego Lake State Park in Gaylord, followed Hoeft State Park in Rogers City.
Presque Isle County
is so far the brightest in the Alpena area. The more north, the brighter the colors. The transformation is most intense along US-23.
Traveling in the
Grayling area,
leaf peepers will find near-peak color. Driving along a slightly hilly terrain with a cross of maple, oak, and pine on County Road 6-12 from
Frederic
to
Kalkaska,
you'll find some of the area's best color this coming weekend. Return to Grayling via M-72 out of Kalkaska, for a pleasant hour-long drive with lovely fall colors.
With
lakes and river
s surrounded by an array of crimson and gold foliage, fall is the perfect time for fishing, canoeing, kayaking and rafting in the
Gaylord area.
Gaylord and Cheboygan are reporting
51-75% color transformation, with peak conditions expected in one to two weeks.
West- and East-Central Michigan
White Lake, the Silver Lake Sand Dunes/Hart area,
and
Mount Pleasant
are reporting to be one or two weeks from peak color.
While the fall decor is displayed throughout
Frankenmuth,
the trees are slowly transforming. During a stroll down Main Street or along the covered bridge, you can see spots of yellow, red, and orange mixed among the greens of summer. With 26-50% color saturation, it will be another 1 to 2 weeks before peak color completely transforms this area.
Southwest and Southeast Michigan
On the West side of the state, color development ranges between25-50 %, with the highest level of color reported at Muskegon State Park. In Grand Rapids, Kalamazoo and St. Joseph, full-color development is still a couple of weeks away.
Southwest Michigan
is beginning to see pops of beautiful hues of red, yellow, russet, and purple. Drive along the shoreline, or out into the countryside dotted with farm markets, u-pick farms, and the
Southwest Michigan Makers Trail.
Locals anticipate prime color will cover the area from mid-October to November 1.
Marshall, Saugatuck-Douglas, Berrien County,
and
South Haven
are currently at 51-75% leaf saturation, with peak color expected to be in one or two weeks.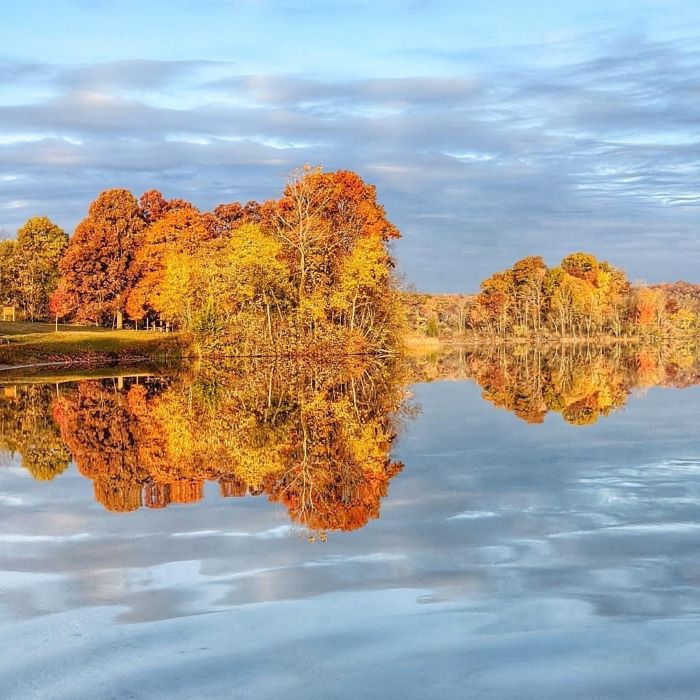 Ann Arbor,
also known as Tree Town, has plenty of places within the city to experience the fall colors. Trees are currently displaying gold, orange, and red hues. Walk the trails at The University of Michigan's
Nichols Arboretum
and
Matthaei Botanical Gardens.
Just outside Ann Arbor are three Metroparks:
Delhi, Dexter-Huron,
and
Hudson Mills
—all providing plenty of opportunities to view spectacular fall color. Leaf peepers can also drive along
Huron Parkway, Geddes Road,
and
Dixboro Road
for beautiful scenic views of the changing leaves.
Old US-12
also offers picturesque views from
Chelsea
through
Ann Arbor
to
Ypsilanti.
While in the
Chelsea area,
hike the trails at
Waterloo Recreation Area.
You will also find the
Dexter Cider Mill,
Alber Orchard and Cider Mill
and
Wiard's Orchard
to be ideal for enjoying fall festivities. The area has 40% color transformation this week and anticipates peak conditions in the next two to three weeks.
Livingston, Washtenaw
and
Wayne
counties are currently at 26-50%, with the fall color peak is still two weeks away.
Found Treasure, Trend-Forward Boutiques and a Relaxing Hike Along a Jewel-Toned Trail
Treasures of another Time
Autumn in Michigan is the time of year where fall-color seekers find mile after mile of color-draped trees and enjoy the fruits of the harvest at farm markets, while unique treasure seekers chase color of a different nature. Whether you're looking for a Victorian floor lamp or a mid-century chrome table, Green Depression Glass, or vintage toys and tools--you're bound to find them at an antique shop in Michigan.
Come along for a tour some of these unique stores.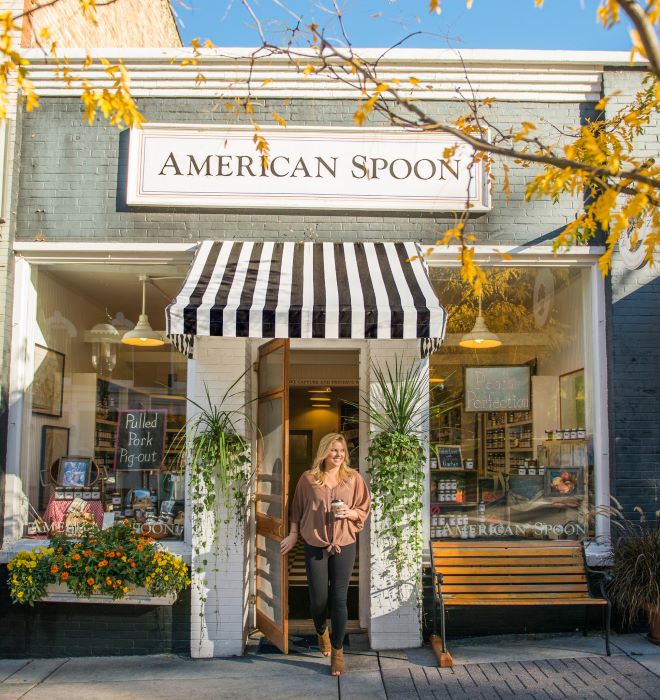 Fall Getaway to Classically Hip Petoskey
Escape to this northern resort town, where trend-forward boutiques and dining options energize timeless landscapes and Victorian architecture. October light sets off Petoskey's 19th-century spires from Little Traverse Bay and color-saturated hills. Nature's palette alone justifies a trip to this charming classically hip town.
Check out these chic shops and trendy dining options.
15 Trails for a Relaxing Fall Day
With thousands of miles of trails offering a wide range of outdoor recreation activities, Michigan is also home to a variety of trails where visitors can take it easy and enjoy the state's stunning fall color. From stairs leading up mountains and sand dunes to accessible, paved paths and observation platforms, Michigan has a trail for everyone to enjoy the state's most colorful season.
Discover the perfect trail for you.
Great Fall Events
Virtual Planetarium Shows
Now thru December 20, 2020
Jackson
Haunted Adventure
October 3-31, 2020
Marshall
Richard Preston's Cocktail Capers, a spectacular Zoom Magic Show
October 9-31, 2020
Kalamazoo
Kids Spooky Forest at Cannonsburg
October 10-31, 2020
Belmont
Witchin' Night Out!
October 13, 2020
Gaylord
Virtual Cooking Class: African Inspired Dishes
October 13, 2020
Grand Rapids
Kirkland's Warbler
October 14, 2020
Grosse Pointe Farms
Zoo Goes Boo
October 16-25, 2020
Grand Rapids
Tibbits Entertainment Series presents GO NOW! The Moody Blues Tribute Online Concert
October 17, 2020
Coldwater
Love INC's Virtual HayDay 5k
October 17, 2020
Hudsonville
Fall Harvest Days at Adventure Point
October 17-18, 2020
Walker
Scarecrow Fest
October 17-25, 2020
Frankenmuth
Howl-O-Ween
October 18, 2020
Howell
Fall is packed with festivals, corn mazes, pub crawls and tasting tours. We have so many ways to celebrate the season. The season doesn't matter—
we celebrate them all and invite you to join in the fun here in Pure Michigan
.
Connect with Us
Pure Michigan is encouraging travelers to experience fall through a whole new filter, and sharing those experiences with the hashtag #FallFilter on Twitter and Instagram. Fans can also tag Pure Michigan on Facebook to share their favorite fall road trip.

Whether your travel plans include a day at the lake, a local craft beverage or a hike through the woods, health is a top priority—and we want people to know that the tourism industry is taking safety seriously. So, while traveling across the state this fall, we encourage you to look for the Pure Michigan Pledge, a promise to uphold local safety protocols and CDC travel guidelines to travel safely.
---