Peak Color for September 18, 2020
There's nothing like Michigan in autumn—fiery reds, oranges and gold—the colors will absolutely amaze you! We invite you to venture out, off-the-beaten-path destinations to discover nature at its peak. Embrace the robust colors of the season by
hiking
and
biking
the state's diverse
trails
system. Sample fresh and locally-grown produce and seasonal treats at
apple orchards and cider mills
. Discover events like the
Michigan Trails Week Challenge
, the
Sault International Festival of Races
, or
Family Free Day in Greenfield Village
. From small-town charm, to urban sprawl and from historic attractions to championship golf, you'll find the
perfect fall getaway
in Michigan. Share your fall shots on
Instagram
or
Twitter
with #FallFilter.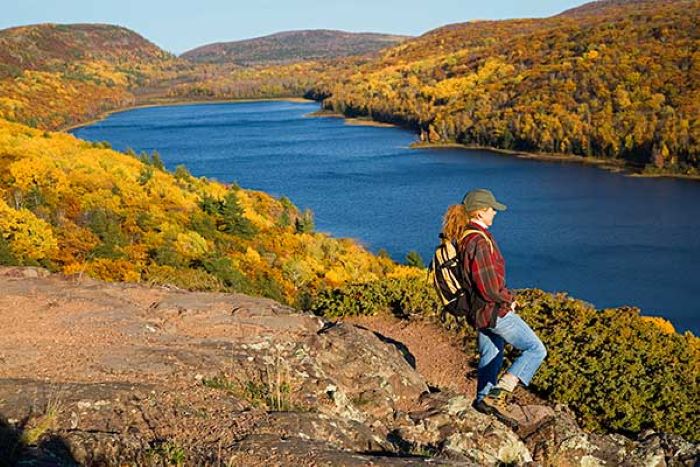 The last days of summer are slowly slipping away, and soon, Michigan's abundant foliage will change into coats of breathtaking fall color. This week, Michigan's fall color display continues to make a slow, but graceful, advance across the Upper Peninsula, where peak conditions are still several weeks away.
The trees in the
Sault Ste. Marie
region are just beginning to turn. Near the Soo Locks and along the St. Marys River, the cooler weather is accelerating the change with leaves bronzing up already. Trees closer to Lake Superior are beginning to turn earlier than those inland. The area is still a few weeks out from peak colors. The area anticipates peal color in one or two weeks. Visitors to the
Iron County area
will find mostly summer foliage, sprinkled with fall color throughout. Area hardwoods are starting to turn beautiful red and orange tones. Spotty color is currently running through the
Munising
and
Pictured Rocks area.
Here, trees along the water's edge tend to change later than inland. Locals estimate that colors will be best the last week of September through the second week of October.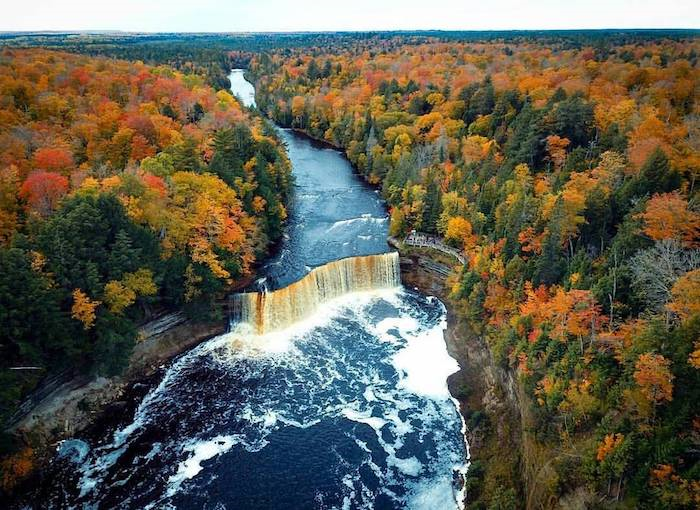 Maple trees in and around the
Drummond Island area
are just starting to transform along the M-134 corridor heading into town and along Johnswood Road headed, out to Drummond Island's off-roading trails. Peak conditions are expected to arrive in three to four weeks.
Leaf peepers looking to see the seasonal color transformation in
Marquette, Dickinson
and
Alger
counties—as well as the
Mackinac Island area
— will witness the annual color extravaganza in three to four more weeks.
The trees in
Traverse City
and the
northern Michigan region
are still wearing their summer greens! However, the oaks and maples are slowly starting to turn, with some yellow, orange, and red now visible. Up north, color starts inland and moves out toward the bays and Lake Michigan, since the waters keep the temperature more moderate. Locals are expecting more fall color to appear this week, with a peak expected in the first two weeks of October.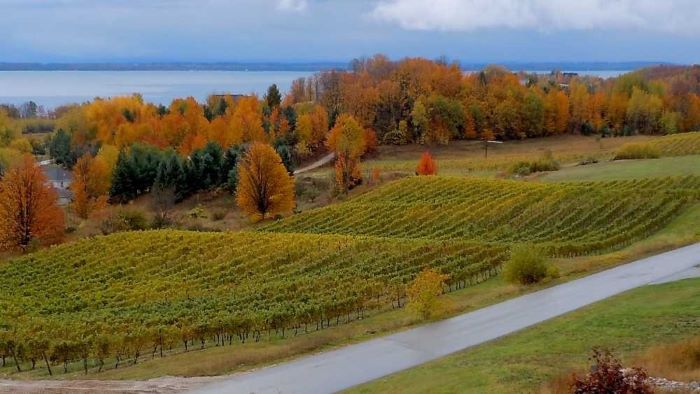 As the area anticipates the arrival of color, the region is busy celebrating all things apples and harvest! The
Sara Hardy Downtown Farmers Market
is in full swing Wednesdays and Saturdays, and roadside stands and U-picks throughout the region are brimming with fall flavors.
Spot color is being reported in the
Cadillac area
among the oak and maple trees, where visitors will find brilliant reds and rich jewel colors popping in small bursts against the summer foliage. The change is especially noticeable in the Huron-Manistee National Forests along the rolling hills in Routes 2 & 3 along M-55, M-115 and M-37. The area's high elevation brings the fall's cool evenings sooner. This temperature change kicks off the replacement of chlorophyll in the leaves, bringing nature's color to the forest earlier than the rest of Northwest Michigan. Enjoy nature walks on over 200 miles of a year-around trail system. Take in lunch or dinner on outdoor patios along Lake Cadillac with colors reflecting off the lake from the newly renovated
Dockside Inn
,
Burke's Waterfront Restaurant
and the
After 26 Depot Cafe
. Peak conditions are three to four weeks away.
Cool temps have arrived in the
Manistee County area,
and brilliant color is sure to follow in a couple weeks. This coming weekend, visitors to the area can build a fire on one of the city beaches, take a walk through the forest or enjoy a drive-in, outdoor music concert featuring Sadie Bass on Saturday, September 19. Tickets are available at
the Ramsdell Theatre
.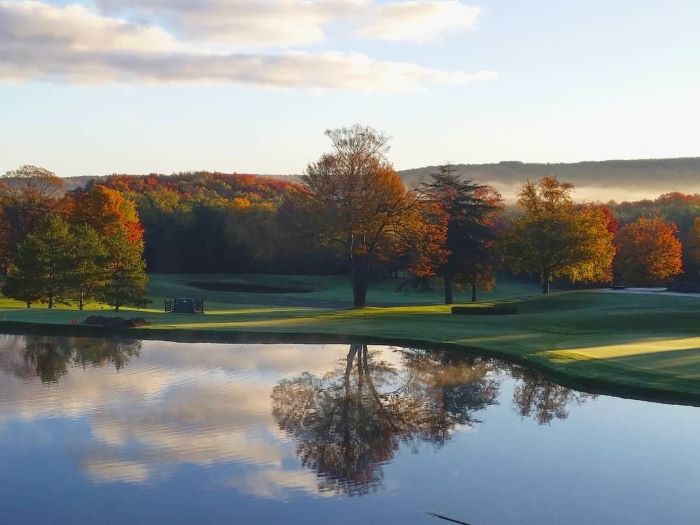 Charlevoix, Petoskey, Ludington, Cheboygan, Grayling, Gaylord
and
Alpena
have only slight color currently. These communities anticipate peak conditions in three to four weeks. State and local parks, golf courses and local trails provide a natural color palette for walks and hikes while peak color stages its entrance.
If traveling to the
Houghton Lake Area
this weekend, you'll find a pleasant drive along M-18 from Houghton Lake to Roscommon where red maples are popping, especially in the lower areas of the county. While in the area, be sure to stop in at
R&J's Best Choice
or
Bart's Fruit Market
for the pick of the pumpkins. The lowland areas of Roscommon County are just starting to show color. In coming weeks, you may be able to see some reds just coming in the maples in the swamps along I-75. Peak color is three to four weeks away.
Oscoda
will see peak color in three to four weeks. In the meantime, the Huron National Forest Scenic Byway along River Road offers stunning scenery for a nice afternoon drive, or a leisure walk with your pet. The area also has great trails for hiking and biking.
The
Silver Lake Sand Dunes area, White Lake, Holland, South Haven, Muskegon
and
Mount Pleasant
are reporting to be three to four weeks from peak conditions.
The shoreline from
Algonac/Clay
to
Port Austin
in Northeast part of the state along Lake Huron cost has very little color change at this time. Inland, visitors to the area this coming week will find slightly golden colors among the trees here and there. Locals expect peak color in one or two weeks.
The communities of
Bay City, Birch Run, Chesaning, Frankenmuth, Midland
and
Saginaw
still have mostly green foliage, but offer an abundance of outdoor adventure. Visit
GoGreat.com
to plan your next trip. Peak conditions are at least two weeks away.
Fall is the perfect time to explore
Southwest Michigan.
It is also an ideal time to travel the
Makers Trail!
Sample local wine, beer, and spirits as your tour Lake Michigan's beautiful shoreline. Within minutes, you can be in the heart of wine country. Enjoy the final green of summer foliage and the first hints of fall at
Tabor Hill Winery
. Take in the last of summer's warmth at
Round Barn Estate
and enjoy any one of their unique events. Receive your
Makers Trail Passport
when you stay at any of our local hotels, including
The Boulevard Inn
, overlooking Lake Michigan in downtown St. Joseph.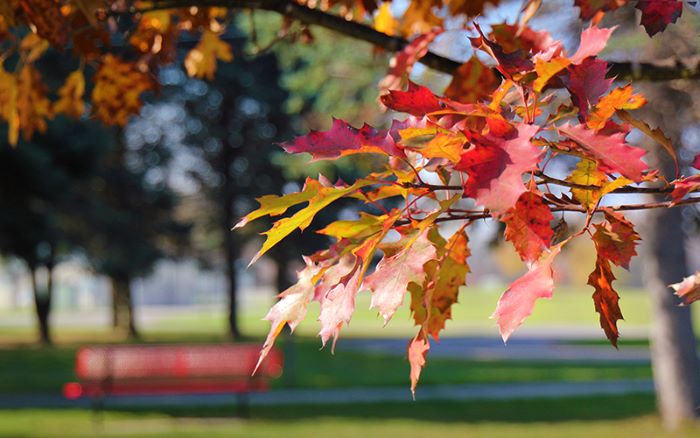 Maple trees in the Marshall area are just starting to have spots of yellow, which make a warm backdrop for a self-guided walking tour. Using either a map, or following the painted dots on the sidewalk, visitors can explore the restored 19th century homes on one or three different walking tours. Battle Creek, Lansing, The Irish Hills, Livingston County, Ann Arbor, Ypsilanti and the Detroit Metro area are reporting mostly summer-like foliage as peak conditions are still at least three to four weeks away.

Fall is not just for jeweled-toned leaves, breathtaking shore scenery or plash vineyard tours—fall in Michigan is history and culture, sporting adventure and everything outdoors…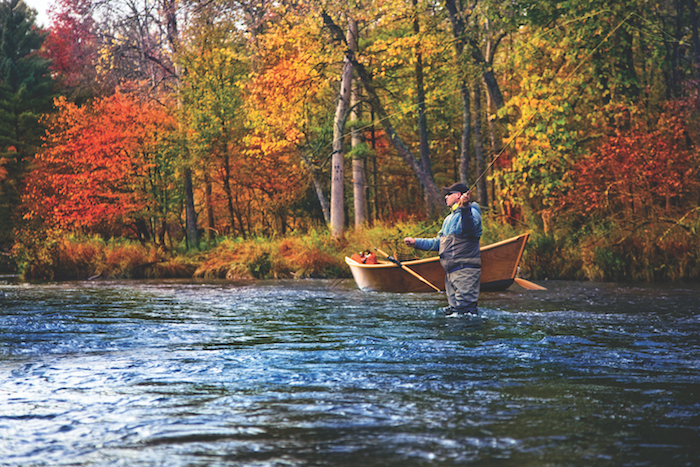 FALL FISHING GUIDE
Looking for that great fall catch? Fall fishing in Michigan offers something for every angler. Not only are the fall colors abundant and beautiful, the fish are biting too! Take full advantage of this season with our fall fishing guide, filled with tips and tricks for reeling in the best catch!

EXPLORE HISTORY
Blend fall color and two of Michigan's iconic attractions along this beautiful Upper Peninsula route. Start at Fayette Historic State Park, which surrounds Snail Shell Harbor, and explore the carefully restored historic structures set against stunning cliffs in the historic townsite. Then make your way to Fort Wilkins Historic State Park, which features a restored 1844 military outpost and one of the first lighthouses on Lake Superior. Historic tours are available at both parks—and fall is the ideal time to explore these colorful treasured legends.

ELK VIEWING
Fall is the most popular time to view Michigan's wild elk herd. During September and October, elk are more active and can be found in open, grassy areas during dawn and dusk. Elk viewing areas can be accessed throughout the Pigeon River Country State Forest near Gaylord. See the map for suggested viewing points and hiking trails.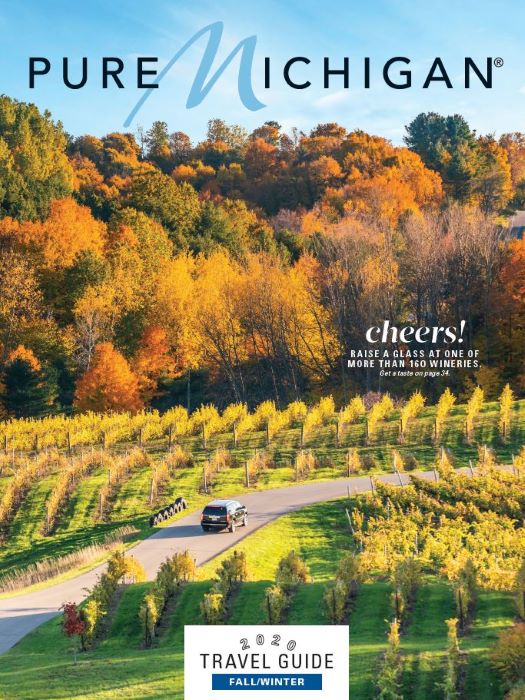 Now Available: Pure Michigan Travel Guide Showcasing Unique Fall and Winter Seasonal Travel Ideas

As the seasons change across the state, so do the opportunities to experience the best of Pure Michigan – from the vibrant colors of fall to the unique recreational activities of winter. Those looking to plan their getaway in the coming seasons can now order the 2020 Pure Michigan Fall/Winter Travel Guide, or read the digital version at www.michigan.org/travel-guide.

Great Fall Activities
Fall is not just for jeweled tones leaves, breathtaking shore scenery or plash vineyard tours, it's packed with festivals, corn mazes, pub crawls and tasting tours. We have so many ways to celebrate the season. Check out unique foot races and rowing challenges, spookfests, food fests and murder mysteries.

Great Lakes Relaxed Bike Tour
September 19-26, 2020
Mackinaw City

Michigan Trails Week Challenge
September 20 -27, 2020
Michigan Trails - Statewide

Black Light Hike
September 24, 2020
Midland

South Higgins Lake State Park - 17th Annual Halloween Festival (campers only)
September 25-26, 2020
Roscommon

Bay City State Park - Harvest Festival (campers only)
September 25-27, 2020
Bay City

Seven Lakes State Park - Harvest Festival (campers only)
September 25-27, 2020
Holly

Onaway State Park - Harvest Festival (campers only)
September 25-27, 2020
Onaway

Sault International Festival of Races
September 26, 2020
Sault Sainte Marie

Family Free Day in Greenfield Village
September 26, 2020
Dearborn

The Dirty Mitten Gravel Triathlon
September 27, 2020
Middleville

Look for the Pure Michigan Pledge … Statewide Safety Commitment for Business, Tourism & Local Communities
Whether your travel plans include a day at the lake, a local craft beverage or a hike through the woods, health is a top priority — and we want people to know that the tourism industry is taking safety seriously. So, while traveling across the state this summer, we encourage you to look for the Pure Michigan Pledge, a promise to uphold local safety protocols and CDC travel guidelines to travel safely.
---