Peak Color for September 21, 2018
The last days of summer are slowly slipping away. Soon, Michigan's abundant foliage will change into coats of breathtaking fall color. This week, Michigan's fall color display continues to make a slow, but graceful, advance across the Upper Peninsula, where peak conditions are still two to three weeks away.
Most trees around the St. Ignace area are still flaunting summer foliage, but many are beginning to show signs of change. Several maples are already changing in the downtown area, likely due to some of the drier weather. Locals anticipate peak color along US-2, downtown, and Brevort to be approximately 2-3 weeks from now.
Cooler temperatures have finally arrived to the Eastern UP, which means peak conditions aren't far behind. This coming weekend, viewers will see pale yellow foliage running through trees from Sault Ste. Marie to the Tahquamenon Falls area between Newberry and Paradise.
Baraga County is reporting beautiful reds, yellows and oranges inland, away from the lake. However, closer to the lake, trees are just beginning to make the fall transition. Although a slow start, peak conditions are estimated to overtake the Upper Peninsula in one to two weeks.
The Cadillac area is showing sporadic color along highways and lakeshore drives. The warm days and cool nights are setting the stage for peak conditions, which should arrive in one to two more weeks. Be sure to make plans to attend the Cadillac Craft Beer Festival (Saturday, September 22), for great beer, cider, games, food and music.

Color in Manistee County is just beginning to progress. Driving inland through the Manistee National Forest on M-55 this weekend, you'll see soft red tones starting to develop. If you are into mountain biking, be sure to stop by Big-M to pick up forest routes maps for beginner and advanced cyclists. Trees along the coast of M-22 are expected to peak in the next two to three weeks.

If you're traveling in Roscommon County near the Higgin Lake area, be sure to watch for lowland areas along the road. You'll find stunning crimson maples on the way to Higgins Lake State Park, which will be the setting for the late-season Higgins Lake Sailing Regatta (September 22-23). Pick color will arrive in three to four weeks.

Although peak Mecosta County is still three to four weeks away, locals recommend a unique color tour by canoeing or kayaking down the spectacular Muskegon River-- second longest river in Michigan. You can also create your own fall color daytrip with the Mecosta County fall color tour brochure and map!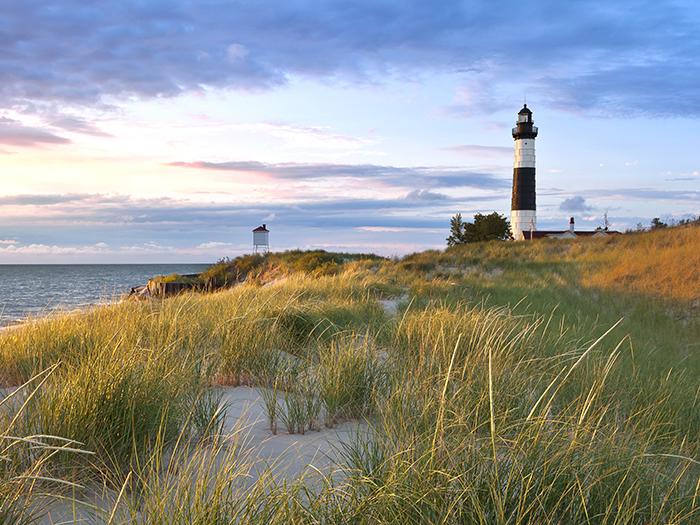 ​
Fall color around Oceana County has not started yet; however, all fruit trees are full you'll find bountiful orchard harvests brimming with apples, pears, plump orange pumpkins and multi-colored squash ripen in the field
throughout local farm markets near Silver Lake.
Oceana County, Grayling, White Lake and most other communities in West Central Lower Peninsula will experience peak conditions approximately four weeks from now.
Trees around the Mount Pleasant area are changing quickly. Therefore, viewers to the area should not wait more than 1-2 weeks to get a glimpse of the season's most vibrant color. Be sure to check out the area's
100 Days of Fall
before you visit.
Alpena and the North East Lower Peninsula's entire Thunder Bay region are at least four weeks from peak color.
Lake Michigan's beachtowns are weeks away from peak conditions. However, visitors to the area will find transitioning trees at area state parks and color of many varieties at welcoming festivals, wineries and brewers.
Saginaw, Bay and Midland
counties are just starting to showcase a hint of color change with light greens or yellowish leaves populating area trees. Peak conditions are anticipated to appear in the next two to three weeks.
Even though everything is still green, it is a beautiful time of year in Michigan's Great Southwest. Peruse the vendors along the region's
Makers Trail
for a delightful taste of Southwestern Michigan. Pick up fresh fruits and vegetables to take home with you, or visit one of the area's wineries, breweries and distilleries. The featured Southwestern Michigan fall color tour takes viewers to a number local cider mills, u-pick farms, roadside markets, wineries and quiet hiking trails throughout
New Buffalo, Benton Harbor and Paw Paw
. Peak conditions are expected to arrive to this area in another four or more weeks.
Most of Michigan's Lower Peninsula is reporting mostly summer-like foliage as peak conditions are still at least three to four weeks away. However, viewers will find early color developing in the region's metro parks of Livingston and Washtenaw counties.
10 of the Best Fall Beers from Michigan Breweries
From the names on the labels to the ingredients in the glasses, Michigan's craft brewers reflect state pride and regional flavors. Brewers tout the abundance of fresh water and Michigan-grown ingredients. Restaurants showcase local brews behind the bar and in their dishes.
While every season is the right season for a Michigan craft beer, the fall is a particularly special time. Brilliant waves of color flood the forests and those last warm evenings are spent huddled under blankets at the campfire roasting marshmallows and sipping the hearty flavors of Michigan's craft beers. All over the state, there are plenty of breweries to choose from and more popping up constantly. Here are
some of the recommended Michigan fall beers and ciders from around the state
, from our friends at Awesome Mitten.
---
9 of the Best Golf Destinations for Leaf Peeping in Pure Michigan
Soon, Michigan will transform itself into one of the best fall golf destinations in the country, blending immaculate courses with brilliant fall color. With stunning courses running through forests, alongside lake views and colorful meadows, Michigan makes a fall outing far more than par for the course. With a mix of Indian summer and cooler days, what better time to hit the links than with a view of scarlet, rust, gold and orange?
Grab your golfing buddies and head to one of these amazing courses
.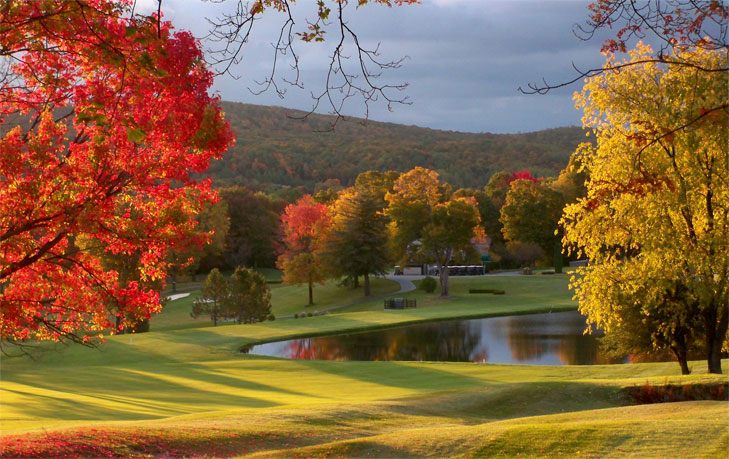 ---
Deals & Packages near this Week's Peak Color
Need a last-minute weekend getaway? Looking for a cheap cottage vacation package? You're sure to find the perfect Michigan vacation package to save money for the day or to help extend your stay with Pure Michigan. Let us help you with some suggestions for fall getaway packages that you can take advantage of this week.
Treetops Countdown to Color
Treetops Resort
Gaylord
September 24-October 11
Off Road Package
Drummond Island Resort and Conference Center
Drummond Island
Now thru April 30 2019
Grand Hotel History Weekend
Grand Hotel
Mackinac Island
September 21-23
Celebrate the "Tunnel of Trees"
Birchwood Inn - Harbor Springs
Harbor Springs
September 23-October 31
Stay 3 Nights or More, Save 15% Off
Inn at Stonecliffe
Mackinac Island
Now thru September 29, 2018
Lake to Plate Fishing and Culinary Experience
Mission Point Resort
Mackinac Island
Now thru September 29, 2018
Cherry Tree Inn & Suites
Traverse City
Now thru December 14, 2018
Check out this month's
Featured Deals & Packages
. Visit michigan.org for a complete list of
great statewide vacation package deals
.
---
Events near this Week's Peak Color
If you're looking for fun things to do this fall, it's time you make plans to visit one of our many fairs, festivals, cultural or sporting events. These events celebrate, the fun-loving spirit you'll find here. See a small sampling of what's happening right now.
Grand Hotel's History Weekend
September 21-23, 2018
Mackinac Island
Harvest Festival
September 21 -29, 2018
Brimley
Bessemer Pumpkinfest
September 24-27, 2018
Bessemer
Native American Cultural Day
September 29, 2018
Gibraltar
Fort Gratiot's Scarecrow Saturday
September 29, 2018
Fort Gratiot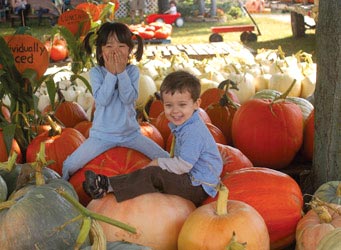 2018 Oktoberfest
September 29, 2018
Sault Sainte Marie
Cedar Springs Red Flannel Festival Fun Run
September 29, 2018
Cadillac
Boyne City's Harvest Fest
September 29, 2018
Boyne City
Harvest and Haunt Fall Festival
September 29, 2018
Iron River
American Heritage Festival
September 30, 2018
Lansing
Baskerville - A Sherlock Holmes Mystery
Now thru September 30, 2018
Marine City
Visit michigan.org for a complete
list of great statewide events
.
---
Connect with Us
Share your fall shots on Instagram with
#fallfilter
. From scenic fall color drives and breathtaking hiking trails to manicured Michigan wineries and apple orchards, there are plenty of fall photo ops for you in Michigan. You can also share your fall color experiences with more than 1, 000,000 fans on the
Pure Michigan Fan Page
. We invite you to connect with Pure Michigan on your favorite social network for the latest travel ideas, insider tips, vacation deals and more. For more information, visit
michigan.org/social
.