Peak Color for September 27, 2019

As warm days turn into cool nights, Michigan's landscape prepares to don its autumn colors. The state is blessed with vibrant color and plenty of ways to see it. We have more than 18.6 million acres of forestland, two national shorelines, nearly 100 state parks and recreation areas, hundreds of local and regional parks, as well as a number of national and state forests in both peninsulas. Get ready to experience the Pure Michigan annual fall color explosion!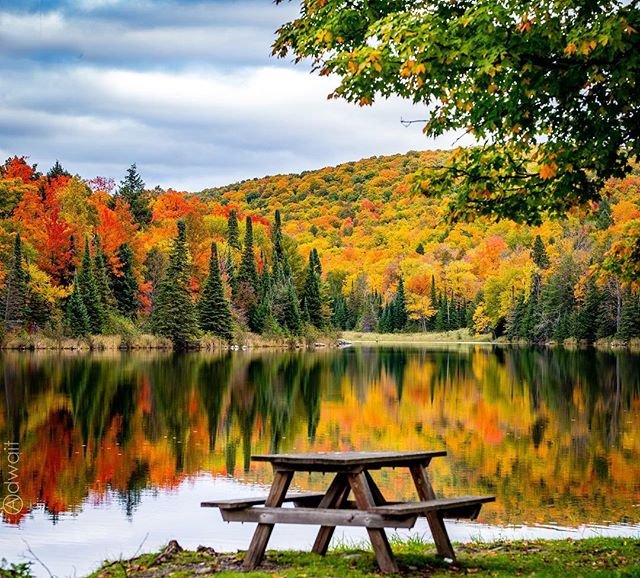 #FallFilter Fridays
Share your Pure Michigan autumn experiences with us on
Instagram
and
Twitter.
Be sure to include
#FallFilter
to share your adventures with our Pure Michigan social community. Each Friday, we'll select five of our favorite fall photos tagged with
#FallFilter
and feature them in a story on the
@puremichigan
Instagram account. We'll also feature images tagged with #FallFilter in our Instagram gallery throughout the fall season.
UPPER PENINSULA
Fall color season in the
Keweenaw Peninsula
is one of the best-kept secrets of the Upper Midwest. The hills come alive with bold and brilliant color created by the special mix of sugar maples, birch and oaks of the northern forests. For the weeks ahead
, Brockway Mountain Drive
is a definite must-see.
In and around the Marquette area, you'll find a kaleidoscope of brilliant fall color among a variety of area trees. Although the trees near Lake Superior are still mostly green, the colors really start to pop as you head out to the West End and the historic iron-mining towns of
Ishpeming
and
Negaunee
. The towns are connected via a paved pathway through the vibrant forest. Whether you prefer to bike, walk or run, you'll find the
Iron Ore Heritage Trail
informative and fun. This 47-mile, multi-use, interpretive trail crosses the
Marquette Iron Range
and is dotted with educational signs all along its scenic and historic stretch.
The Western Upper Peninsula, Baraga County, St. Ignace
and
Marquette Country
are reporting peak conditions to be about a week away. Locals suggest you plan to travel to the area soon if you want to catch this year's amazing color show. Although the season offers a lot to experience, the best fall foliage display for
Mackinac Island
is three to four weeks away.
On a fall drive through the Upper Peninsula, the copper boom still echoes throughout the tours, scenic routes and historic sites. Grab a hard hat, a heavy coat and sturdy shoes. For the next hour or so, you're a copper miner in the Upper Peninsula, following in the footsteps of those who toiled here long ago.
NORTHWEST LOWER PENINSULA
Although peak is still two to three weeks away,
visitors to the
Charlevoix Area
will find a mix of bronze, crimson, purple, red, russet and yellow throughout the county. This coming weekend is the perfect time to plan a visit to stock up on locally grown produce from the
Charlevoix Farmer's Market
.
The lakeside communities of Petoskey, Harbor Springs, Bay Harbor, Boyne City and Alanson are some of the best places to experience the magic of fall color. Plan your next Boyne Country fall outing exploring the sights along the
Tunnel of Trees Color Excursion Tour.
Benzie County
, located along the beautiful
Sleeping Bear Dunes National Lakeshore
, features one of the most scenic fall drives anywhere. Taking center stage all month long will be brilliant trees that blanket the landscape along the hilly terrain leading through Benzie County's main roads –
M-22, M-115
and
US-31
. Visitors will also want to make time to explore the county's numerous back roads for great fall color.
Conditions throughout the region are anticipated to peak in one to two weeks.
NORTHEAST LOWER PENINSULA
Daily highs into the low 80s, with evening lows into the 40s are shaping color in the Cadillac to peak the second week of October. The
Cadillac Craft Beer Festival
and
Bear Claw Epic Mountain Bike Race
kick off fall this coming weekend – September 28 – ushering in the sights, sounds and smells of fall up north in the woods. Pick up our
fall color tour route
brochures in areas, where you see a Fall Color sign along the road. Dazzling fall colors are donning the tips of trees in the
Manistee National Forest
, especially along the
M-55 Route
between
Cadillac
and
Manistee
. North on
M-115,
color is still limited. Rural routes have select colors among various tree species along those routes.
Grayling, Roscommon, Houghton Lake, Manistee
and
Cadillac
are all expecting peak conditions in two to three weeks.
WEST and EAST CENTRAL LOWER PENINSULA
The
Silver Lake Sand Dunes area
, located along the Lake Michigan shoreline between
Muskegon
and
Ludington
, has just a tinge of color. The area is a mecca for outdoor activities and nature tours with it state parks and trails. If you happen to be in this are this weekend, be sure to check out the
Samuel Adams Steinfest Hoot
,
or plan to tour the foliage leading to the
Pleasant Valley Farm
and Vineyard
in Hart.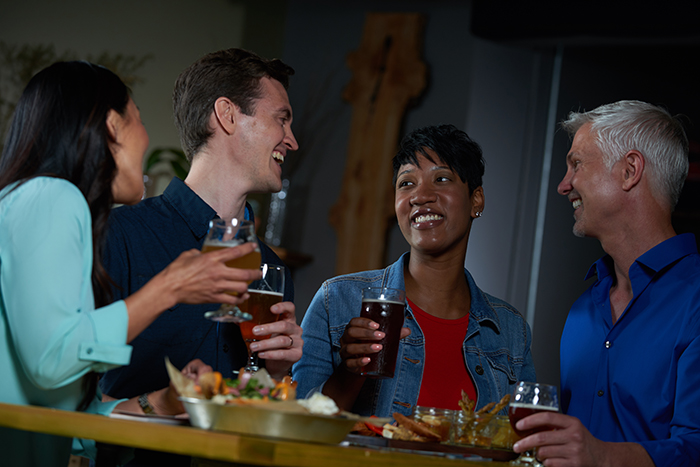 Although the season's color is slow to develop, it's always time to enjoy the spirited color of
Grand Rapids
, "Beer City USA." Fall brings new seasonal beers to the 40+ breweries on the
Beer City Ale Trail,
It's also harvest season, so
local restaurants
are serving up farm-fresh meals.
Looking for a fall adventure in "
Michigan's Little Bavaria
"? Be ready to rope climb and zip line at
Frankenmuth Aerial Park
! Visit the
Frankenmuth Holzbrucke Wooden Covered Bridge
for fall splendor along the Cass River, or take a
horse-drawn carriage ride
along Frankenmuth's tree-lined streets. The
Silver Lake Sand Dunes area, Hart, Muskegon, Ludington, Mount Pleasant, Grand Rapids, Kalamazoo, Battle Creek, Frankenmuth
and the entire
Great Lakes Bay Region
won't see peak color for another three to four weeks.
SOUTHWEST LOWER PENINSULA
It may be the first official week of fall, but summer is still happening in Michigan's Great Southwest with warm temperatures, blue skies and lush green foliage.
Fall in Michigan Southwestern region
, with its cider mills, wineries, farm markets and driving tours for spectacular autumn colors, is a perfect time of year to visit! The region will see peak conditions in three to four weeks.
SOUTHEAST LOWER PENINSULA
Washtenaw County
is just beginning to see the changing of colors, but fall events are in full swing. The first week of October brings the first round of spooky Halloween events, including
Oktoberfest at Cultivate Coffee and Taphouse
and the
Holy Bones Halloween Market and Creative Bizarre
in Ypsilanti.
Fall in
Lenawee County
is the perfect time to stop by
Kapnick Orchards
in Britton (about 6 miles from
Tecumseh
) for apples, donuts and cider. Or grab the kids and head to
Carpenter Farms
in
Adrian
to find your way through their amazing corn maze. For
Livingston, Washtenaw, Lenawee, Oakland, Macomb
and
Wayne counties,
locals anticipate peak color to transform the landscape in mid-to-late October.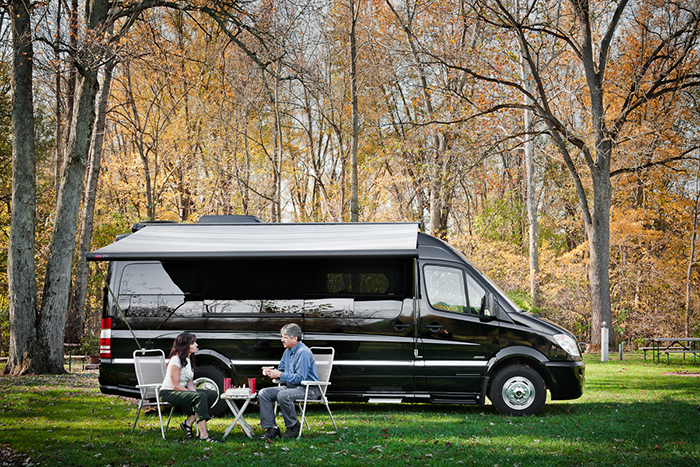 While miles of well-known roads leading to breathtaking fall scenery are filled with weekend color seekers, RVers enjoy an opportunity to find idyllic back county roads with unparalleled views of fall colors and hidden gems featuring local fares and wares. For campers, the experience is heightened when nestled beneath the amazing explosion of color in the tree branches above, the smell of roasted marshmallows and crisp, autumn air.
---
The perfect Michigan scenic fall tour awaits—plan your trip today!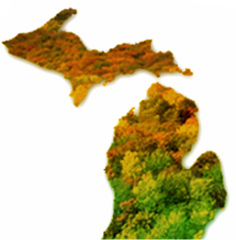 Use the fall peak-season map and the current fall-color report to guide you toward the best time to take a Pure Michigan fall getaway. Look through the
Michigan Fall Color Tours
on michigan.org to help plan a route whether your interests lie in urban fun or in nature, away from the hustle and bustle.
---
Great Fall Activities
Fall is not just for jeweled tones leaves, breathtaking shore scenery or plash vineyard tours, it's packed with festivals, hayrides and balloon rides, corn mazes, pub crawls and tasting tours. You'll find the season perfect for foot races and rowing challenges, spookfests, food fests and murder mysteries. In Michigan, there's a festival for just amount everything.
The Purple Pepper Farmers Market
Now thru October 31, 2019
Barryton
Curtis Oktoberfest
September 28, 2019
Curtis
30th Annual Fall Detroit RV & Camping Show
October 2-6, 2019
Novi
14th Annual Fayette Fall Fest
October 4-5, 2019
Garden
Grand Hotel's History Weekend
October 4-6, 2019
Mackinac Island
Macktoberfest
October 5, 2019
Mackinac Island
Fall on the Island Festival
October 5, 2019
Mackinac Island
Fall Harvest Fossil Fest
October 5, 2019
Alpena
12th Annual Harvest Festival
October 5-6, 2019
Cheboygan
Journeyman Distiller-versary Party
October 5, 2019
Three Oaks

---
Deals & Packages near this Week's Peak Color
Need a last-minute weekend getaway? Looking for a cheap cottage vacation package? You're sure to find the perfect Michigan vacation package to save money for the day or to help extend your stay with Pure Michigan. Let us help you with some suggestions for fall getaway packages that you can take advantage of this week.
Harbour View Inn
Mackinac Island
LogHaven Bed and Breakfast
West Branch, MI 48661
LogHaven Bed and Breakfast
West Branch
Garland Lodge & Golf Resort
Lewiston
Pointes North Beachfront Resort Hotel
Traverse City
Lake 'N Pines Lodge, LLC
Interlochen
Inn at Stonecliffe
Mackinac Island
---