5 Family-Friendly Winter Adventures in Munising
Stunning frozen waterfalls, miles of snowmobile, snowshoe and ski trails, and beautiful landscapes in the Hiawatha National Forest and Pictured Rocks National Lakeshore. Boundless opportunities for outdoor adventure and indoor fun are waiting to be discovered in Michigan's Upper Peninsula. A winter trip to
Munising
is packed with the best activities that the snowy months have to offer.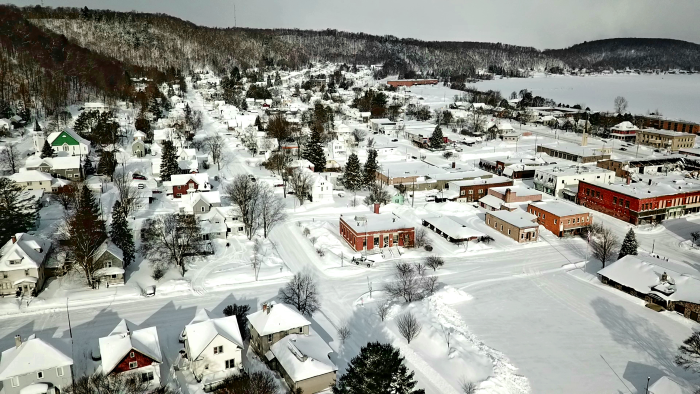 While the Munising area is a popular destination in the summertime, the little city along pristine Lake Superior shoreline also has plenty of family-friendly recreational options for anyone visiting the area in the winter.
Check out these five exciting activities families can enjoy during a trip to Munising this winter.
1. Spectacular Frozen Waterfalls
When you think about waterfalls, typically a rushing stream of water with a thunderous echo comes to mind. As cooler temperatures take hold in the winter, the season provides a beautiful and unique advantage for visitors in Munising to see the water features mostly frozen over. Sometimes a faint trickle can be heard, but it's a scene that makes any adventure seeker in awe of their surroundings.
Alger County is home to over 15
waterfalls
, several of which are around Munising and relatively easy to get to.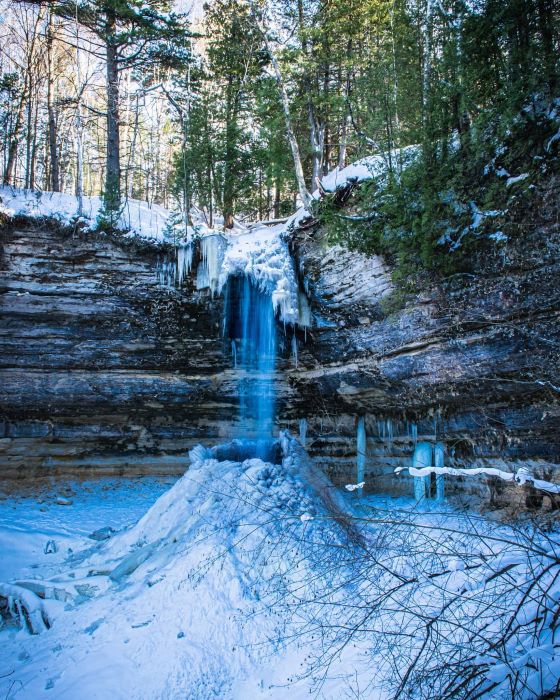 Munising Falls
is one of the easiest waterfalls to visit in the area and is encompassed by
Pictured Rocks National Lakeshore
. Winter visitors can find beautiful ice formations here after walking the quarter-mile paved trail to the cool, shaded sandstone canyon along Munising Creek to the falls. Two sets of stairs lead to elevated platforms enabling views of the 50-foot waterfall that drops over a sandstone cliff.
Directions: Follow H-58 out of town to the Washington Street Junction, Munising Falls is off Washington Street, also known as Sand Point Road, across from the hospital.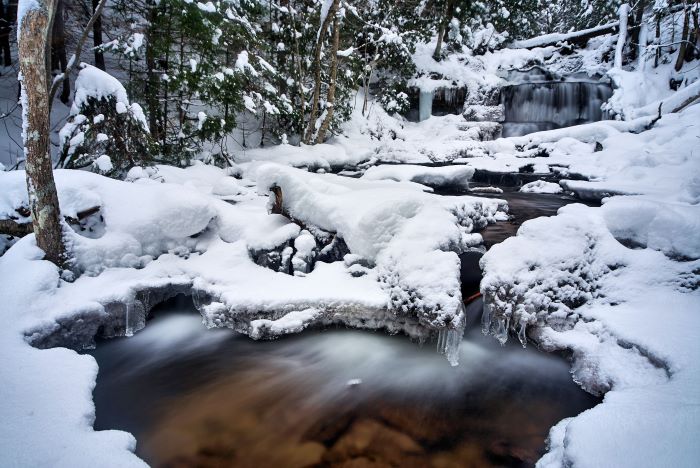 Another must-see waterfall to visit in the area this winter is
Wagner Falls
—a beautiful and easily reachable waterfall with a height of 20 feet. The water source for the falls is Wagner Creek and is stunning for those who enjoy photography or are looking for a peaceful spot to enjoy the season's beauty as a family.
Directions: Located south of Munising on M-94, just past the junction of M-94 and M-28. You'll see a sign on the east side of the road.
Other beautiful, frozen waterfalls include
Alger Falls
, which is right along M-28 east of Munising, and
Memoria
l and
Tannery
falls where parking is available off Washington Street with the trailhead across the street off H-58.
2. Snowshoe and Ski Beautiful Terrain
The chilly temperatures mean the landscape will be draped in a blanket of fresh snow. Anyone visiting the area is encouraged to get outdoors and cross country ski or snowshoe
Valley Spur
, which is a great place for families to enjoy the snow and the tranquil winter terrain of Alger County.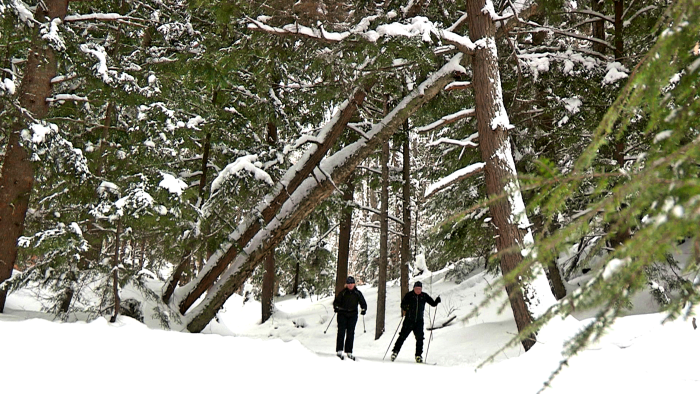 Valley Spur is located along M-94, about 5 miles west of Munising, in the
Hiawatha National Forest
. This 27-mile cross country ski trail system is groomed daily, for both skate and classic ski, or as needed from December through March so that the trails are always ready. There's a volunteer-operated lodge at the trailhead where hot water is readily available for hot cocoa and tea.
Pictured Rocks National Lakeshore also offers two groomed and tracked
cross-country ski trails
with multiple loops. The trails wind more than 20 miles through a magical landscape of varied habitats and topography—including beech, maple, hemlock and conifer forests; old gently-rolling farm fields; and rugged hills created by the park's glacial past. Trail loops range from easy to difficult, with one located near Munising and the other near Grand Marais.
3. Enjoy Fresh Powder on a Snowmobile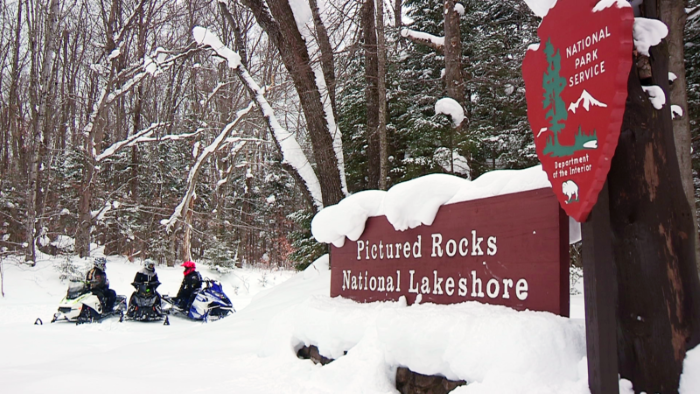 With a whopping 230+ inches of annual snowfall on average for over a decade, Alger County is one of the country's premium
snowmobiling areas
. This offers the perfect opportunity for families to try a new and exciting winter sport together.
There are over 300 miles of well-groomed trails in the area that allow riders to travel through some of the most pristine areas nature has to offer. Ten trails are groomed daily, depending on the prevailing conditions. Here a rider can travel to all parts of the county, visiting lakes, streams, waterfalls, forest and several other scenic sites.
The local trails connect with trails from the surrounding counties, allowing riders the option to extend rides to various lengths, and rentals are available in the Munising area.
4. Build a Snowman and Go Sledding
Don't feel like overexerting yourself? No problem. Go sledding or build a snowman with your loved ones because let's face it, nothing says winter activities without thinking of either activity. There's plenty of snow in Munising to do both!
Sled snow-covered hills around Mustang Stadium, which are great for visitors of all ages as sledding paths vary in length. Build a snowman at
Sandpoint Beach
and enjoy glorious views of Grand Island and the Pictured Rocks. If you have the time, we recommend doing both!
5. Stay Warm Indoors—Go Ice Skating, Bowling or Visit an Indoor Playground
Looking to keep warm after a chilly winter day? Several attractions in the Munising area offer fun, family-friendly activities for those looking to do something indoors.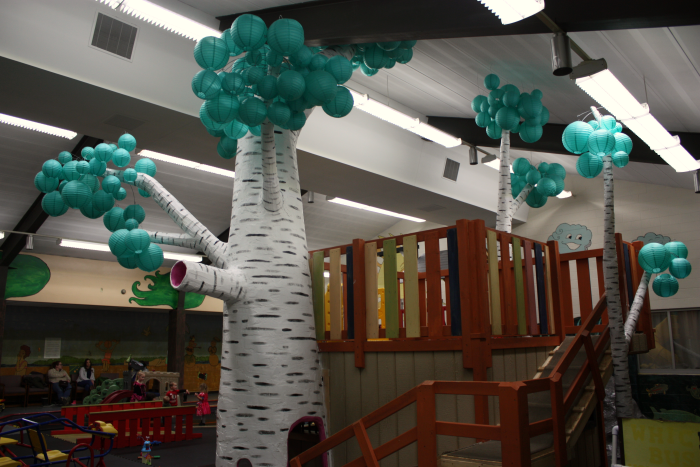 Home to the Munising Hockey Association, the
Alger Centennial Ice Arena
offers free open skating throughout the winter months. Rent some skates, or bring your own, and show off your skills gliding around the arena.
There's also an indoor playground located at the
Alger Parks and Recreation Department
close to downtown Munising. The department's "
Superior Playland
" is a great place for play dates for ages 0-12.
Known for being a "shared community space" where events and activities are held for all ages—including bingo and cards, Zumba classes and so on, the Alger Parks and Recreation building even has its own gym,
The Fuzzy Fitness Center
, where day-use passes are available. There's certainly something in the building for everyone in the family.
Another indoor attraction for families is to visit the local bowling alley.
Munising Bowl
, located off the main drag in downtown Munising, offers open bowling, shoe rentals and has regularly scheduled live entertainment. The bowling alley also has a restaurant for those looking for a bite to eat or refreshment. Stop in for a little friendly competition and a lot of family fun.
To learn more and start planning your winter adventure in Munising, visit
munising.org
.
About the Author: The Munising Visitors Bureau strives to promote attractions, events and other projects in the Munising area. The organization produces literature and other helpful information for visitors.
---