Six Ways to Beat the Winter Blues in St. Ignace
When you think of winter, do you think of golfing, hiking, and outdoor sports? We do in St. Ignace! When the winters are long and the snow flies for weeks on end, you get creative. Yoopers have learned that there is only one thing to do with the 60 plus inches of snow annually, and that's play in it! Visitors Bureau director Quincy Ranville shares 6 ways to stay active and enjoy winter in St. Ignace.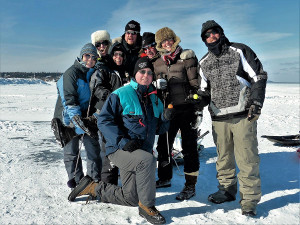 Take a swing at Ice Golf
The U.P. Ice Golf Scramble and Glow Ball Challenge (March 2-3) features a unique version of hitting the links. Carts are replaced with sleds and colorful lit up balls look like a Technicolor rainbow on frozen Lake Huron, which serves as the course. It's a two-person best-ball scramble with no handicaps, no pros, and lots of laughs. Bragging rights go to those who successfully navigate the craggy surface of the 12 plus inches of ice. Friday night's Glow Ball Challenge features glow-in-the-dark balls, live music, and beer tasting. Who says adults can't have fun?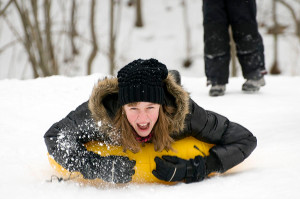 Spinning, Sliding, and Flying, Oh My!
You'll feel like a kid again when you sail down the hills of Silver Mountain Ski Area and Tubing Hill, holding tight to your inflated tube with a healthy case of the giggles. Thanks to tubing runs and snowboard hills, there are plenty of ways to catch some air at this local favorite. This St. Ignace gem is sure to ready the whole family for a nice warm cup of cocoa come sunset.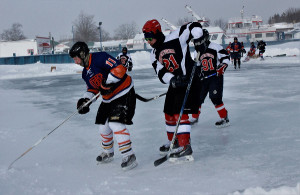 Labatt Blue UP Pond Hockey Championship
St. Ignace has elevated the sport of outdoor hockey to a whole new level; hosting more than 200 teams who compete in four-on-four action in a variety of age divisions on frozen Lake Huron. More than 16 acres of ice is cleared by Zamboni and divided into 30 rinks for the tournament. The event is a local favorite with food, beverage tent, outdoor ice tennis, a snow cab and shanties, live entertainment, and a game with Red Wings alumni.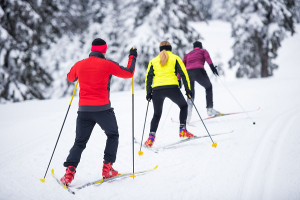 Exploring Natural Beauty
For those who prefer peace and serenity, escape to a snow covered wonderland. St. Ignace boasts a variety of scenic cross-country ski trails throughout the region and many snowy woodland areas to explore via snowshoe. Quietly make your way through the woods of Hiawatha National Forest and be transported to the past. Glimpses of wildlife and the sparkling crystal trees of an Upper Peninsula winter will hearken you back to a time when the woods were home to Native Americans and French Fur Traders. Imagine highways replaced by footpaths and skyscrapers replaced by quaint cottages and feel true rejuvenation in nature's glory.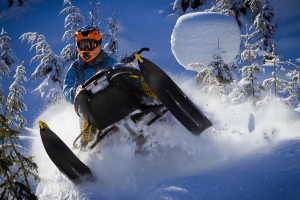 A Snowmobilers Paradise
When snow blankets the city, snowmobiles are the preferred method of travel. More than 100 groomed miles in the St. Ignace area connect to the rest of the U.P. trail system, woven beautifully through frosty forests. Keep your eye out for local wildlife as you hop from town to town enjoying the unique personality and distinctive friendliness of small Upper Peninsula villages.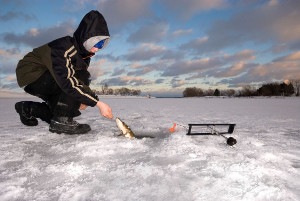 Ice Fishing
Not for the faint of heart, this sport for diehard anglers will not disappoint. Yellow Perch, Walleye, Pike, and Muskellunge lurk beneath the ice of the Great Lakes and inland lakes and rivers putting a unique challenge on the traditional sport. Local suppliers and sporting goods stores can direct visitors to the best lakes and bays depending on time of year and desired catch.
If you are considering a Pure Michigan winter vacation and aren't sure where to start and what to do, look no further! Find more information at
www.stignace.com
or call our friendly office staff at 906-643-6950 today!