Snow Much Fun
Here's where to find your perfect day in Michigan's abundance of powder on snowshoes, skis, fat bikes, dogsleds, and snowmobiles.
Big Fat Fun
When snow smothers the trails, don't stop riding—just pedal a fatter bicycle.
Upper Peninsula
Marquette County is the epicenter of UP fat biking with four outfitters and 50-plus singletrack miles of groomed trails winding through diverse terrain on Ishpeming's Snow Bike Trail or Marquette's Noquemanon Trail Network.
Cyclists looking to compete tackle both trails during the 15- or 35-mile 906 Polar Roll (mid-February). Marquette's Blackrocks hosts an after party and donates all race proceeds to Noquemanon Trail Network Singletrack and RAMBA (Range Mountain Bike Association), two of the area's recreational trails.
In the central Keweenaw Peninsula, find groomed routes at the Churning Rapids Trail, an 8-mile loop northwest of Hancock. Across the Portage Canal Lift Bridge, fat bikes share trails with Nordic skiers on the Michigan Technological University trail system with interconnected loops like Hairpin and Hemlock/Skidder that climb more than 200 feet.
Lower Peninsula
In northern Michigan, the Grand Traverse Bay region boasts an extensive trail system and backroads. Fat bike newbies rent wheels at Petoskey's Latitude 45 and hit the Little Traverse Wheelway. The twisty 26-mile trail follows Lake Michigan between Charlevoix and Harbor
Springs. Beginning and intermediate riders access groomed loops at Traverse City's 9-mile Winter Sports Singletrack or head to Suttons Bay on the 17-mile Leelanau Trail. For views of the Sleeping Bear Dunes National Lakeshore, the Heritage Trail connects Empire and Glen Arbor.
Perfect Powder
Hard-core skiers and boarders blast piles of virgin powder, weave through ungroomed glades and soar over cliff drops on rugged slopes.
Upper Peninsula
Advanced skiers and snowboarders tackle the Midwest's steepest terrain at Mount Bohemia. Plunging 900 feet from a summit with panoramic views of Lake Superior and the wild Keweenaw landscape, Bohemia encompasses more than 600 acres of lift-serviced backcountry runs buried under a whopping 273 inches of annual snowfall. A snowcat transports skiers to its newest site, Voodoo Mountain. Here, intermediate-level backcountry slopes cover 200 acres of an 1,800-acre property south of Copper Harbor.
Lower Peninsula
Cadillac's Caberfae Peaks offers the Lower Peninsula's only shot at backcountry skiing with 25 acres of tough, trackless terrain. Skiers and boarders hike into Caberfae's slopes from the North Peak chairlift before bombing down the 485 vertical feet of treed glades and steep chutes. Time the conditions right, and you'll get a chance at carving untouched powder.
Mush!
Kennels offer aspiring mushers the chance to travel the winter woods via dogsled. Adventures range from tutorials and short afternoon rides to overnight excursions.
Upper Peninsula
Ed Stielstra, eight-time Iditarod finisher, and his wife, Tasha, offer full-immersion dogsled adventures at Nature's Kennel in McMillan. Guests who choose an overnight adventure get a
morning tutorial then hit the trail to drive their own dog team 20 miles to camp where they enjoy a dinner around the campfire and a cozy night in a heated tent. Less intrepid guests can choose a shorter trip where they may ride in the sled snuggled under blankets or drive their team on a 10- or 20-mile jaunt. About 50 miles west near Munising, Triple Creek Kennels and Buck Sporting Lodge offers guided day trips or weekend packages.
Lower Peninsula
Mush up and down rolling hills in the Manistee National Forest area on an afternoon ride behind the teams at Cadillac's Shemhadar Dog Sled Adventures. Groups take turns piloting short runs or embark on the one- to four-hour guided Musher Experience. Just north of Cadillac, S & L Arctic K9's offers kids a taste of mushing with their One Dog Dash, while families, along with a guide, spend an afternoon on a tandem touring sled running a full team through the woods. Pets that Pull gives kids a ride behind a team of Siberian Huskies on the snow-covered fairways at Bellaire's Shanty Creek Resorts.
Throttle Therapy
Sled-friendly communities along the state's 6,200 miles of groomed trails offer snowmobile rentals, ride-up resorts, restaurants and refueling stops.
Upper Peninsula
Traveling northeast from the Porcupine Mountains Wilderness State Park to the Keweenaw Peninsula, snowmobiles fly on the linear Bill Nichols Trail that serves as a high-speed highway. Up here, legendary sled routes like the Brockway Mountain Trail have bird's-eye panoramas of Copper Harbor and Lake Superior. Along the shore from Marquette to Munising, sledders find more than 300 miles of groomed trails. Continuing east, riders find snow-frosted rocks towering over the trail at Pictured Rocks National Lakeshore and off-trail rides in the clear-cut Great Kingston Plains west of Grand Marais.
Lower Peninsula
With 100-plus inches of annual snowfall, the northern Lower Peninsula is a hub for Midwest sledheads. More than 130 miles of groomed trails cross the rolling hardwood in Benzie County, where snowmobilers race along the Platte River Trail and glimpse the Sleeping Bear Dunes between pit stops in Empire or Maple City. Riders zipping through miles of jack pine in the Manistee National Forest west of Cadillac find hot sandwiches and welcome shelter at trailside resorts like Coyote Crossing Resort.
Step Crunch Step
Abundant rental outlets and groomed trails crisscrossing public land make snowshoeing a family-friendly sport.
Upper Peninsula
Crunch over riverside trails to glimpse a fantasia of ice formations at Tahquamenon Falls State Park in Paradise, where visitors access free Saturday snowshoe rentals and join lantern-lit night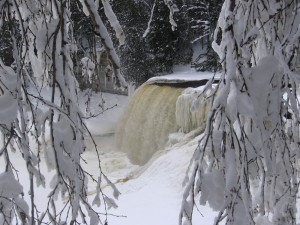 hikes in February. West of Marquette, guests at Big Bay Point Lighthouse Bed and Breakfast skirt Lake Superior's shore before warming in front of an in-room fireplace. Snowshoers find off-grid solitude in the remote wilds of Porcupine Mountains Wilderness State Park, along with deep snow and 100 miles of groomed trails tracing tree-studded slopes and valleys. West of the Porkies, strap on your snowshoes to tour five waterfalls dotting the Black River or trek beneath the quiet canopy in the Sylvania Wilderness's 18,000 acres of old-growth forest.
Lower Peninsula
A Michigan Recreation Passport sticker is all you need to start snowshoeing at most state parks, including mid-Mitten's Hartwick Pines. Free rentals and guided weekend hikes lead to forested sand dunes via Ludington State Park's groomed, lighted loop. Further up the Lake Michigan coast, snowshoers join ranger-guided hikes on a network of eight trails in the Sleeping Bear Dunes National Lakeshore. Back in Traverse City, bookend your stroll with boutique shopping and dining on trails through 480-acre Grand Traverse Commons.
Kick And Glide
With more than 3,000 miles of groomed pathways traversing the state's parks and forests, nearly every community offers access for cross-country skiers to enjoy this sport.
Upper Peninsula
Cross-country experts looking for wild, erratic woodland terrain strike out on Delta County's grueling 17-mile Rapid River Trail along the northern edge of Little Bay de Noc. Downy woodpeckers and snowshoe hares share 9 miles of groomed intermediate trails with skiers at the Seney National Wildlife Refuge's Northern Hardwoods Cross Country Ski Area.
Lower Peninsula
Skiers who relish the hush of forest find it on 18 miles of trails at Crystal Mountain in Thompsonville, or on 1.5 miles of trails at Grand Traverse Resort in Acme. In the Pere Marquette State Forest east of Traverse City, the Vasa Pathway has 16-plus miles of groomed trails that run the spectrum from fast straightaways to uphill climbs. Skiers push off from the trailhead at Benzie County's Lake Ann Pathway (15 miles southwest of Traverse City) for 6 miles of moderate terrain overlooking wilderness lakes, frozen wetlands and a crystalline trout stream.