Beautiful Places in Michigan to Visit in the Fall
When summer's heat begins to wane, when the air grows crisp in the morning and the days grow shorter, it's time to gear up for a Pure Michigan getaway amid a kaleidoscope of orange, yellow and crimson.
Make your way to a u-pick apple orchard with the kids. Relax over a glass of Pinot Noir at one of Michigan's award-winning wineries or hike through the crunch of leaves along a state park trail. Whatever your destination, take the long way and enjoy a drive through Michigan's explosion of color. After all, autumn only comes once a year. 
Lower Peninsula
M-22 and the Leelanau Peninsula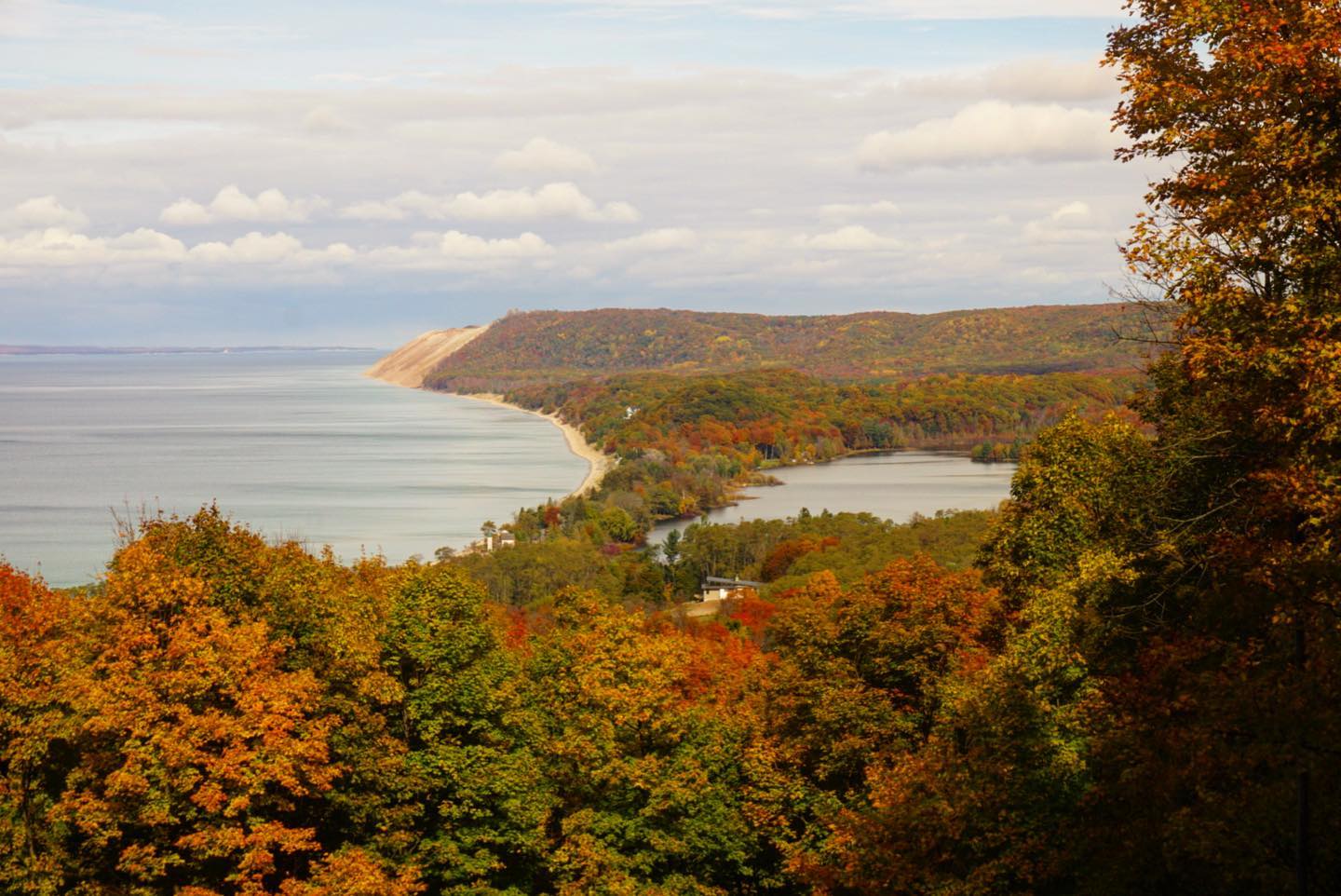 The Lake Michigan shore may be at her loveliest along M-22 in autumn. Tracing the edges of the Leelanau Peninsula, M-22 passes through brilliant fall color, offering glimpses of Lake Michigan along the way. The route begins near Manistee, in Michigan's prime fruit country. Admire trees heavy with ripe fruit and stop at a roadside produce stand before approaching the dramatic hills and blazing colors of the Sleeping Bear Dunes National Lakeshore. In Leland, a small coastal town between the Big Lake and Lake Leelanau, quaint, weathered fishing shanties line the docks at Fishtown.
Take a break at the cool-climate wineries that dot the Leelanau Peninsula, sampling Rieslings, Pinot Gris, Gewürztraminers and Chardonnays. Near Northport, M-22 promises the twists and turns popular with bicyclists and motorcyclists as well as drivers before veering southward along the Leelanau Peninsula's eastern shore en route to Traverse City, the largest city in northwest Michigan.
M-201 and Leelanau State Park
An 8-mile detour off M-22, wooded M-201 leads leaf-peepers to Leelanau State Park near Northport. Drive beneath a blaze of autumn color to this park surrounded on three sides by Lake Michigan. Once there, colorful hiking trails, surf-washed beaches, and the brilliant white 1858 Grand Traverse Lighthouse offer a reason to stretch your legs and linger.  
M-37 and Old Mission Peninsula
Old Center Road (M-37) travels up the center of Old Mission Peninsula, a thin sliver of land that reaches up into Grand Traverse Bay. The route twists and turns over hilly landscapes of tidy golden-hued vineyards and orange-and-red hardwood groves, all of it backed with views of sparkling Lake Michigan. Look for opportunities to buy locally-grown apples and pears or stop at one of a dozen wineries occupying Old Mission, including award-winners Brys Estate, 2 Lads Winery and Chateau Grand Traverse. 
US-31 to Petoskey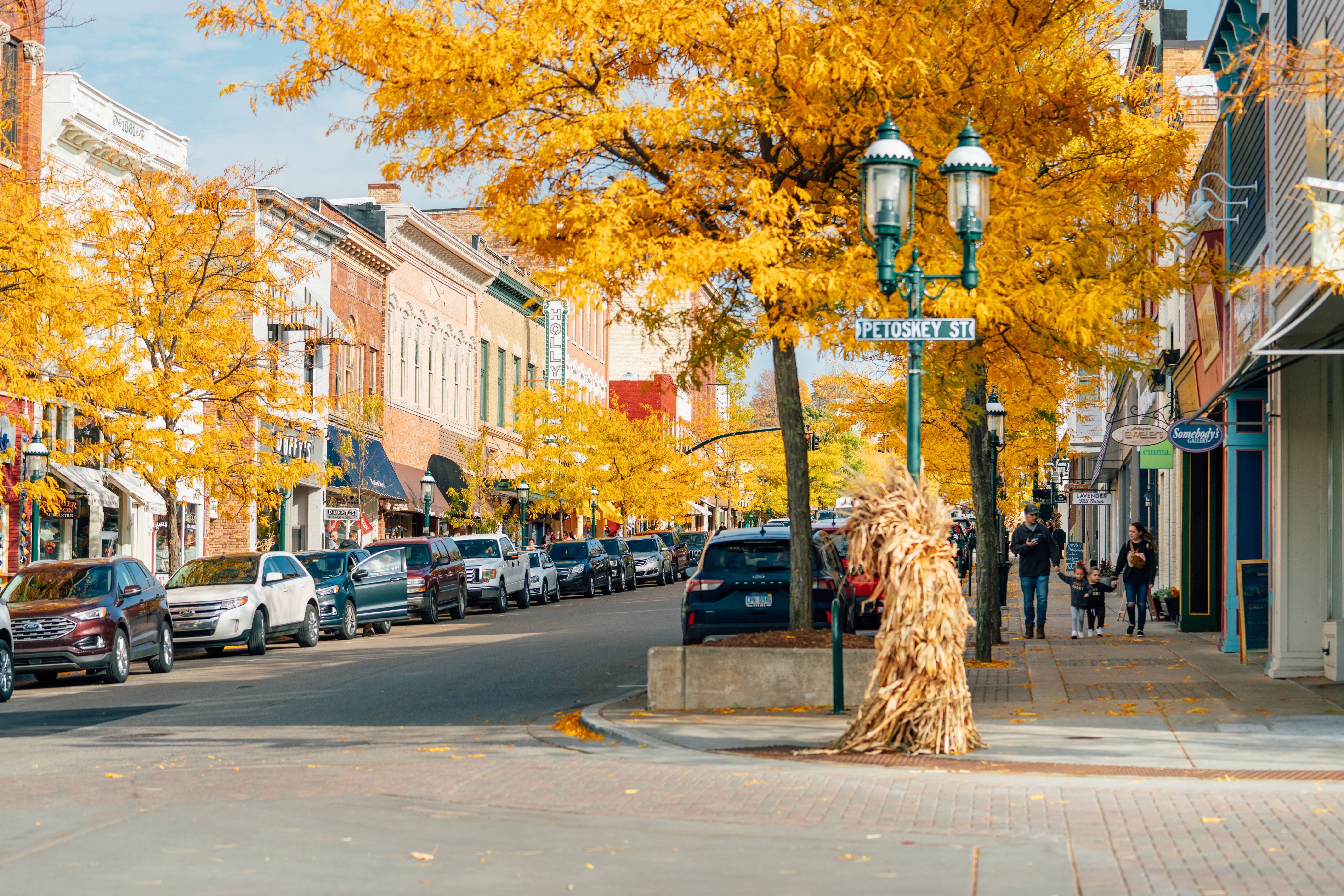 US-31 hugs the Lake Michigan shore as it makes its way north from Traverse City. It can be tough to keep your eyes on the road, with turquoise-blue Lake Michigan to the west and brilliant autumn foliage to the east. Small resort towns like Elk Rapids offer an excuse to stop for a bite. A meal on the outside deck of Stafford's Weathervane Restaurant in Charlevoix with a glass of Michigan's best craft beer is a fun way to pass the time, overlooking the city's drawbridge and its parade of pleasure boats.
In Petoskey, scoop up a handful of the region's famous stones for a local souvenir. Beachcombers scan the local shore for their own finds, but you can also look for Michigan's state stone in the shops of Gaslight Village, where polished stones find their way into home décor, jewelry, and other household items.
West Michigan and the Blue Star Highway 
There's more than summertime beach getaways awaiting visitors to the Lake Michigan coast. Michigan's favorite warm-weather retreat transforms into a riot of color in autumn. Follow Lakeshore Avenue south from Grand Haven, past summer cottages, through a tunnel of colorful maples and poplars. In Holland, take up the Blue Star Highway. The route's sweeping curves appeal to Sunday drivers and motorcyclists in love with the rural landscapes. A hearty breakfast or burger stop at Fennville's What Not Inn—or an afternoon visit to a local winery—breaks up the drive, which finishes with the cool sands and Lake Michigan vistas of St. Joseph's Lookout Park.
Capital City Loop
M-99 curves south from Lansing, traveling through small towns, alongside golden corn fields and colorful maple trees. Albion's Whitehouse Nature Center allows the opportunity to enjoy the fall foliage on foot. Hiking trails meander through the forest, across amber-colored grasslands and past sparkling ponds frequented by birds and geese on their southern migration. 
Marshall's large collection of meticulously-restored historic inns may entice you to spend the night before finishing the route along colorful, hilly Rte. 66 and US-43 to Grand Ledge. The 300-million-year-old rock outcroppings in Fitzgerald Park give the town its name and provide the perfect atmosphere for an autumn picnic.
US-12 and Southwest Michigan
Admire the Warren Dunes in autumn, when cooler temperatures keep the crowds at bay, before heading to US-12 and southwest Michigan's beauty. The hues of maple and birch trees brighten a landscape dotted occasionally by tiny towns, roadside galleries and farms bringing in the last of the harvest. Fallen leaves crunch underfoot at Niles' Fernwood Botanical Gardens, where carefully-tended flower beds offer the last blast of warm-weather color: purple asters, yellow chrysanthemums and the reds of Japanese maples. Take Old US-31 north—it's more scenic than the expressway—to Berrien Springs and Baroda for a taste of southwest Michigan's best wines: Round Barn, Tabor Hill and Free Run Cellars.
M-29 from Detroit to Port Huron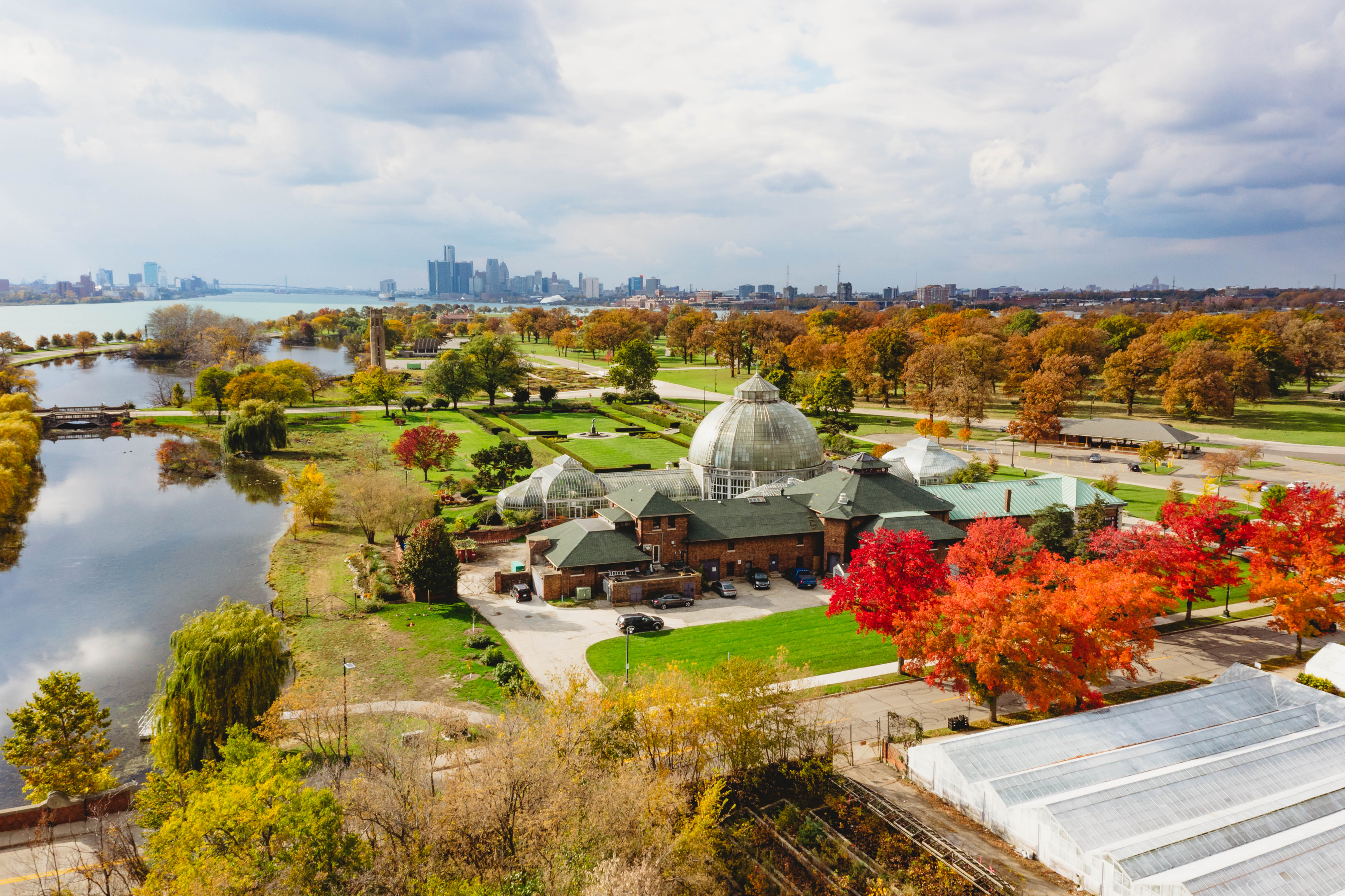 Michigan's I-94 is better known for its commercial traffic. But the expressway marks the beginning of a lovely road trip in autumn. Just outside of Detroit, I-94 reaches M-29, a meandering road that skirts the edges of Lake St. Clair and the St. Clair River. Summer cottages and boat docks buzz with activity in the warm-weather months, but in autumn life slows down and the crowds thin, allowing opportunities to admire the lake and its migrating waterfowl.
Historic homes, inns and restaurants dot the lakeshore and the St. Clair River, an area whose history dates to the French explorers and 19th-century Great Lakes mariners. And all along the route, autumn foliage adds brilliant color to the charming towns of Algonac, St. Clair and finally Port Huron.
US-23 from Tawas City to Alpena
It's easy to overlook Michigan's "Sunrise Coast" in favor of faster I-75. But along the Lake Huron shore, the brilliant autumn foliage gives reason to slow down. Lakeside towns brighten with color and bright hardwoods offer a lovely backdrop to rocky beaches and romantic lighthouses. In Tawas City, take a quick detour out to sandy Tawas Point State Park to see Lake Huron's powerful whitecaps and visit the elegant white Tawas Point Lighthouse. Then follow US-23 along the Lake Huron shore, through coastal villages that slow down with the cool of autumn.
In Au Sable, lace up your boots and hit the Shore to Shore Hiking Trail to enjoy the vivid colors of maple and poplar trees and the pleasure of crunching leaves underfoot. In Harrisville, feast on a beachside picnic or detour to the towering white-and-red lighthouse at Sturgeon Point. Finally, in Alpena, catch one last look at powerful Lake Huron from Thunder Bay.
Upper Peninsula
M-26 and the Keweenaw Peninsula
The Upper Peninsula's color crescendos along the Keweenaw Peninsula on an autumn drive along M-26. Follow the two-lane road past glimmering Lake Roland, winding your way through the Copper Country State Forest. The colors explode along the way, en route to Houghton for a bite to eat and a glass of Michigan craft beer before crossing Portage Lake to M-41 and Calumet. This is Copper Country, and the indelible traces along the route recall the men who mined this region in the 19th and 20th centuries.
Continue on beneath a canopy of stunning autumn color and the town of Copper Harbor or veer off for a detour, revisiting M-26 through Eagle River and Eagle Harbor. The side trip promises sparkling Lake Superior shoreline and glimpses of elegant lighthouse towers. At day's end, make time for a drive up Brockway Mountain in Copper Harbor, with legendary sunsets and a view that seems to go on forever.
Porcupine Mountains Wilderness State Park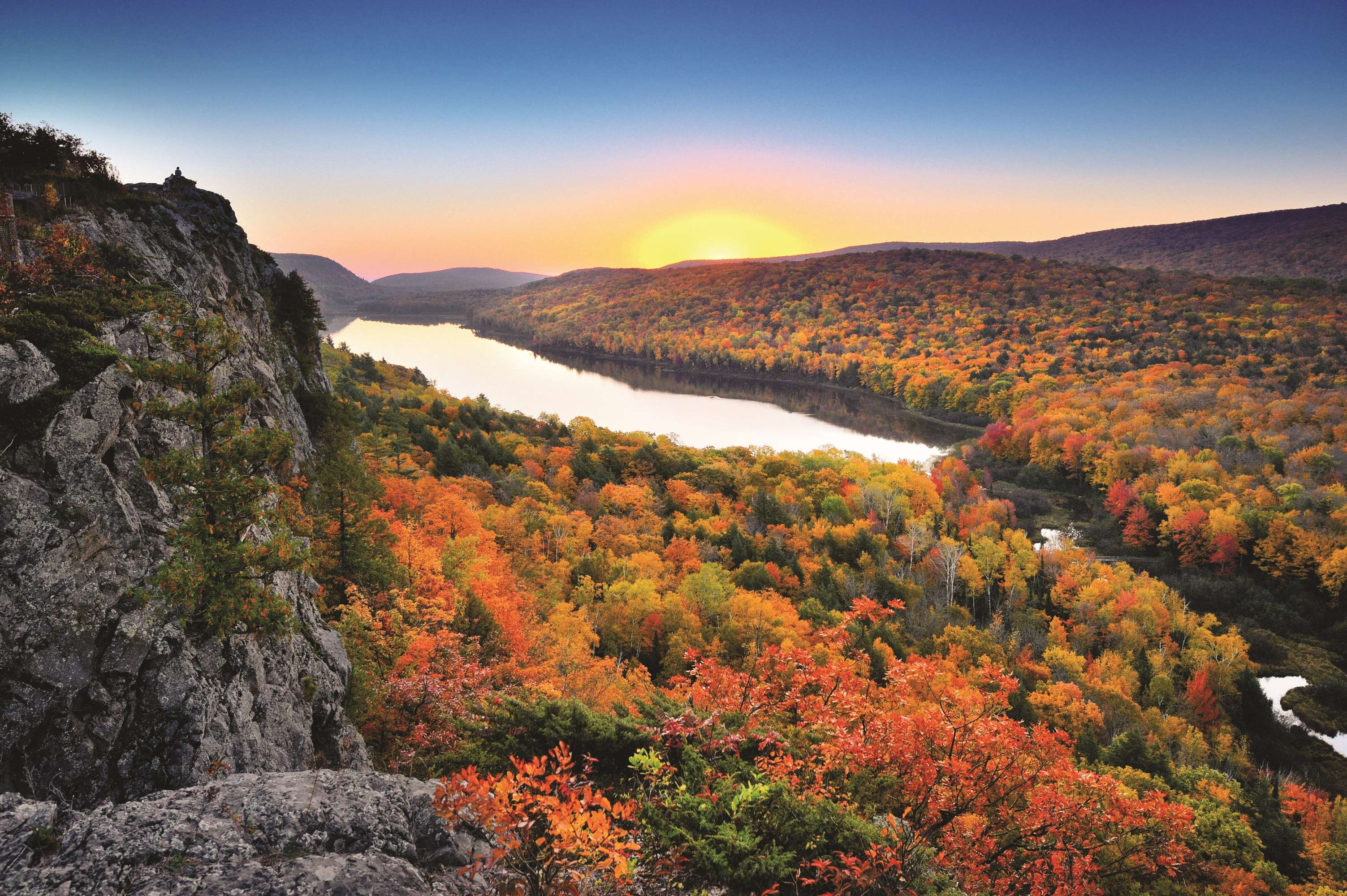 Michigan's only claim to mountains lies here, in the western U.P., where the Porcupine Mountains jut up above the Lake Superior shoreline. Heading west from Ontonagon follow the sparkling Lake Superior shore along M-64, past vibrant-hued hardwoods and over tiny creeks that snake their way to the Big Lake. In Silver City, M-107 leads into Porcupine Mountains State Park, where untouched forests are crisscrossed by hiking trails especially beautiful with the fall color. The route ends at a pull-out overlooking Lake of the Clouds. Breathtaking at any time of year, the turquoise-blue lake is rimmed with a riot of colors—red, orange and yellow—in autumn.
Pictured Rocks National Lakeshore and Tahquamenon Falls
Lake Superior's most striking landscapes lie along the Pictured Rocks National Lakeshore. Hike the North Country Trail if you have time, past Chapel Rock and Spray Falls, along Twelvemile Beach, across Hurricane River and out to the Au Sable Light Station, a route that winds beneath brilliant autumn foliage as it hugs the Lake Superior shore. By car, follow H58 east from Munising, through the Pictured Rocks National Lakeshore and its canopy of fragrant white pine and colorful maples.
Pull-offs allow short walks to Miner's Castle and the Au Sable Light en route to Grand Marais. After a photo stop at the Grand Marais Lighthouse, you can continue your color tour south via Routes 77, 28 and 123 to Tahquamenon Falls State Park. Michigan's favorite waterfall, Tahquamenon's Upper, and Lower Falls always take on the color of root beer. In autumn, the water's rich brown hue stands in vivid contrast to a backdrop of orange-and-gold hardwood leaves.
Tahquamenon Falls and Sault Ste. Marie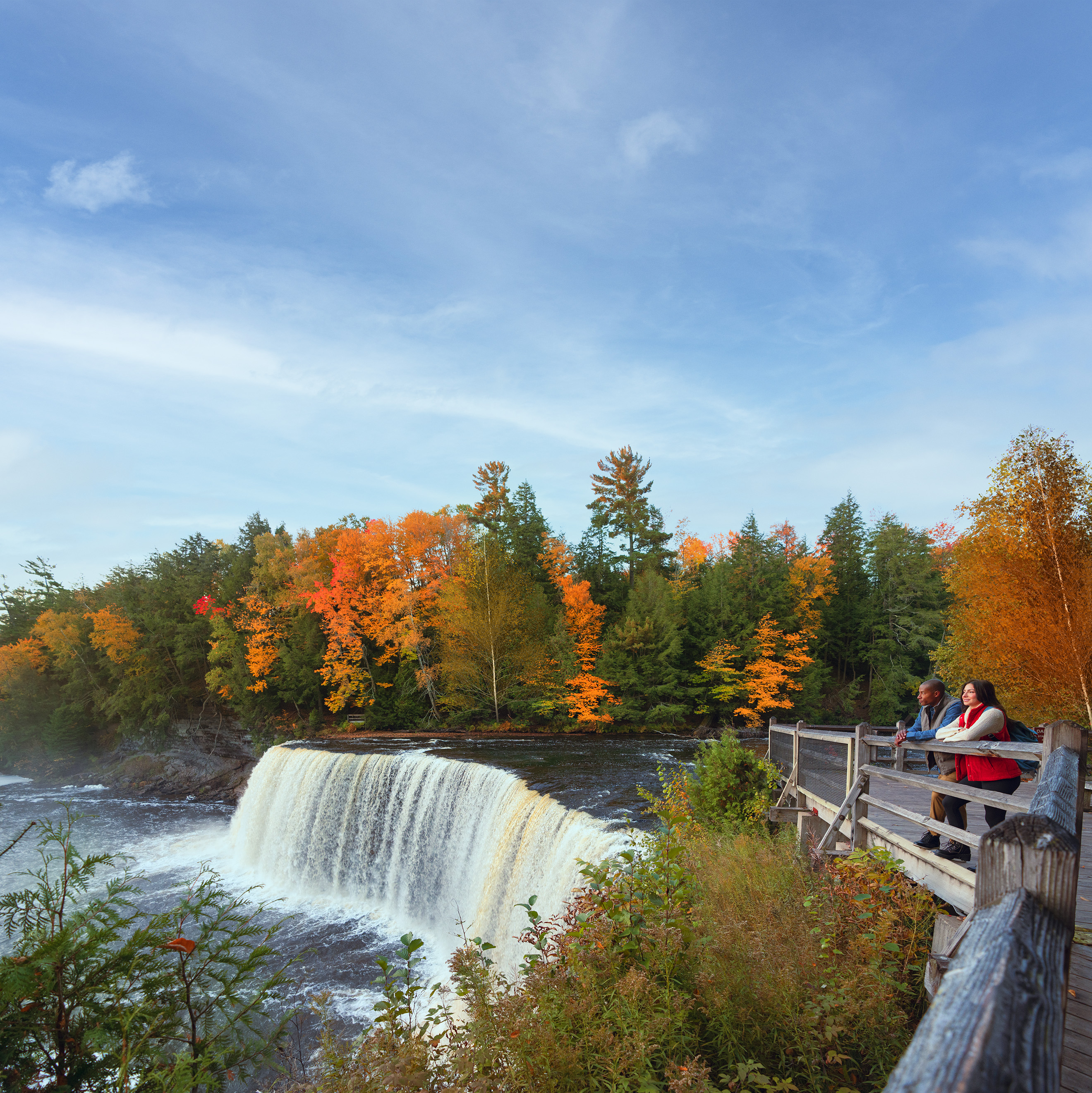 Visitors admire the lovely chocolate color of the Tahquamenon Falls in any season. But in autumn, when surrounded by stately white pines and vivid hardwood trees, the scenery really pops. Route 123 winds beneath a colorful canopy, through Tahquamenon State Park eastward to Whitefish Bay and the lakeside town of Paradise. Follow the Lake Superior shoreline north, admiring the whitecaps that grow in strength with autumn's arrival, en route to Whitefish Point. Here, the brilliant white-and-red buildings of the Whitefish Point Light Station sit surrounded by dune grass. The excellent Great Lakes Shipwreck Museum sits within the buildings, sharing dramatic stories of Michigan's Shipwreck Coast—some 200 wrecks lie offshore. Whitefish Point's 80-foot lighthouse offers unforgettable views of Lake Superior and the surrounding autumn foliage.
Following route 123 south, connect with the Lewis Memorial Highway to hug the southernmost shore of Whitefish Bay en route to Sault St. Marie. Settled in 1668, the city ranks as Michigan's oldest city. Enjoy time at the Soo Locks and a view of the fall colors across the river, in Ontario, before relaxing over a Pure Michigan dinner: roasted root vegetables, fresh whitefish, and a Michigan-made wine or craft beer.
US-2 from St. Ignace to Manistique
A trip across the "Mighty Mac" never disappoints, no matter the season. Drive the spectacular white Mackinac Bridge north to charming St. Ignace, then head west along US-2 for a tour of Lake Michigan's northern shore. With the sparkling lake to the south and a blaze of autumn color to the north, you'll find ample reason to stop to shoot photos or enjoy a lakeside picnic. Keep your eyes open for the Cut River Bridge Overlook, just east of Epoufette, a spectacular 150 foot-high span over the brilliant foliage of the Cut River gorge. Consider another stop in Naubinway for an authentic Upper Peninsula pasty.