6 Festive Christmas Markets in Michigan
Christmas markets have a 700-year old history in Europe. A little bit of this old-world tradition has made its way into the hearts of Michigan families. With lights, music, food and gift shopping, start your own holiday tradition at a Pure Michigan Christmas market near you.
1. Downtown Detroit Markets – Detroit
Detroit has really pulled out all of the stops to put visitors in the holiday spirit! With retail, craft, food and other vendors located throughout the city, there's so much to see and do this holiday season in the city. In the heart of all Cadillac Square and Campus Martius Park. Inside Cadillac Square you'll find a charming market of 20 vendors, each in their own transparent and heated booth. At the center of this market is the Cadillac Lodge, a toasty getaway filled with plush couches, fireplaces, games and warm winter beverages and snacks! After shopping, take a spin around the rink at Campus Martius Park under the lights of the 60-foot, Michigan-grown Norwegian spruce.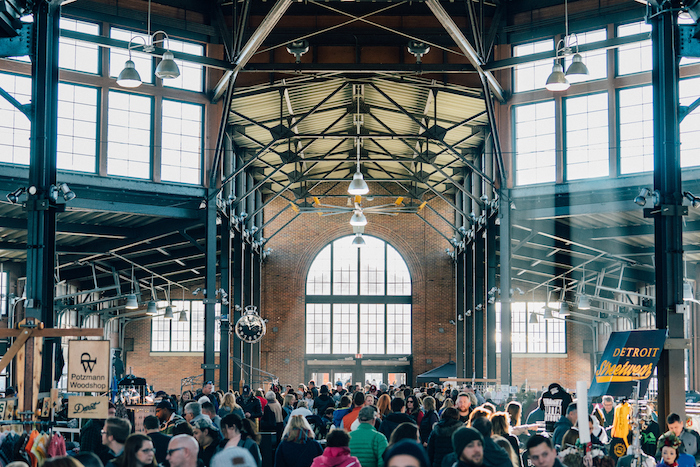 Throughout the end of the year, Detroit's Eastern Market hosts its Holiday Markets just in time for your holiday needs. The Tuesday markets will feature fresh produce, meats and baked goods. The Sunday markets will focus on Michigan-made gifts such as jewelry, pottery, art, beauty products, knitwear and more. There will also be Christmas trees, wreaths, holiday treats, carolers and gift-wrapping available.
   
After you've had your fill of Christmas shopping, take a short drive to the quaint downtown of Rochester! The Eastern Market's Holiday Markets coincides with Rochester's Big Bright Light Show. From November to January, downtown Rochester will be illuminated with over 1.5 million points of light. It's truly a holiday feast for the eyes!
 
For over 20 year, Canterbury Village's Always Christmas store has been a holiday destination for many Michigan families. Most Michiganders have heard of Bronner's in Frankenmuth, but Always Christmas has been a well-kept secret among nearby towns. Go with family and friends for hours of fun, wandering multiple floors of Christmas décor. With no entry fee and tons to look at, Canterbury Village's Always Christmas will keep everyone in a jolly mood.
   
When you are dizzy from shopping, take a walk around the village. During the Christmas season, Canterbury Village is decked out in twinkling lights, Santa Clauses and nativity scenes. A giant snow castle, life-size reindeer, fully decorated Christmas trees and carolers are all free to enjoy.
 
On the first Friday of December, visit Ann Arbor's Kerrytown District for KindleFest. The traditional market features local artisans, farmers and retailers selling holiday wares such as ornaments, toys and unique gifts. While you are browsing enjoy pretzels, bratwursts, roasted nuts, mulled wine and beer. The event takes place during Kerrytown's Midnight Madness with 40 local businesses staying open late for an evening of shopping and dining. Say "Hi" to Santa, listen to live music and revel in the holiday discounts and sales of participating stores.
 
Keeping with European tradition, Holland's Kerstmarkt offers a venue for artists and specialty shop owners to sell their goods while shoppers enjoy traditional food, drink and entertainment. The wooden booths reflect the stalls of old-world European markets selling holly bushes, pine wreaths, jewelry, pottery, wooden toys, boxes and spoons. While Kerstmarkt has become a holiday tradition for many West Michigan families, shoppers from Chicago and as far away as Texas have made the trip to this memorable Christmas market.
   
Plus, Holland isn't too far away from the energetic city of Grand Rapids. During Kerstmarkt, Grand Rapids Art Museum will be hosting Andy Warhol's Great American Icons exhibit and Frederik Meijer Gardens & Sculpture Park will be holding its Christmas and Holiday Traditions around the World exhibit. Both exhibits would be a great addition to any holiday trip while in the area!
  
If you want to experience the joy and wonder of Christmas all year round, head to Bronner's CHRISTmas Wonderland, the world's largest Christmas store. Nine-foot tall Santa Clauses and a giant snowman guard the entrances to the store. Thousands of colored lights twinkle inside and out while Christmas tunes play from opening until closing. Bronner's has over 6,000 different Christmas tree ornaments, including personalized ones for medics, service veterans, sports fans, foodies and many more. Throughout the store you will see Christmas greetings in over 70 languages to greet the customers visiting from over 100 countries!
Don't think you can see all of Bronner's in one day? Bring the whole family and stay at the Bavarian Inn Lodge. This German-style hotel has something for everyone. From the waterpark to the delicious food, a fairytale vacation is not too far away!