Things to Do at Silver Lake Sand Dunes: The Ultimate Pure Michigan Guide
When the temperatures soar, Michiganders head to the beach. And there are few beach getaways quite like the towering Silver Lake Sand Dunes.

Silver Lake State Park covers nearly 3,000 acres of Lake Michigan shoreline. And while most of that parkland is covered in sugar-sand dunes, the park also includes a four-mile Lake Michigan beach, inland Silver Lake, wooded hiking trails, a campground with boat launches, and a towering lighthouse. Adjacent to the state park is the town of Mears with a host of additional lodging options and visitor attractions. Taken together, the Silver Lake area is tailor-made for summertime family getaways in Pure Michigan.

Trek the Dunes on Foot…or Board
Like a scene out of Lawrence of Arabia, the Silver Lake Sand Dunes lure visitors to explore its expanse of sandy peaks. Boat across Silver Lake or park on the lake's northernmost shore to access 2,000 acres of pure golden sand. Run down the towering dunes, but remember, you'll have to climb back up again! Try the challenge of sandboarding the dunes; you can rent boards at watersport outfitters in town. Or search for rare fulgurites, narrow tubes of molten and solidified sand created by lightning strikes.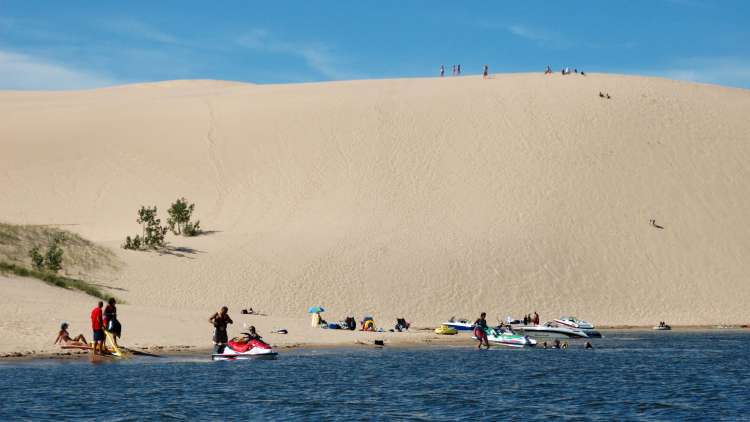 Drive the Dunes…
One of Silver Lake's most popular features is its 450-acre off-road vehicle area. Visitors may cruise up and over the expansive dunes in their own 4x4s provided they're outfitted with an ORV sticker and a ten-foot orange flag. Alternatively, travelers can rent off-road vehicles specially equipped to handle the unique challenges of driving on sand. The Silver Lake Sand Dunes are the only sand dunes east of the Mississippi River where visitors are allowed to drive private motorized vehicles over the shifting landscape. Silver Lake's ORV area operates from April 1st through October 31st.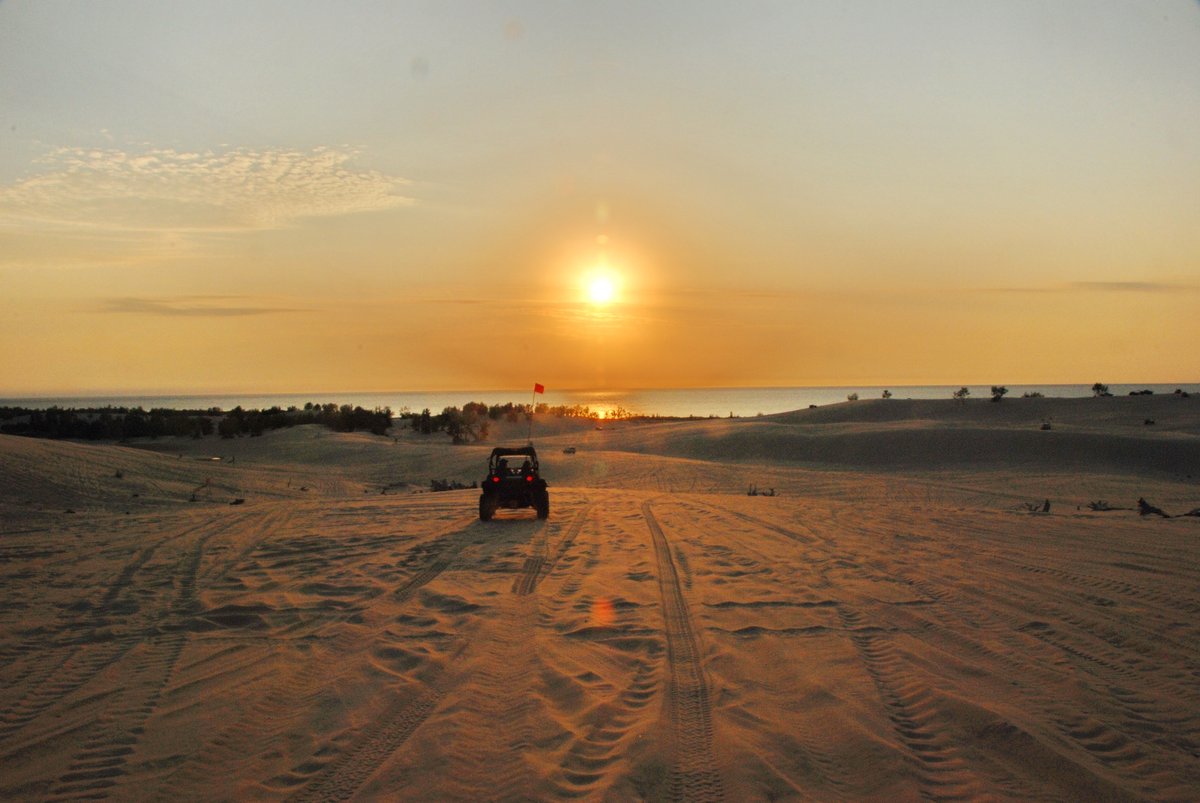 …or Leave the Driving to Mac Wood's
Since 1930 Mac Wood's Dune Rides has escorted visitors on an exciting excursion through the Silver Lake Sand Dunes. The only tour company permitted within the dunes, Mac Wood's buggies glide up one dune and plunge down the other, past striking vistas of sparkling Lake Michigan, Silver Lake and the 2,000 acres of dunes separating them. Along the way, drivers entertain with humorous stories and silly puns. They also share seriously fascinating accounts of this area's unique history and ecology. Rides last approximately forty minutes following a seven-mile route that includes a brief photo stop.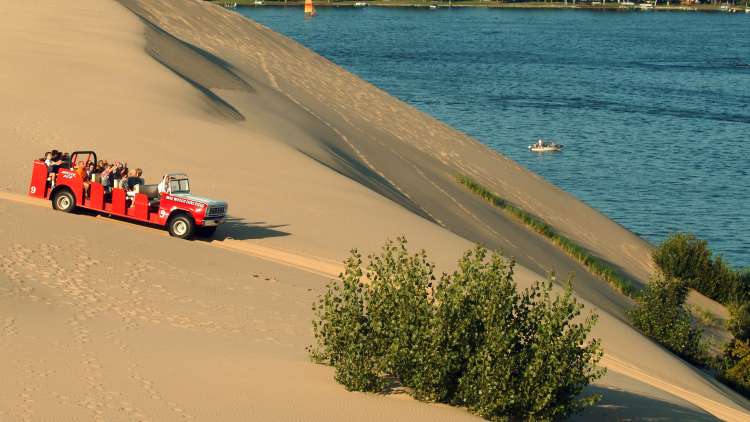 Play in the Water
Silver Lake's four miles of Lake Michigan beach offer great opportunities to swim and bodysurf, build sand castles and fish for salmon or lake trout. But just across those soaring sand dunes lies the 690-acre inland Silver Lake, a warmer, calmer swimming option when Lake Michigan proves too cold or choppy. Launch your boat from one of Silver Lake State Park's public launches or rent a kayak, paddleboard, personal watercraft or powerboat from one of Mears' watersport outfitters.

Climb a Lighthouse
The Little Sable Point Lighthouse, built in 1874, is the perfect place to stop for a picnic on the beach or to catch a magnificent Lake Michigan sunset. Once painted white and paired with a lighthouse keeper's quarters, the lighthouse stands all alone now, its 107-foot cinnamon-colored exterior soaring over the Lake Michigan shore. For a small admission fee visitors may climb the tower for spectacular views of Lake Michigan and surrounding Silver Lake State Park.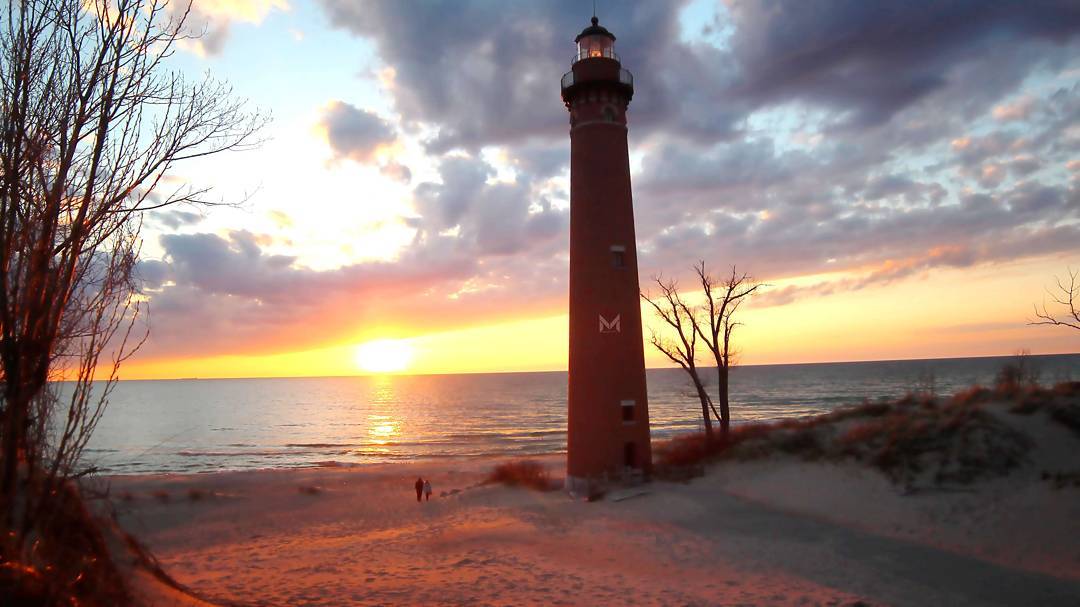 Release your Inner Adrenaline Junkie
Adventures in Silver Lake Michigan aren't limited to the beach. Head to Craig's Cruisers for bumper boats and go-karts, a zip line, miniature golf and arcade games. Next door, Silver Lake Jellystone Park offers modern camping facilities as well as wagon rides, basketball and volleyball, billiards, ping pong and a variety of family activities.

Enjoy a Festival
From spring's first buds until autumn's frost, the Silver Lake area hosts a number of festivals. In early June look for the Tunes, Brews and Dunes Festival in downtown Silver Lake, followed by the National Asparagus Festival, the Thunder over the Dunes (an Independence Day fireworks show) and the Oceana County Fair in late August. In autumn, check out the Apple & BBQ Cook-Off Festival.