An Unforgettable Experience Kayaking at Pictured Rocks National Lakeshore
Courtney Kotewa's spectacular photo of a kayaking tour at Pictured Rocks National Lakeshore was featured on the 2015 National Parks and Federal Recreational Lands Pass! Today, Courtney shares the unforgettable experience kayaking Pictured Rocks that inspired her creative capture and a few park service tips for making your trip both memorable—and safe.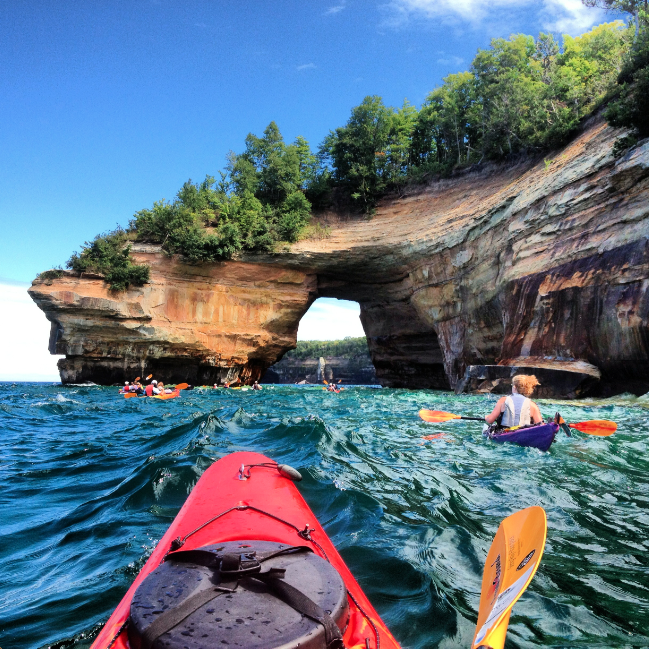 In 2014, my mom Beth came across a deal for a kayaking trip at Pictured Rocks National Lakeshore with Uncle Ducky Outfitters in Munising, Michigan. Though she has been a lifelong resident of Michigan, she'd never made it up to the spectacular shoreline. She couldn't pass it up, and she made plans to bring my younger brother Matt and me along, too. We'd never been to that part of the state either, and were excited for the getaway. We had no way of knowing what a fateful trip it would turn out to be!

The kayaking tour itself was everything we hoped it would be. It was a six-hour guided paddle starting at Miner's Beach. We set out in tandem sea kayaks, up close and personal with the multi-colored sandstone cliffs that make the area so special. Along the way, the guides informed us about the area's geology and history, telling us some fun facts about Lake Superior and pointing out a shipwreck. We stopped for the lunch we'd packed on a beach partway through the trip. We continued on to the turn-around point - Lover's Leap. I had been taking pictures along the way whenever I managed to get my phone out of my life jacket. Seeing Lover's Leap, I grabbed my phone again and took one shot before we paddled through and started the journey back.
I contemplated not bringing my phone along, because I knew there was the possibility of some big waves along the way.

On the return trip we encountered those waves! The guides called it a "wind event," and it made for a fun and challenging paddle back. I was thankful for my kayak skirt! My upper half got pretty soaked but my phone, luckily, remained safely tucked away. Later, when I went to look through the photos I took, I remember being pleasantly surprised with how they came out. But mostly, I was just happy to have had such a great day with my family in what has to be one of the most beautiful parts of the country.


A few months later, I got an e-mail about a photo contest called Share the Experience, put on by the U.S. Department of the Interior. To make a long story short, the contest was open to any amateur photographer who had taken a recent picture on federal land. My thoughts immediately went to my photos from our vacation, and I entered the shot of Lover's Leap on a whim. A few months later I would learn, to my disbelief, that I was the grand prize winner. I was absolutely shocked, not only because over 16,000 people had entered the contest, but also because my picture was taken quite casually on my cell phone. I was, of course, ecstatic to win the cash prize, but what struck me more was how happy I felt to have the winning photo come from Michigan. Working as a travel nurse, my patients often ask about where I'm from and usually know little about Michigan outside from what they hear on the news. I always tell them about what a beautiful and diverse state Michigan is, and now they can see for themselves.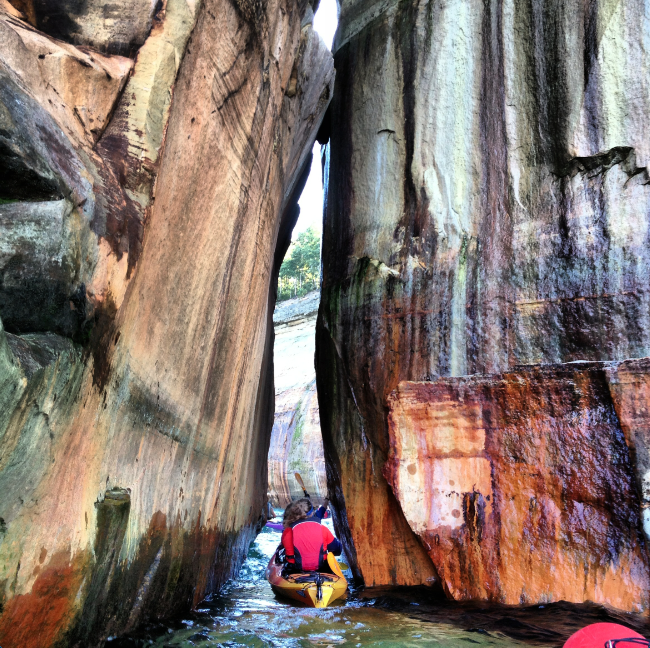 Keep both body and camera safe!
Keeping safe while paddling in Lake Superior involves more than protecting the iPhone. Conditions, like with the wind event, can change rapidly. Guides carefully monitor wind and wave conditions, something you'll also need to do if paddling alone. Park staff are often called to rescue kayakers who were ill-equipped or ill-informed, but rescue is not guaranteed!

Before heading out, the park staff asks you to ask yourself several questions: Do you know the marine forecast? Do you have a life jacket? Did you tell others where you are going? Can you get back in your kayak from the water? And do you have a sea kayak rather than a smaller vessel designed instead for paddling in a river or small lake? And find even more tips on the park service site.

We were glad to have our paddling skirt, and a wet or dry suit is also recommended for anyone paddling these especially cold waters. Even in summer, average surface temperature is just 59 degrees F, and hypthermia can occur in as little as 10 minutes. Compounding the need to be safe is the fact that the "Pictured Rocks" extend for 15 miles and include steep walls to the water line, walls that offer no way off the water if wind and waves increase. It's all another great reason to go with a guide!

Paddlers aren't the only people out taking in the scenery, either. It's important to be aware of the boat tours leaving Munising regularly during the summer months. Give them plenty of room and allow for their wake. The tips will all make sure you come back with not just great pictures but great, safe memories too!


Courtney Kotewa is a travel nurse from Essexville, Michigan. Travel assignments have taken her all over California and to New York City, but she happily returns home to Michigan often. Courtney loves any opportunity to explore a new place, and likes to stay active in the great outdoors whenever possible.