10 Great Ways to Celebrate St. Patrick's Day in Michigan
Time to break out your green shamrock attire, cook up some corned beef and cabbage and embrace your inner Irish spirit! St. Patrick's Day is Monday, March 17th and we've gathered up some great ways a Michigander can celebrate this year. While we can't promise you will find a pot o'gold, these events are sure to be a good time. These are just a few of the many St. Patrick's Day events happening around the state. For a full listing of events, visit michigan.org.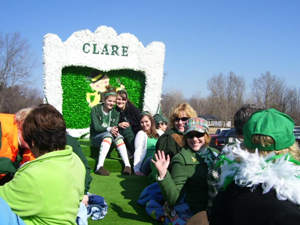 Clare Irish Festival
Wednesday, March 12 through Sunday, March 16, Downtown Clare
The Clare Irish Festival offers a variety of family-oriented activities. Children will be delighted by the Children's Kickoff Carnival on Friday at the Clare Primary School from 5 to 7 p.m. Be sure to catch the Irish Festival Parade featuring the Scottville Clown Band at noon on Saturday. Other activities include an Irish recipe contest, a fish fry, a karaoke contest, craft show, musical performances and much more.

Lexington St. Patrick's Day Pub Walk
Friday, March 14 from 6 p.m. to 11 p.m., Downtown Lexington, various pubs
If you're looking to celebrate St. Patty's Day with a few drinks and 21 or up aged friends, then the Lexington St. Patrick's Day Pub Walk may be perfect for you. There will be plenty of Irish food, drinks and entertainment along the way. For more information on where the pub walk begins, call Marty O'Brien at 810-359-7201.

St. Patrick's Day Celebration
Friday, March 14 through Saturday, March 15, Historic downtown Grand Ledge
Bring out the whole family for two days of Irish-themed fun in downtown Grand Ledge. Starting Friday, there will be great Irish entertainment including traditional Irish dancing, The Glen Erin Bagpipe Band, and live Irish music by The Pub Runners. You can't miss the Irish Stew Cook off on Saturday and then the parade begins at 2 p.m. After the parade, fill yourself up with an Irish food dinner. For those over 21, a pub crawl will begin after 9 p.m. to celebrate with some adult beverages.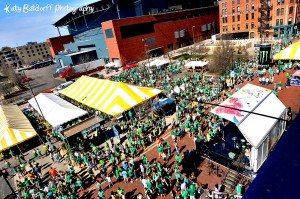 Photo courtesy of The Awesome Mitten and Katy Batdorff Photography
Irish on Ionia
Saturday, March 15 from 7 a.m. to 11 p.m.
, Grand Rapids
Touted as Michigan's largest St. Patrick's Day street party, McFadden's Restaurant and Saloon is once again hosting Irish on Ionia. While this event isn't intended for children, the 21 and up crowd has plenty of entertainment and drinks beyond green beer to choose from. The event kicks off at 7 a.m. with a breakfast buffet and other tasty food options to fill your stomach. Admission ranges from $15 to $55 depending on which ticket you choose and several live entertainment performances will take place throughout the day.
Lexington St. Patrick's Day Parade
Saturday, March 15 from 1 p.m. to 7 p.m., Main St. in Downtown Lexington
As part of Lexington's Irish Festival, the 35
th
Annual St. Patrick's Day Parade will take place at 1 p.m. downtown on Main St. Parade goers can expect Irish music and dancers, Irish foods and drinks and plenty of family fun. All festival activities besides the parade will take place rain or shine at Cheapside Park and the Fifth/Third Pavilion until 7 p.m.
Shivering Shamrocks 3K Run/Walk/Obstacle Challenge
Saturday, March 15 at 9 a.m.,
Meid Rd. & Houghton Ave., West Branch
If you want to take a more healthful approach to this St. Patrick's Day, then Shivering Shamrocks is how you should be spending your day. This 3K race has two kick-off times of 9 a.m. or 10 a.m. for those who want the extra hour to sleep in. This a family-friendly event that is meant for people to get moving and interact in their community. It is also a great chance to bring your friends out for the social event of the month.
Holland St. Patrick's Day Parade
Saturday, March 15 at 12 p.m.,
Downtown Holland
St. Patrick's Day would not be complete without community parades. Holland is inviting you and your family to join them in celebrating St. Patrick's Day with Irish dancers and plenty of kilt-wearers. If you are feeling especially festive, deck yourself out in some green attire and join the parade for no charge! This is the kind of event everyone from babies to grandparents can participate in.
Port Huron Pub Crawl
Saturday, March 15 from 1 p.m. to 7 p.m., Port Huron area pubs
For a grown-up night out on the town, head to Port Huron for the annual pub crawl. Festive party busses will transport you and your party from pub to pub on a continuous loop all afternoon and evening. You can either buy wristbands ahead of time for $10 or on the day of the event for $15 at participating pubs.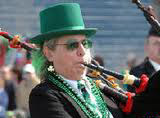 Detroit's 56th Annual St. Patrick's Parade
Sunday, March 16,
Michigan Ave. from 6th St. to 14th St., Detroit
Perhaps one of Michigan's most renowned St. Patrick's Day events is Detroit's Annual St. Patrick's Day Parade. This family-friendly event is sure to entertain all who attend with the various floats. The parade route is on Michigan Avenue through historic Corktown. If you're planning to go, it may be a good idea to arrive a bit early for the best vantage point.
Bay City St. Patrick's Day Parade
Sunday, March 16,
Center Ave. from Park Ave. to Water St., Bay City
If you're in the tri-cities area and are looking for some fun on Sunday, head to Bay City's annual St. Patrick's Day parade. There will be plenty of Irish music, captivating floats and plenty of shamrocks to be seen. This event is friendly to those of all ages and is a great way to join in community events. The parade follows Center Avenue from Park Avenue and disbands at Water Street. It is suggested that you arrive early to find the best place to view the parade.
How will you celebrate St. Patrick's Day in Pure Michigan? What events are happening near you?