By The Numbers: Nine Facts About Detroit Tigers Opening Day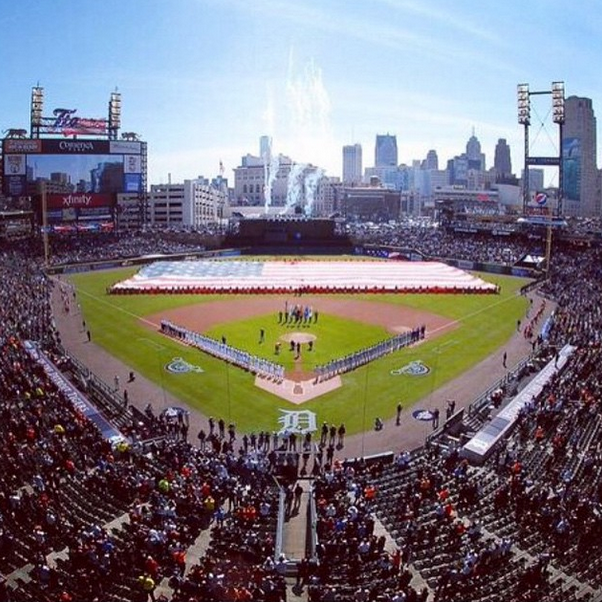 Photo via @tigers on Instagram
It's another
Detroit Tigers
Opening Day in Pure Michigan, signaling the start of spring and the beginning of another season of Motor City Kitties baseball. For generations, Tigers fans would excitedly listen to the late Ernie Harwell recite "The Song of the Turtle" before each opening Day, and prepare for another season with the "boys of summer".
To celebrate Opening Day in
Detroit
, considered by many as an unofficial holiday in Michigan
, we rounded up nine Tigers opening day statistics. Make sure to check out our
April Events Roundup
for everything else happening in April in Pure Michigan.
.561
– The Tigers' winning percentage for Opening Day games since 1901. The Tigers own a 64-50 record for opening day, including both home and away games. All time, the Tigers own a .507 winning percentage with a 9085-8806 record.
8–
The number of new delectable food items available this season at Comerica Park. These include: deep fried Oreos, downtown dog, mac daddy dog, brat pop, smokehouse fries, pork rind nachos, chicken and waffles and a fried bologna sandwich.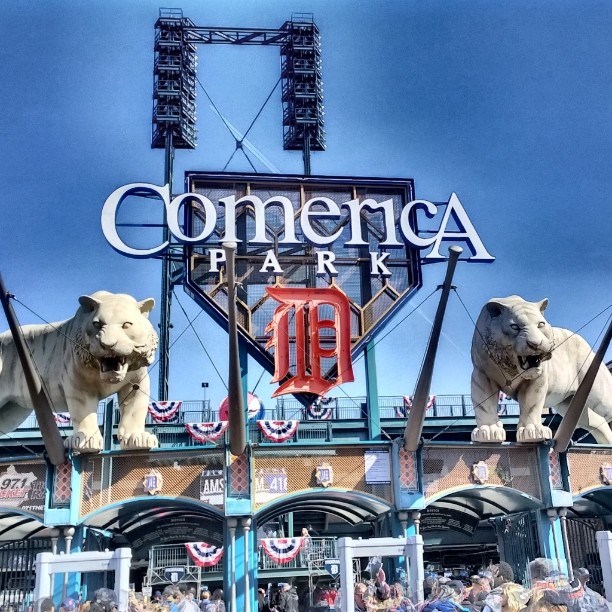 Photo via @stevewisey on Instagram
8 –
Times the Tigers have opened the season at
Comerica Park
since its opening in 2000. Before Comerica Park, the Tigers played at Tiger Stadium (formerly Navin Field and Briggs Stadium) from 1912-1999.
11
– The number of opening day games pitcher Justin Verlander has spent with the Tigers. Verlander, who is currently the longest-tenured player with the team at eleven years, famously won the American League Most Valuable Player and Cy Young awards in 2011.
12 –
The numbers of new faces on the 2016 Opening Day roster compared to 2015. These include: Buck Farmer, Logan Kensing, Mark Lowe, Mike Pelfrey, Francisco Rodriguez, Kyle Ryan, Drew VerHagen, Justin Wilson, Jordan Zimmermann, Jarrod Saltalamacchia, Mike Aviles and Justin Upton. (Whew!)
20
– The most runs scored by a Tigers team during an opening day game. This record was set on April 13, 1993 vs. the Oakland Athletics.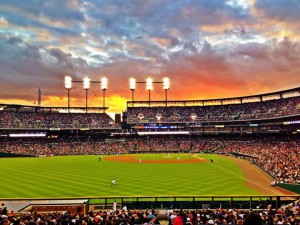 Photo courtesy of Michelle Forte
24 –
The number of Opening Day games the Tigers have played under the ownership of Mike and Marian Ilitch. Along with the Tigers, the Ilitch family also owns the
Detroit Red Wings
and Little Caesars Pizza.
30,000
– The average number of hot dogs sold at a
Detroit
Tigers home game. Pass the mustard!
45,068
– Fans that attended Opening Day in
Detroit
in 2014, setting a franchise record for attendance.
If you couldn't make it downtown for the festivities, here's a quick look at how Tigers fans spent the day.
What are your favorite Detroit Tigers opening day memories? Tell us below!