Michigan Cherries Ripe for Picking
Traverse City's National Cherry Festival ended last weekend, including their fantastic Grand Cherry Buffet, and we still haven't gotten enough cherry-filled recipes! We asked our fans on Facebook and Twitter to share their favorite recipes featuring one of our favorite Michigan fruits, and we were happy to discover how much they love Michigan cherries too!
Some of our fans prefer eating their cherries au natural –


"Just put cherries in a bowl, and eat 'em!" – Jake Ferris


"Black sweet cherries! Yummm! Who needs a recipe? Best to just pop in your mouth and hit a pit spitting contest!" – Kim Weber


"Take the stem off and pop them in your mouth!" - Marilyn Kay Strawser


Freshly Harvested Michigan Cherries
Some of you* prefer to use cherries to
enhance
your delicious dish, and a few were more complicated...
[click through image for full recipe]
Than others.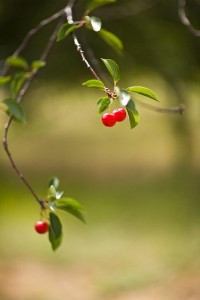 Michigan Cherry Tree
A few of you like to mix Michigan cherries with various liqueurs –


"Vodka soaked cherries. Put in fridge for a month soaked in vodka! They are balled bombs!" - JoAnn Evou Gile


"Infused Cherry's with Maker's Mark. Mmmmm..." – Mike Slone


"We modify the ingredients for a Cosmopolitan. . . take a hefty shot of Citron vodka, a teaspoon of tart cherry concentrate, a half-shot of bar sour - shaken with ice and strained into a martini glass and topped with a Michigan sweet cherry." - Jim Maslanka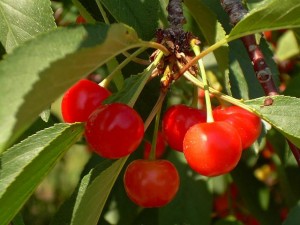 Pure Michigan Cherries
Of course, not everyone likes to make their favorite cherry dishes themselves. Here are some of the recommended dishes found in restaurants around Michigan -
If you are looking for more delicious recipes, including a Pure Michigan Cherry-Berry Pie, the Pure Michigan cookbook has just what you are looking for!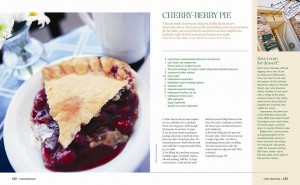 Pure Michigan Cookbook - Cherry Berry Pie Recipe
How do you prefer to eat your cherries? Right off the tree, infused with your favorite liqueur, in a more complicated recipe, or do you just prefer that someone else makes your favorite cherry dish?
*Thank you to Corey Seeman, Hike Michigan, Jennie Sweda, Bernie Bresnahan, and Linda Figg for submitting these recipes.