Pie, Parades and More at the 2013 National Cherry Festival in Traverse City
The National Cherry Festival brings more than 500,000 people to Traverse City, Michigan each year. This year the celebration returns from June 29 – July 6 with music, parades, entertainment and – of course – cherries galore! Today,
Susan Wilcox Olson, media and marketing manager for the festival, fills us in on what to expect at the 2013 event.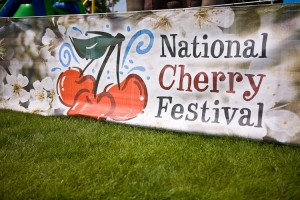 The
Grand Traverse region
, known for its world-record tart cherry harvest, bursts with visitors eager to savor the flavor of cherries tucked into everything imaginable. Each day festival goers find cherry delights along with parades, family and kids events and entertainment. In all, there are more than 130 events along the shores of Lake Michigan's Grand Traverse Bay. In fact, the National Cherry Festival was just featured in Wall Street Journal Weekend – naming it one of just a dozen Festivals not to be missed this season! And travel to the Cherry Capital of the World is easy with direct flights to the
Cherry Capitol Airport (TVC)
from NYC, Atlanta, Denver, Chicago, Cleveland, Detroit, and Minneapolis. There's convenient one stop service from every corner of the country, Europe and Asia!
The eight-day event will kick off on Saturday, June 29
th
at 9 a.m. with a Very Cherry Pancake Breakfast – one of the world's largest displays of cherries, all bay side! Then Festival goers will look to the skies and witness one of the nation's most spectacular Air Shows…over water! Choreographed perfectly, three dynamic teams will perform maneuvers wowing Festival goers of all ages! There's a new twist to the Festival Air Show…A NIGHT FLIGHT! On Saturday evening at dusk, you won't want to miss the first ever Night Air Show in Pure Michigan! Pyrotechnics and lights will fill the skies!
Performing on the Bay Side Music Stage Opening Night is the legendary rock band STYX! In the heart of
downtown Traverse City
, overlooking the shores of the Bay it's a not be missed night of fun! In fact, the Bay Side Music Stage will be rockin' all eight days with performances by Country music star, Montgomery Gentry, Sunday, June 30
th
; Foreigner on Monday, July 1
st
; Blues legend Duke Tumatoe & The Power Trio on Tuesday, July 2; Country Music returns on Wednesday, July 3
rd
with Aaron Tippin and Michigan native Jana Kramer. Fourth of July will pay tribute to the legendary Central Park 4
th
of July performance by Simon and Garfunkel – a Tribute Band Old Friends will perform just before Fireworks over West Grand Traverse Bay. Friday night Rock returns with Edgar Winter and Rusted Root. While closing night will feature The Tribute – 1964, paying tribute to the Beatles.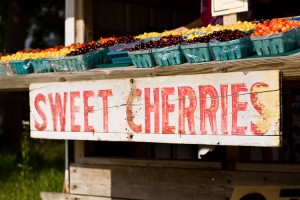 There's something for just about everyone! From dozens of free children's events, cherry pie eating, pet shows, bicycle and big wheel races to name just a few, to competitive sporting events like the Million Dollar Hole-in-One contest all week to one of America's most beautiful 15K Running Races. In-fact on closing day Saturday, July 6
th
the race finishes its last leg along the parade route of the DTE Energy Cherry Royale Parade, with tens of thousands spectators!
Beyond the 130 events, visitors will find cherries in just about everything at the Festival's Farm Market all week long. From the Festival's Signature Cherry Pie –
Grand Traverse Pie Company's Cherry Crumb Pie
and Brownwood Farms' cherry topped sundaes to gourmet products like cherry salsa, cherry mustard, cherry butter, and cherry BBQ sauce – it's all here!
Don't miss the world's largest cherry extravaganza! Visit
www.cherryfestival.org
or check out the interview below for details!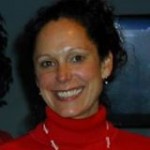 Susan Wilcox Olson is Media and Marketing Manager for the National Cherry Festival. For 26 years Susan has been serving up Michigan lifestyle stories to readers, listeners, and viewers across the country and internationally. From the National Cherry Festival, Cherry Capital Airport, Grand Traverse Pie Company, and other Pure Michigan destinations like the golf centric Gaylord and Treetops Resort, Susan is proud to call Pure Michigan her home. She may be reached by email at

[email protected]

.
Will you be at the Cherry Festival in Traverse City? Share with us below, and learn more at michigan.org.