Five Ways to Enjoy a Tigers' Game
Baseball season is back! For those who can't make it to Comerica Park in Detroit, Jake Cagle of The Awesome Mitten has rounded up a list of places to enjoy a Tigers game in other parts of the state.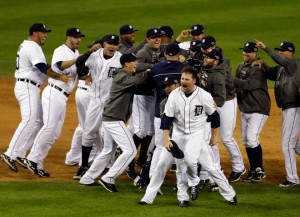 It's April, and
Opening Day
is upon us. Around the country, ballparks are coming alive with the sounds of summer. Here in Michigan, we welcome back the chance to see our
Detroit Tigers
try and repeat as American League Champions, with the hopes that maybe they can take home the World Series trophy this year.
The Major League Baseball season consists of 162 games played in around 180 days. Of these games, half are played on a team's home field. For Tigers fans, this means there are 81 chances to spend a summer afternoon or evening at
Comerica Park
in downtown
Detroit
. For all but the most hardcore of fans, there are just too many games to see all of them in person. Most people don't have the money or time. Many don't live close enough to make the nearly everyday trip down to the ballpark. So what's a loyal Tigers lover to do?
Luckily, every game is scheduled to be broadcast on TV this season. That means you can catch Verlander, Cabrera, Fielder, and the rest of the crew in full high definition, complete with the always entertaining commentary by Mario Impemba and Rod "I See You" Allen, anywhere there's a cable box. So we asked some of our writers at The Awesome Mitten, if you can't make it to Comerica Park, where are you going to catch a Tigers' game?
Here's my answer…
Since I moved in to my cable-less apartment two years ago, watching a Tigers' game usually means walking the mile into
Grand Rapids
' Eastown neighborhood to go to
Mulligan's Pub
. Whenever someone tags along, the first thing they notice is that Mulligan's is not a sports bar. It's dark, rough around the edges, and every square inch of the place isn't covered in TVs. That's okay with me; if I wanted a sports bar—and the subsequent feeling that I suffer from ADHD—I would go to a chain restaurant. Instead, I go to Mulligan's because it's a neighborhood bar with cheap beer and no B.S. If I'm going to have to sit and listen to someone babble about how "Ramon Santiago should be an everyday player," it better be from someone who has seen nearly every game this season. I can tolerate nonsense from a regular much easier than from some guy who has only seen three games this season and "just came here for the hot wings." So come this summer, where will you find me most evenings? I'll be down at Mulligan's, drinking a beer, watching the Tigers, and listening to some guy tell me "We paid too much for Fielder!" with a smile on my face.
Nick Nerbonne (@nicknerbonne) says…
Beer and baseball go hand-in-hand, so when I get together with friends to watch the Tigers in
Traverse City
, my go-to spot is 7 Monks Taproom. The folks at 7 Monks are big supporters of Michigan sports teams, so the Tigers are always on at least one of the flat screen TVs above the bar, or others near the booths and tables if you have a bigger group.
But make no mistake, 7 Monks is all about the beer. The ever-changing lineup of craft brews on 7 Monks' 45+ taps (and plenty more in bottles) offers selections from throughout Michigan and beyond, keeping even the most diehard craft beer enthusiast happy. The atmosphere is low-key and friendly, and the conversation often centers around the latest release from Bell's, Short's, or Founders as much as it does Justin Verlander's latest outing. If you enjoy a good beer while watching a ballgame, this downtown TC favorite is a home run.
John Kalmar (@johnkalmar) says…
I like to think of myself as an old soul. I enjoy sporting cardigans, yelling at the neighbor kids to get off my lawn and listening to baseball on the radio (only two of those are true). So when it comes to the question of "Where's your favorite place to watch a Tigers game?" I'm going to throw a curveball here (topical, am I right?) and say my backyard with a trusty transistor radio by my side.
My preference of radio over TV for most Tigers games really took place last summer while I was working nights at newspaper. I could easily pull up the radio stream of the games and listen to it in the background while I worked my nights away as a newsie. It became such a daily routine for me to listen them and shut off the outside world at night that I began to refer to Tigers' radio broadcasters Dan Dickerson and Jim Price as my only friends that summer (I'm half joking). There truly is something romantic and timeless about listening to a ballgame on the radio. No high definition images, slow-mo replays or flashy graphics (I really am making myself look like an old curmudgeon): it's just you and the broadcaster. So this summer, you can find me in my lawn chair with a bottle of Oberon, listening to Jim Price discuss the art of pitching and hearing Dan Dickerson instruct me to "watch it fly" after each Tigers homerun.
Kristin Coppens (@kristinmcoppens) says…
The Mitten Brewing Co.
has hit a home run as it took the best aspects of a sports bar and turned it into a neighborhood craft brewery located on Grand Rapids' West Side. With only a few TVs, the Mitten Brewing Co. is a nice alternative to a chain restaurant and sports bar.
My favorite part of The Mitten Brewing Co. is their ability to spin simplicity into ingenuity. Each classic craft beer style has been modified by the owners' and brewers' personal innovation—like the '84 Double IPA and the Peanuts and Cracker Jack Porter. The brewery also serves homemade gourmet pizzas and breadsticks on their menu. A true example of 'don't mess with a good thing,' The Mitten Brewing Co. revolves around pizza, craft beer, baseball, and a local, neighborhood feel. What more could you ask for?
Come join me to cheer on our Navy and Orange, grab a beer, and throw some peanuts on the floor at The Mitten Brewing Co. Go Tigers!
Kati Bethuy (@MrsKayTeeBee) says…
Every summer, I would try my hardest to get tickets for Tigers games. Sometimes, though, I just couldn't afford it. So what's the next best thing? Going over to
Hockeytown
and taking in the game from their roof. From up there you can see into Comerica Park and hear the bats crack with every hit. Listen to the roar of the crowd and get sucked into all the energy oozing out of the park all while enjoying an ice cold beer and some delicious food, much better and cheaper than the stuff served in the park. If you want to feel like you're part of the game but you lack the tickets to get in, Hockeytown is where it's at.
What's your favorite way to enjoy a Tigers' game? Share in the comments section below!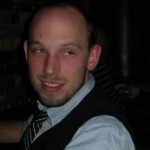 Jake Cagle (@jake_cagle) is a feature writer for The Awesome Mitten. Born in Adrian, Michigan, Jake currently resides in Grand Rapids. He graduated from Grand Valley State University. Jake's work has also been featured on MittenBrew.com and Visit Detroit Blog.