Twelve Days of Michigan: An Infographic
The holidays are a time for celebration, food, festivities and traditions. Michigan has unique connections to many of these.
During the 12 Days of Michigan, we will celebrate all that our state has to offer with a Michigan holiday fact each day.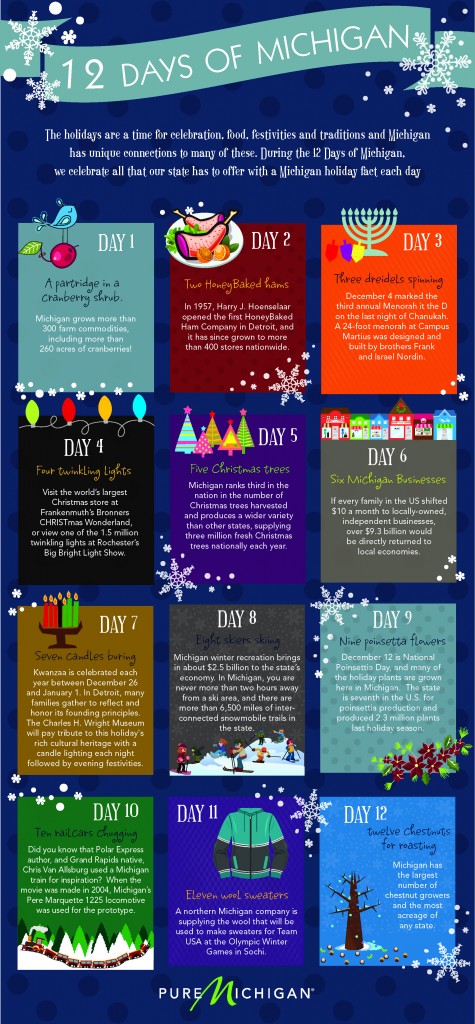 Day 1
Michigan grows more than 300 farm commodities including a holiday meal favorite – cranberries! Our nearly 300 acres produce more than 3 million pounds of cranberries a year.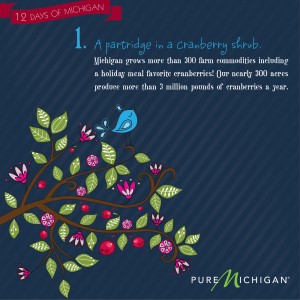 Day 2
Do you enjoy a Honeybaked Ham for holiday dinners? Did you know that the recipe, crunchy sweet glaze and unique machine that slices the ham were all invented in Michigan? In 1957, Harry J. Hoenselaar opened the first HoneyBaked Ham Company in Detroit and it has since grown to be more than 400 stores nationwide.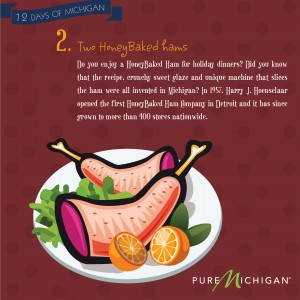 Day 3
December 4 marks the third annual Menorah In the D on the last night of Chanukah. The 24-foot menorah was designed and built by local artists and brothers Erik and Israel Nordin and stands proudly in Campus Martius/Cadillac Square.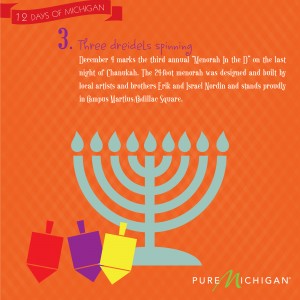 Day 4
Looking for a one-of-a-kind festive event? Experience scenes of Charles Dickens' "A Christmas Carol" with Downtown Holly's 40
th
Annual Dickens Festival, visit the largest Christmas store at Frankenmuth's Bronner's CHRISTmas Wonderland or view one of the 1.5 million twinkling lights at Rochester's Big Bright Light Show. For more events, visit
michigan.org/events
.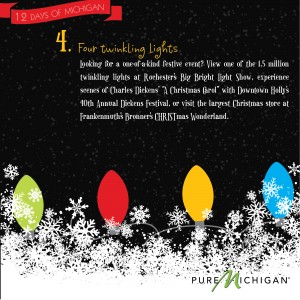 Day 5
Picking out a fresh, fragrant Christmas tree is often a holiday tradition. Michigan ranks third in the nation in the number of Christmas trees harvested and produces a wider variety of trees than almost any other state, supplying approximately three million fresh Christmas trees nationally each year. The 2013 Michigan state Christmas tree is a 71-foot blue spruce that traveled 460 miles from Iron River and now stands in the Capitol.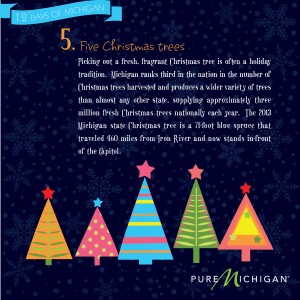 Day 6
If every family in the U.S. shifted $10 a month to locally-owned, independent businesses instead of national chains, over $9.3 billion would be directly returned to local economies. With nearly 98% of all businesses in Michigan being small businesses, it's important to support local retailers this holiday season including popular pop up shops that are making their way from downtown Detroit to Grand Rapids.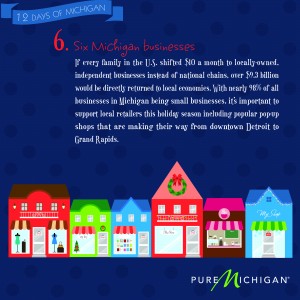 Day 7
Kwanzaa is celebrated each year between December 26 and January 1. In Detroit, many families gather to reflect and honor its founding principles. The Charles H. Wright Museum will pay tribute to this holiday's rich cultural heritage with a candle lighting each night followed by evening festivities.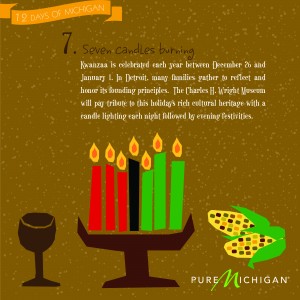 Day 8
Michigan winter recreation offers travelers a variety of things to do and brings in about $2.5 billion to the state's economy. Why not take a holiday trip? In Michigan, you are never more than two hours away from a ski area and with more than 6,500 miles of interconnected snowmobile trails in the state, dashing through the snow is a breeze. Experience Mount Bohemia, which was one of four destinations competing for Powder Magazine's 2014 Ski Town Throwdown or make a stop in Christmas, Michigan - a town in the Upper Peninsula that got its name from a roadside factory built there in 1938 to make holiday gifts and is now a popular destination for snowmobilers.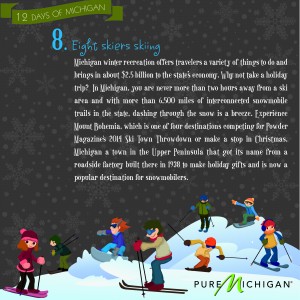 Day 9
December 12 is National Poinsettia Day and many of the holiday plants are grown here in Michigan. The state is seventh in the U.S. for poinsettia production and produced 2.3 million plants last holiday season.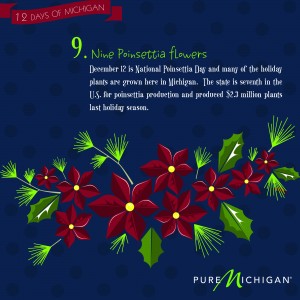 Day 10
The Polar Express has been a holiday classic for more than 25 years, but did you know that author Chris Van Allsburg, a Grand Rapids native, used a Michigan train for inspiration? When the movie was made in 2004, Michigan's Pere Marquette 1225 locomotive was used for the prototype and technicians used sounds of the whistle and the clatter of the wheels for the animated film.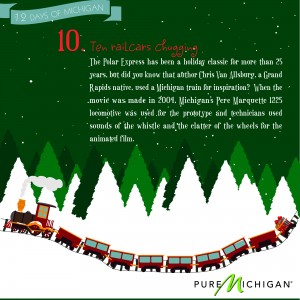 Day 11
Indeed, a northern Michigan company supplied the wool that was used to make sweaters for Team USA at the Olympic Winter Games in Sochi.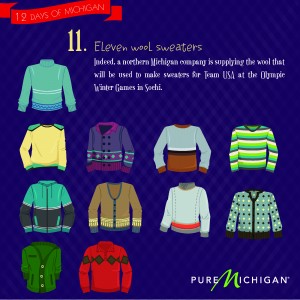 Day 12
Chestnuts are famous for roasting on an open fire, but Michigan is known for growing the sweet, edible nut with the largest number of chestnut growers and the most acreage of any state
.
Chestnuts can be used in a wide variety of dishes, from soups, stews and stuffing to fancy desserts.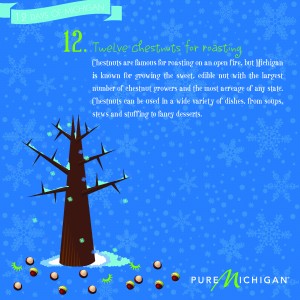 Do you know any Michigan holiday fun facts? Use #12DaysofMichigan and be sure to follow us on Twitter.