Seven Awesome St. Patrick's Day Celebrations in Michigan
St. Patrick's Day is coming up this Sunday, and Michiganders sure know how to celebrate this Irish holiday! For those looking for things to do, here's a roundup from Jake Cagle and Brian Murray of The Awesome Mitten of just some of the many celebrations happening around the state.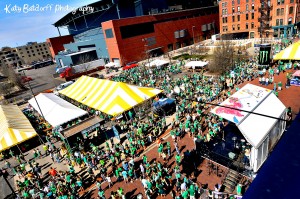 Photo courtesy of The Awesome Mitten and Katy Batdorff
When the Irish came to America, they brought their customs, traditions, and pride. Today, over 34.7 million Americans claim Irish ancestry according to the 2010 U.S. census — seven times the current population of modern day Ireland. With so many people to celebrate their heritage, it is no surprise that Saint Patrick's Day has been co-opted from a religious feast day into a celebration of all things Irish. Here in Michigan, we have a wide variety of great ways to celebrate the Emerald Isle. Read about some of the best below.
Irish on Ionia
Ionia Street, from Oakes to Weston, Grand Rapids
Saturday, March 16, 7a.m. – 10p.m.
Tickets $10, VIP $55
Brought to you by
McFadden's Restaurant and Saloon
, Irish on Ionia is an open-air festival in downtown Grand Rapids. You'll have to leave the kids at home for this one, but the 21+ crowd is guaranteed a great time. The day kicks off at 7 in the morning with McFadden's "Kegs and Eggs" breakfast buffet. If you show up late, never fear: the pinnacle of Grand Rapids street cuisine, Stoner Tacos, will be there to satisfy any hunger. You won't be able to swing a cat without hitting something good to drink, either. Green beer will be going for $3 a cup, while Guinness and craft beers will run you $5. For just ten bucks you can buy a commemorative Irish on Ionia cup that you can fill for the same price as the other, smaller drinks.
But there's more to Irish on Ionia than food and drink. A local Irish folk group with punk rock flair, The Waxies, will be there to play some traditional tunes. If they're not your thing, stick around for The Crane Wives. You can also catch the Shamrock, Paper, Scissors tournament or the live circus performers. With all that going on, it's no wonder the party goes all day.
Grand Ledge Saint Patrick's Day Parade and Celebration
Downtown Grand Ledge
Friday and Saturday, March 15 and 16, various times
Event dependent
There's plenty to do in Grand Ledge this year; so much, in fact, that they've split events between two days. On Friday evening at 6:00pm, the
Glen Erin Bagpipe Band
will be putting on their Saint Patrick's Day concert at the Grand Ledge Opera House. The show wraps up around 11a.m., and it's important to run home and get some sleep because it picks right back up in the morning. There's an Irish stew contest at the Cole-Briggs American Legion Post, where the public is welcome to come in and vote for their favorite. While you're digesting, you can take in the parade at 2p.m., then head back to the Opera House for the Goderich Drum and Bagpipe Band and some traditional Irish dance.
The 59th Annual Bay City Saint Patrick's Day Parade
The corner of Center and Park Avenues, Bay City
Sunday, March 17, 2p.m.
Free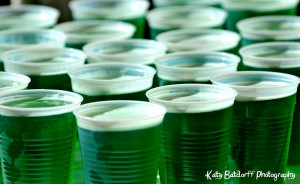 Photo courtesy of The Awesome Mitten and Katy Batdorff
Bay City kicked off this tradition with a bang in 1955. Over ten thousand people came together to watch marching bands, floats, and the St. Patrick's Day Queen make their way to city hall. Each year the Queen is chosen from a list of young Irish ladies, selected based on personal interviews and a Miss America-style pageant. The winner gets to ride on the biggest and baddest float in town, and also receives a tidy scholarship. Join Parade Marshall Kelly Reed and carry on this awesome tradition.
Saint Patrick's at The Curragh
73 E. 8th Street, Holland
Saturday and Sunday, March 16 and 17, 9a.m.
No price listed
The Curragh is an Irish pub in Holland, and they're bringing you all the music you could want and more. This is another one of those 21+ events, but it's a great chance to sit in a classic pub setting, drink your fill, and listen to some great Irish folk tunes. Bands include Peat in the Creel, AnDro, Millish, and a few more great choices. For the full list, just click the link at the head of this section. Breakfast starts at 9 each day, with music starting at 11:30 a.m. Saturday and 9 a.m. Sunday.
18th Annual Official Unofficial Traverse City St. Patrick's Day Pub Walk
Downtown Traverse City
Friday, March 15, Noon
Free
A Traverse City tradition, this downtown pub crawl hits up 10 pubs in 10 hours. While walking from pub to pub, you can enjoy traditional Irish music played by members of Grand Traverse Pipes & Drums (this event is not organized, sponsored, or sanctioned by the Grand Traverse Pipes & Drums, hence the "unofficial" tag). Walkers can join or stay behind at any stop along the way, ensuring a nice variety of attendees.
St. Patty's Small Plates Wine Tasting
716 S. Kalamazoo St. Paw Paw, MI 49079
Saturday, March 16, 3-5 p.m.
$12 for wine club members, $15 for non-members
For those who are looking to celebrate the holiday in a low-key manner, St. Julian Winery hosts a three plate dinner and wine tasting event at their Paw Paw winery Saturday March 16. Spend the afternoon at one of the oldest wineries in the state, enjoying Irish-themed dishes and terrific wine pairings. There is limited seating, and reservations must be made by calling 1-800-732-6002.
Port Huron Pub Crawl 2013
Downtown Port Huron
Saturday, March 16, 1-7 p.m.
$10 in advance at Blue Water Area Convention & Visitors Bureau or participating pubs
$15 day of at transfer point on Quay Street or participating pubs
Those in the Port Huron area looking to celebrate the Irish at as many bars as possible should look no further than the Port Huron Pub Crawl. Pub Crawl attendees wear wristbands which entitle them to free party bus rides that shuttle between 20 downtown bars. Enjoy the best of Port Huron safely; discounted hotel packages are also available.
Of course there are many more great things to do in Michigan for St. Patrick's Day. If you're looking for other ideas, visit
michigan.org
. No matter what you do, be sure to celebrate safely and responsibly!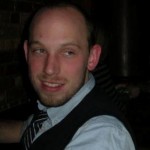 Jake Cagle
is a feature writer for
The Awesome Mitten
. Born in Adrian, Michigan, Jake currently resides in Grand Rapids. He graduated from Grand Valley State University. Jake's work has also been featured on MittenBrew.com and Visit Detroit Blog.
Brian Murray lives in Grand Rapids and is a feature writer at The Awesome Mitten.
He also writes reviews of music and comic books for
destroythecyb.org
.