Stomping Snow for Traverse City's Winter Wow!fest
Every year, Traverse City resident Mike Norton puts on his boots and spends a day or two jumping up and down on giant cubes of snow. It's his low-tech, heavy-footed contribution to the success of Traverse City's annual Cherry Capital Winter Wow!fest.
Some people will do anything to get out of a day of work. They'll even spend hours shoveling snow into a giant wooden cube, jump up and down on it like maniacs to make sure it's properly packed, and then move on to another cube to do it all over again. And again. And again.
Every February, that's what we do – a dozen of us from the
Traverse City Convention & Visitors Bureau
and the
National Cherry Festival
– as part of the preparation for our annual winter carnival, the
Cherry Capital Winter Wow!fest
. One of the most popular attractions at Winter Wow!fest is the Snow Sculpture Garden: 10 massive sculptures carved from huge blocks of snow by teams of master artisans from all over Michigan.
And who makes those huge blocks of snow? We do! Fortunately, it doesn't take a lot of skill -- just a lot of time. (Well, big feet are helpful, too.) A week before the festival, relays of trucks shuttle back and forth between
Traverse City
and Bellaire, bringing loads of pure white snow donated by
Shanty Creek Resorts
to the sculpture garden site near the Clinch Park Marina. Then, for two days, we go to work stuffing snow into large 8'x 8' x 8' wooden forms.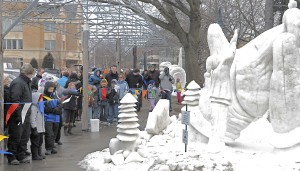 Each time a load of snow is dumped into the top of the big cubes, we "snow-stompers" climb up into the interior with shovels, breaking up the bigger chunks, spreading each layer out evenly, and jumping up and down on it to pack it into a firm, carvable mass. It's a little intimidating at first, because you have to jump down into the bottom of a nearly empty box, but as the level of snow rises it gets easier and easier – until you're standing on the very top trying not to fall off!
Snow-stomping is actually a lot of fun. We get a lot of encouragement from passers-by, and we feel a sense of proprietary pride to watch the master carvers transform our blank-faced cubes into whimsical works of winter art. But we also know that we're only a few of the many volunteers who help out at Winter Wow!fest, a celebration of music, food, and fun that takes place each year on the President's Day Weekend.
This season's Wow!fest will feature several new events – including the
Soup'R Chili 5K,
where runners will compete on an oval course along the beach, and the
"Curb Crusher" Rail Jam,
in which snowboarders and skiers will compete on a series of snow-covered 10-foot ramps.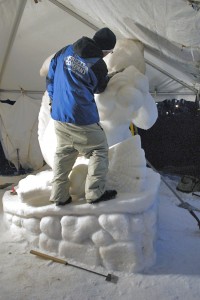 For the first time, several events – such as the popular
Snow Ball Co-ed Softball Tournament
and snow sculpture competition – will be held in the City's Festival Open Space Park on West Grand Traverse Bay. Most other activity will be located across the Grandview Parkway at "Celebration Central," between Cass and Union streets.
That's where the action begins on Friday night with
"Winter, Wine & Wow,"
a reception featuring local wines, craft brews, edibles and live entertainment in a huge heated tent.
Saturday morning will begin with a new, kid-friendly feast -- a
Cherry Pancake Breakfast
in the new ECCO meeting center on Front Street, linked to the festival area by a pedestrian bridge across the Boardman River. The downtown area will continue to be used for a number of Wow!fest attractions, including a series of popular ice sculptures created by the Ice Brigade (of Food Network fame) and a three-day
Presidents Weekend Sale
.
Other Saturday events include the
Monster Dog Pull
,
where canine Olympians compete for the title of "monster dog" by pulling weighted sleds. There'll also be winter versions of popular Cherry Festival competitions like the
Frozen Pit Spit
contest and the
Brain Freeze
ice cream eating contest, the uproarious
Frozen Bed Race
, and the
Soup r' Bowl
where participants slurp up soups created by local chefs.
One special Saturday event is a once-only extravaganza to celebrate the 30
th
anniversary of Wow!fest partner
WKLT
as
Traverse City's
premiere rock station – it's the
Winter Wow!fest Summer Festival Fantasy
, an 80s party featuring music from the 1980s featuring music videos and huge summer festival giveaways including the season's hottest concert ticket – VanHalen for two!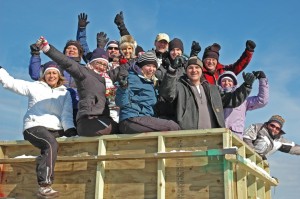 Snow for the various snowsport competitions is being provided by Shanty Creek Resorts, which is a little too far from town to be a convenient festival venue. Even so, the resort is building a
Snow Park and Tubing Hill
where families can enjoy the fun of snow-tubing, while local outfitters will be introducing novice skiers and snowshoers to the joys of cold-weather sports.
Competitions that require steeper hills will still be held at the nearby
Mt. Holiday Ski Area
, including such offbeat competitions as the Friday "
Downhill Dash,"
a no-holds-barred mountain bike/ski/snowboard race down the ski hill and the
"Cardboard Classic
" in which competitors must use sleds made only with cardboard, tape and paint. As always, the festival will end Sunday night with a
fireworks display
above the
Grand Traverse Resort & Spa
.
Come and join us! It's a lot of fun – even if you're not stomping snow.
Mike Norton, a native of Grand Rapids, spent 25 years as newspaper writer and columnist before starting a second career as media relations director at the Traverse City Convention & Visitors Bureau. An avid cross-country skier and snowshoer, he lives in the village of Old Mission.
---