Take a Pure Michigan Hunter Widow's Weekend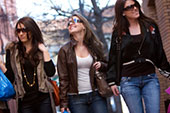 With deer hunting season kicking off November 15, hunters have packed up and hit the woods. If we assume that even half the holders of the 1.1 million hunting licenses sold last year have a significant other at home, that leaves a great many housewives (and perhaps a few house husbands) who deserve their own escape.
Thankfully, Michigan provides plenty of opportunity for "
Deer Widows
" and their brethren to enjoy the season, no camouflage required. From
wine tasting
in
Traverse City
to poker night in
Ludington
, there are lots of great ways to relax before the holiday rush.
A few special opportunities include:
Ladies' Weekend Expo at the
Lansing
Center
November 18-20.
Dance classes, massage, self-defense and food sampling will compliment exhibits on beauty, health, home décor, travel and wine, with a firefighters fashion show on Saturday and a show-wide scavenger hunt Sunday.
Whitetail Widow's Weekend at the Palmer House B & B in Albion
November 18-19
A special package includes a light breakfast and body massage, with plenty of great shopping in Historic
Marshall
. Grab a bite at the famous Schuler's Restaurant & Pub before taking in a movie, and wake Sunday morning to a gourmet breakfast.
Those interested in plotting their own course can visit
www.michigan.org
for information on the latest
things to do
across the state, during hunting season and throughout the year.